I love creating free content full of tips for my readers, you. I don't accept paid sponsorships, my opinion is my own, but if you find my recommendations helpful and you end up buying something you like through one of my links, I could earn a commission at no extra cost to you.
Learn more
Before purchasing soldering wire, it is essential to keep your soldering requirements in mind.
Different wires are suited to different applications, varied types of soldering wires have different melting points, diameters, and spool sizes.
You need to take all these into account before making your purchase so that the wire you choose is the right one for your purposes.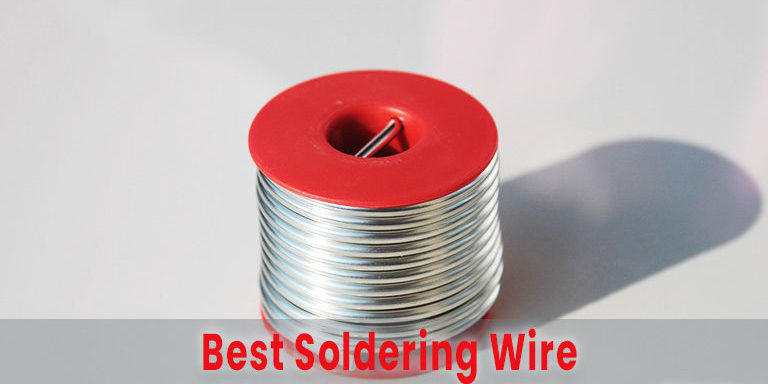 I have created a quick product list of my favorite soldering wires.
My top choice is the ICESPRING Soldering wire with Flux Rosin Core. It does not spatter, is non-corrosive, melts easily, and makes good connections.
If you prefer lead-free wire or a tin & lead wire, however, or perhaps you need a lot of wire for a big job, I've got you covered as well.
Read on for my full review of the best soldering wires.
How to choose the best soldering wire – a buyer's guide
Things to consider when selecting the best soldering wire for your needs.
The type of wire
There are three types of soldering wire:
One is lead soldering wire, which is made from tin and other lead materials.
Then you have lead-free soldering wire, which is made from a combination of tin, silver, and copper materials.
The third type is flux core soldering wire.
Lead soldering wire
The combination of this type of soldering wire is 63-37 which means that it is made of 63% tin and 37% lead, which gives it a low melting point.
Lead soldering wire is ideal for applications where you need to work in a low-temperature environment such as on circuit boards, or when repairing cables, TVs, radios, stereos, and other electrical devices.
Lead-free soldering wire
This type of soldering wire consists of a combination of tin, silver and copper materials and the melting point of this type of wire is higher than the lead soldering wire.
Lead free soldering wire is generally smoke-free and is better for the environment and for people who have health issues like asthma. Lead free wire is generally more costly.
Cored soldering wire
This type of soldering wire is hollow with flux in the core. This flux can be rosin or acid.
The flux is released during soldering and reduces (reverses oxidation of) metal at the point of contact to give a cleaner electrical connection.
In electronics, flux is usually rosin. Acid cores are for metal mending and plumbing and are not generally used in electronics.
Also learn about the difference between a soldering gun and a soldering iron
The optimum melting point of the soldering wire
Lead soldering wire has a lower melting point and lead-free soldering wire has a higher melting point.
You should always check the melting point that will work best with your materials and your project.
It is important for the soldering wire to have a lower melting point than the metals being joined.
The diameter of the soldering wire
Once again, this depends on the materials you are soldering and the size of the project you are working with.
For example, if you need to repair small electronics projects then you should choose a small diameter.
You can use the small diameter wire for a larger job, but you will use more of it, and the job will take longer.
You also run the risk of overheating the material by concentrating on one area for too long with the soldering iron.
For a bigger job, it makes sense to choose a larger diameter wire.
The size/length of the spool
If you are an occasional user of soldering wire, you could settle for a pocket-size soldering wire.
If you are a professional who uses soldering wire regularly, then choose a medium to big spool, to avoid having to purchase it too often.
Also read: 11 Ways to Remove Solder You Should Know!
My top recommended soldering wire options
Let's keep all that in mind while diving into my in-depth reviews of the best soldering wires available.
Best overall soldering wire: Icespring Soldering wire with Flux Rosin Core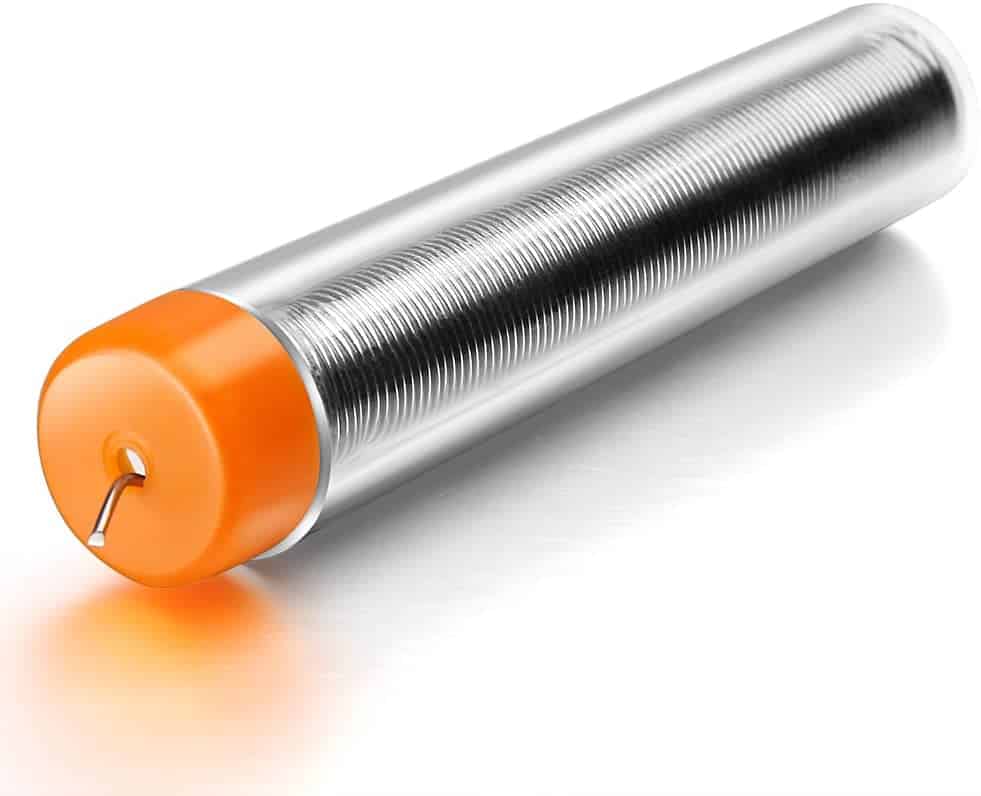 For professionals who may be working on a number of projects at the same time, the Icespring soldering wire with flux rosin core is an excellent choice.
The solder flows well when it reaches its melting point, ensuring that there is no splattering. It also solidifies quickly.
The quality of the tin/lead mix is just right, and the rosin core provides just the right amount of rosin for good adhesion.
For professionals, it is convenient to have soldering wire that is easy to carry around and the Icespring Solder comes in a pocket-sized clear tube for easy storage and for transporting together with soldering irons.
The unique clear packaging also makes it easy to see how much solder is left and prevents dirt from contaminating the solder.
The funnel tip makes it easy to retrieve the solder if it slides back into the dispenser.
All these features make it the ideal soldering wire for fine electronics such as drone building and circuit boards.
Features
Pocket-sized tube for easy portability
Clear packaging – shows how much solder is left
Flows well, no spattering
Solidifies quickly
Rosin core offers good adhesion
Best leaded rosin flux core soldering wire for large projects: Alpha Fry AT-31604s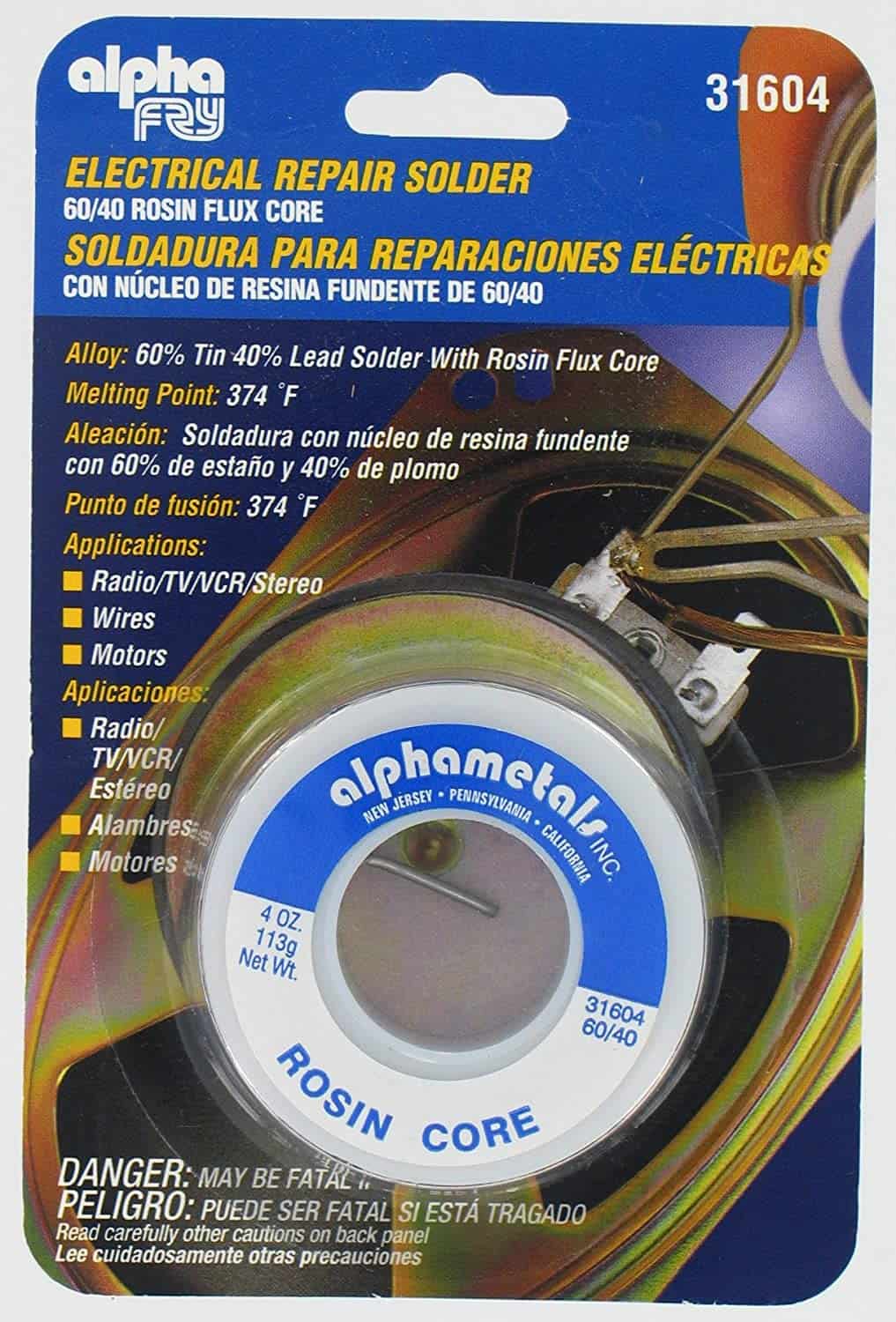 The Alpha Fry AT-31604s comes in a massive 4-ounce spool which makes it suitable for multiple connections for both light and medium applications.
It has a leaded rosin flux core which melts well and doesn't leave burn marks.
It doesn't leave any flux residue so there is a very little cleaning up after application – important when working in hard-to-reach areas where cleaning up can be a challenge.
Offers high connectivity connection.
The 60% tin, 40% lead combination is perfect for jobs like fine electrical soldering which require lower melt temperatures. It's also simple and easy to use, allowing new DIYers to get professional results.
When using any lead soldering wire, harmful fumes may be released, so it's best not to use this product in enclosed spaces.
It should be used in a well-ventilated work area and the user should wear a soldering mask.
Features
Large volume, 4-ounce spool
No flux residue, for easy cleaning up in hard-to-reach areas
60/40 percent tin & lead combination is ideal for fine electrical jobs
Easy for beginners to use
Harmful fumes may be released
Best rosin-core soldering wire for small, field-based jobs: MAIYUM 63-37 Tin Lead Rosin core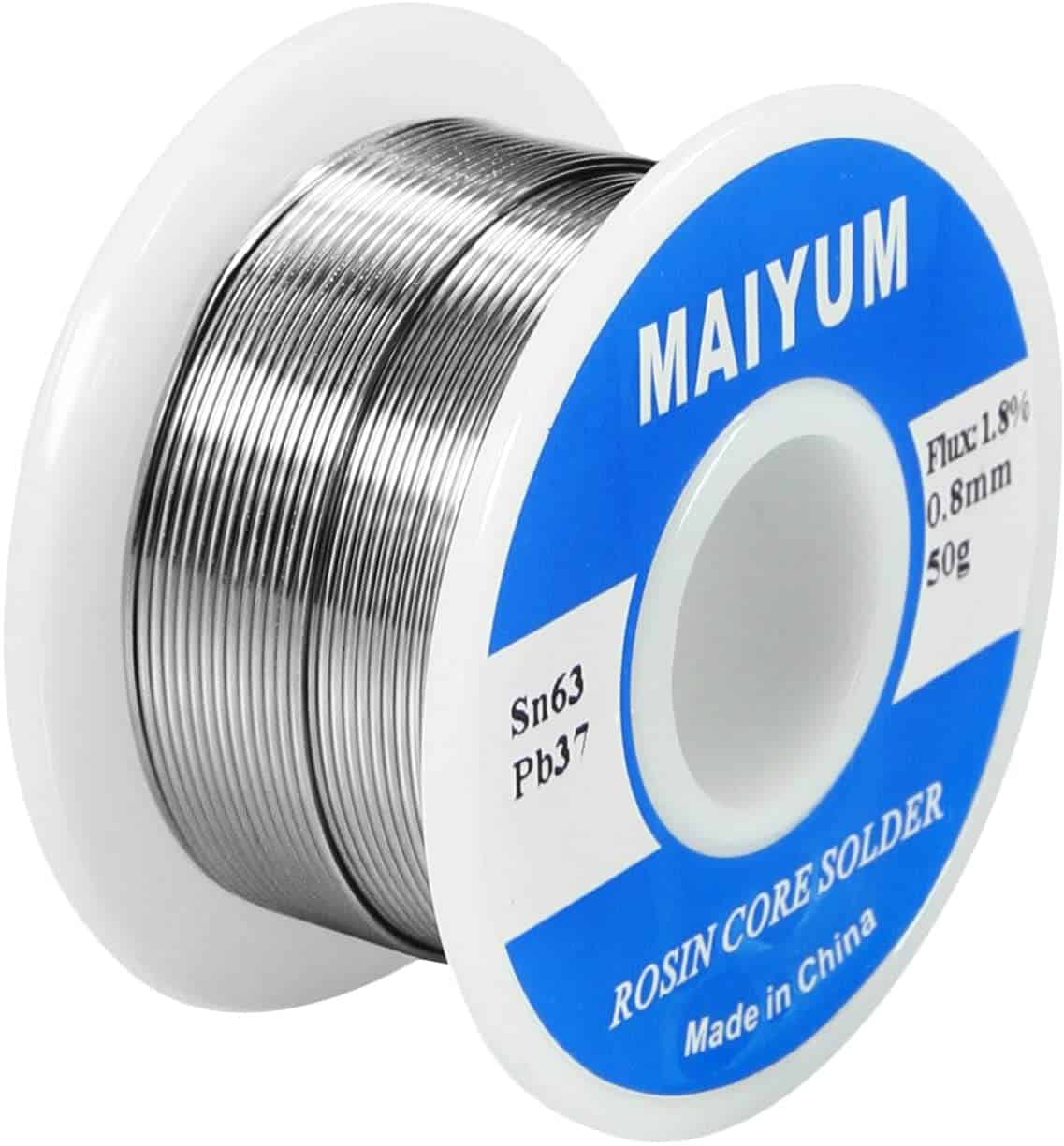 This product is perfect for small, field-based soldering jobs and has many applications – circuit boards, DIY projects and home improvements, TV and cable repairs.
Because it is light and compact, it is very portable. It fits perfectly in a pocket, soldering kit bag, or electrician's tool belt, and offers easy accessibility when working on projects.
However, because of its size, there is only sufficient solder on the spool for one or two jobs. Professionals working on a number of projects may find the volume inadequate for their uses.
The Maiyum soldering wire has a low melting point of 361 degrees F, which doesn't require the use of a very powerful soldering device.
The high-quality rosin core of this soldering wire is thin enough to melt quickly and flow easily but thick enough to coat wires with a strong binding solder and provide a sturdy finish.
Because the wire contains lead, a toxic element that is harmful to health and the environment, it is important to not breathe in any smoke, when soldering.
It offers excellent soldering capability at a very competitive price.
Features
Compact and portable
Melting point of 361 degrees F
High quality rosin core
Competitive price
Best lead-free soldering wire: Worthington 85325 Sterling Lead-Free Solder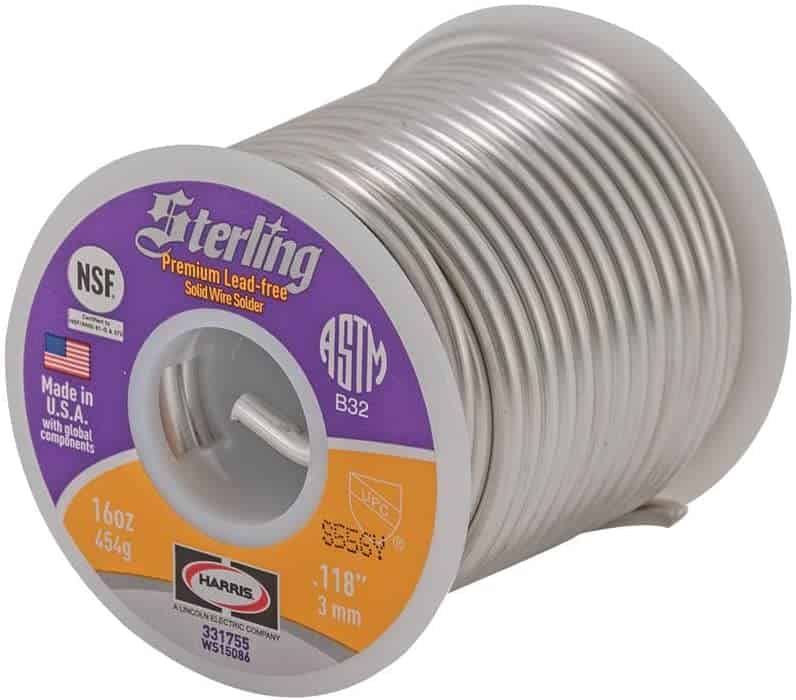 "The Worthington lead-free solder is the lowest melting point lead-free solder that I've found."
This was the feedback from a regular user of solder for jewelry making.
If you work with pipes, cooking equipment, jewelry or stained glass, then this is the soldering wire you need to consider. It is safe, effective and offers value for money despite being pricier than the leaded wires.
The Worthington 85325 sterling lead-free solder has a 410F melting point and works with a range of metals including copper, brass, bronze and silver.
It comes in a 1-pound roll has a lower melting point than 95/5 solder and a wide, workable range similar to 50/50 solder.
It is easy to use, thick has a very good flow. It is also water-soluble, which reduces corrosion.
Features
Lead free, ideal for working with pipes, cooking equipment, and jewelry
Relatively low melting point for lead-free solder
Water-soluble, which reduces corrosion
Safe and effective
No noxious fumes
Best soldering wire with low melting point: Tamington Soldering wire Sn63 Pb37 with Rosin Core
The standout feature of the Tamington soldering wire is its low melting point – 361 degrees F / 183 degrees C.
Because it melts easily, it is easy to use and is therefore particularly suited to beginners.
This is a quality soldering wire. It heats evenly, flows well, and creates strong joints. It has excellent solderability in both electrical and thermal conductivity.
This product doesn't smoke much during soldering, but it does produce an odor and it is important to wear a mask while using it.
Wide application: the rosin core soldering wire is designed for electrical repairs, such as radios, TVs, VCRs, stereos, wires, motors, circuit boards, and other electronic devices.
Features
Low melting point
Excellent solderability in both electrical and thermal conductivity
Heats evenly and flows well
Easy for a beginner to use
Best lead & tin combination soldering wire: WYCTIN 0.8mm 100G 60/40 Rosin Core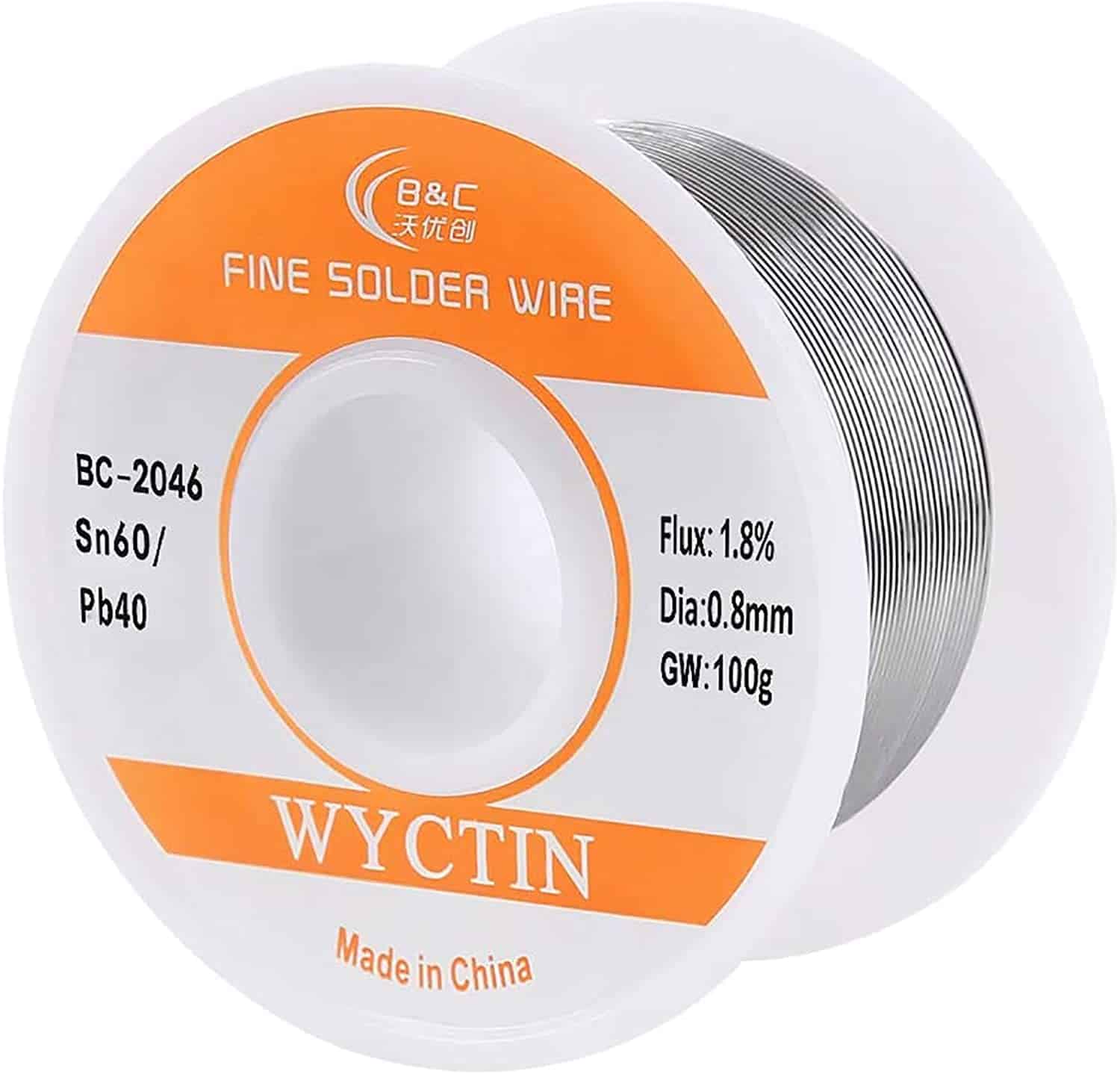 "A good quality, everyday solder, nothing fancy"
This was the feedback from a number of satisfied users.
WYCTIN 0.8mm 100G 60/40 Rosin Core is a rosin core solder that offers the perfect combination of lead and tin. It has no impurities so it has a lower melting point.
It is easy for beginners to use, and it produces a durable, long-lasting, and highly conductive joint.
This thin soldering wire is great for tiny connections.
It works well for automotive wiring connections, and it has many applications such as DIY, home improvement, reparation of cables, TVs, radios, stereos, toys, etc.
Features
Easy to use. Ideal for beginners.
Good flow. Melts evenly and cleanly.
Little smoke
Lower melting point: 183 degrees C / 361 degrees F
Frequently asked questions (FAQs)
What is soldering? And why would you use soldering wire?
Soldering is the process of joining two pieces of metal together and involves melting a filler metal (soldering wire) and flowing it into a metal joint.
This creates an electrically conductive bond between two components and is particularly suited to joining electrical components and wires.
It is important for soldering wire to have a lower melting point than the metals being joined.
Soldering wire is widely used across a variety of industries – electronics, manufacturing, automotive, sheet metal, as well as jewelry making and stained-glass work.
Soldering wire that is used in the electronics industry these days almost always contains a hollow core that is filled with flux.
Flux is required to produce optimal electronic connections and is available in various configurations. Standard flux normally contains rosin.
What wire is used for soldering?
Soldering wires are generally two different types – lead alloy soldering wire and lead-free solder. There is also rosin-core soldering wire which has a tube in the center of the wire that contains the flux.
Lead soldering wire is usually made from an alloy of lead and tin.
What can I substitute for soldering wire?
Steel wire, screwdrivers, nails, and Alan wrenches are all potential tools for your emergency soldering.
Can you use welding wire for soldering?
Soldering is using a filler metal with a lower melting point than the base metal. The plastic equivalent of soldering would be to use hot glue to attach two pieces of plastic to each other.
You can also weld plastic with a soldering iron, here's how.
Can you solder any metal?
You can solder most flat metals, such as copper and tin, with a rosin-core solder. Use acid-core solder only on galvanized iron and other hard-to-solder metals.
To get a good bond on two pieces of flat metal, apply a thin layer of solder to both edges.
Can I solder iron?
Soldering is appropriate for joining many types of metal, including cast iron.
Since soldering requires temperatures between 250 and 650° F., you can solder cast iron yourself.
You can use a propane torch instead of the more powerful and dangerous oxygen-acetylene torch.
Is soldering wire toxic and harmful for health?
Not all types of soldering wire are toxic. Only lead soldering wire. It is always best to check the type before buying or wearing a mask if you are unsure.
Who uses soldering irons?
Soldering irons are familiar to most jewelers, metal workers, roofers, and electronics technicians as they frequently use solder to join pieces of metal together.
Depending on the job different types of solder are used.
Also check out my Step-by-Step Guide on How to Tin a Soldering Iron
Is lead solder banned in US?
Since the Safe Drinking Water Act Amendments of 1986, the use of lead-containing solders in potable water systems has effectively been banned nationwide.
Can you get lead poisoning from touching solder?
The primary route of exposure to lead from soldering is ingestion of lead due to surface contamination.
Skin contact with lead is, in and of itself, harmless, but lead dust on your hands can result in it being ingested if you don't wash your hands before eating, smoking, etc.
What is RMA flux? Should it be cleaned after use?
It is Rosin Mildly Activated flux. You don't need to clean it after using it.
Conclusion
Now that you are aware of the different types of soldering wires and their various applications, you are better equipped to select the right solder for your purposes – always bearing in mind the materials you will be working with.
Done with the soldering job? Here's how to properly clean your soldering iron
I'm Joost Nusselder, the founder of Tools Doctor, content marketer, and dad. I love trying out new equipment, and together with my team I've been creating in-depth blog articles since 2016 to help loyal readers with tools & crafting tips.