I love creating free content full of tips for my readers, you. I don't accept paid sponsorships, my opinion is my own, but if you find my recommendations helpful and you end up buying something you like through one of my links, I could earn a commission at no extra cost to you.
Learn more
Is your toolbelt filled to capacity and weighing you down causing pain and fatigue while you work? Toolbelt suspenders are the solution!
Whether you are a professional or simply an active DIY enthusiast, tool belt suspenders will reduce the weight on your waist area and allow you to work comfortably.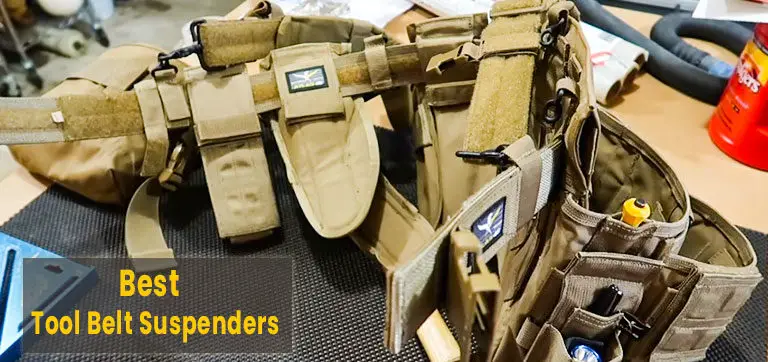 Finding the perfect suspenders might be tricky as some choices are very similar. I've compiled a list of the best options for any specific needs.
My top pick for the best tool belt suspenders is the Toughbuilt Padded Tool Belt Suspenders. With its sturdy construction, comfortable design, and reasonable price, you will definitely get amazing value for money as it allows for optimum comfort and convenience.
Why do I need tool belt suspenders?
A tool belt is better than a traditional industrial strength toolbox, because it allows you to organize your tools and carry them around with you, but a heavy tool belt can place a lot of strain on your waist area.
The weight of the tool belt (some of these leather ones are pretty hefty) can lead to pain and discomfort. This is where tool belt suspenders come to the rescue. The straps of the suspenders transfer the weight across your upper body and keep your tool belt in place.
Investing in a good pair of tool belt suspenders is a wise decision as it will make work more comfortable and prevent injuries due to strain on your hips and back.
These are the Must Have Tools for Electricians
How to choose the best tool belt suspenders?
When shopping around for the best tool belt suspenders, you need to know which features to consider to choose the product that is right for you.
To simplify the selection process and save you time and effort, have a look at the list of features below:
Comfort and padding
Examine how comfortable the tool belt suspenders are, as this is the primary reason that you use suspenders with a tool belt.
Good suspenders should reduce the strain that a tool belt places on your hips and lower back. Suspenders with a good amount of padding provide the most comfort and prevent chafing.
Durability and material
The ideal material for tool belt suspenders should be elastic yet durable. This will make it strong enough to handle even the heaviest of tool belts.
Breathable fabric for the padding of the suspenders will make it comfortable to wear for work in hot conditions.
Attachment system
Scrutinize how the tool belt suspenders attach to a tool belt. Some suspenders attach to the belt with hoops and hooks while other suspenders attach with clips.
The hooks and hoops tend to fall out more easily so it makes this attachment method less suitable for use in inclined spaces or for work at greater heights
Fit
Look for suspenders that are adjustable in size so you can customize them to fit your body comfortably.
Avoid selecting suspenders that are too loose as the tool belt that is attached to it will sag easily.
Best tool belt suspenders reviewed
Here is a helpful list of the top tool belt suspenders available with reviews to help you make the best choice.
Best overall tool belt suspenders: ToughBuilt Padded Suspenders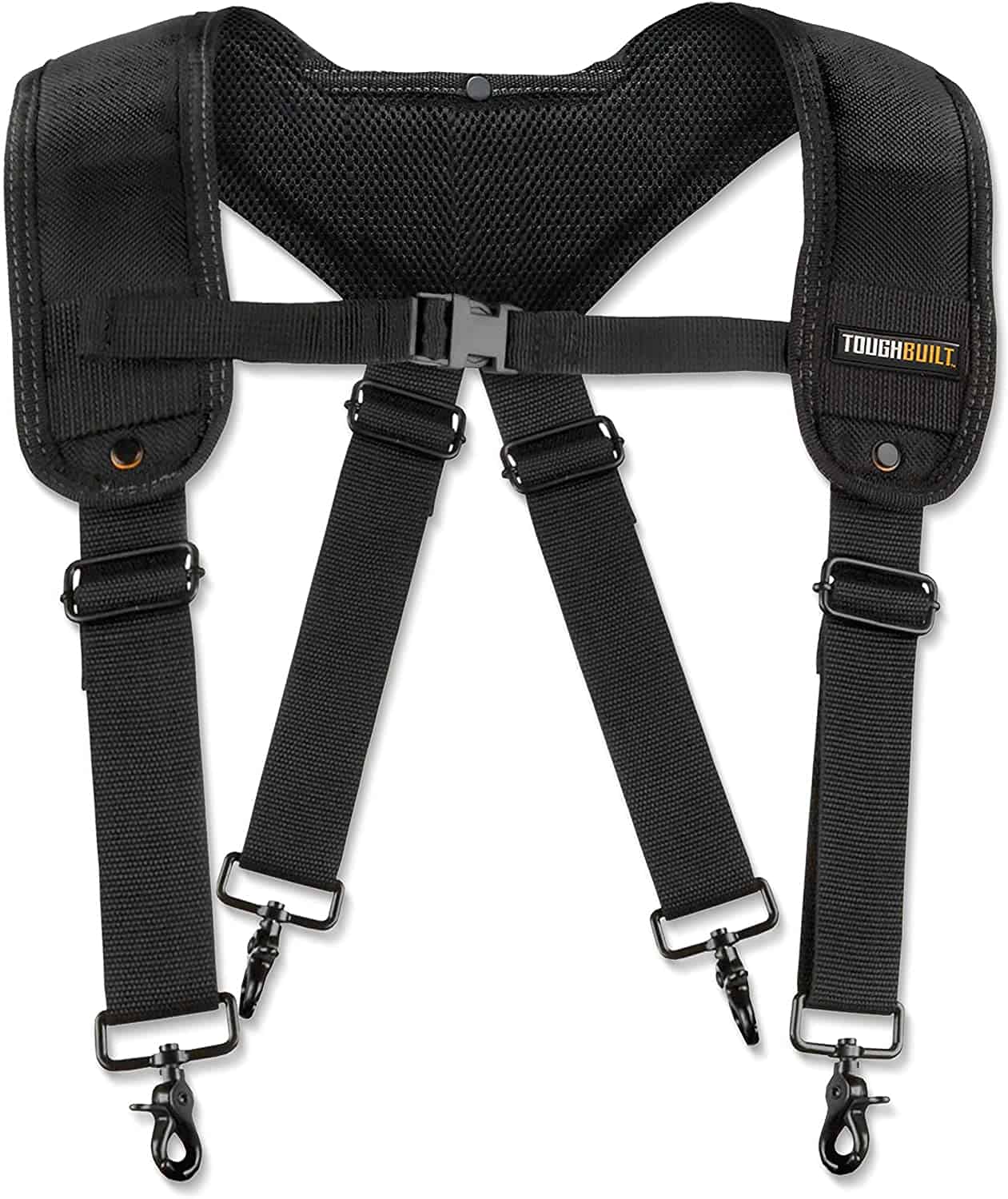 (view more images)
The Toughbuilt tool belt suspenders are definitely the best choice if you are looking for a premium-quality product at an affordable price.
The entire construction of these suspenders is sturdy.
The heavy-duty suspenders are made of durable nylon and all the pressure points are well-reinforced with rivets, which ensure that these suspenders can withstand the weight of the heaviest of tool belts.
It is compatible with all tool belts and has four attachment points.
The chest strap, which is integrated into the snap-on buckle, is amazing because it can fit a wide range of chest sizes. These suspenders come with extra attachment points on the shoulders.
They can be used for additional ClipTech pouches for additional storage space.
The soft, durable, and breathable padding makes it super comfortable. The breathability, allowing your body to stay cool even if you are wearing this tool belt suspender during extremely hot weather.
Taking into account everything that the Toughbuilt Padded Tool Belt Suspender has, it is an incredible option for anyone looking for a dependable and comfortable suspension system for tool belts offered at a fair price.
However, this suspender is not that suitable for those who have narrow chests and some users have reported that the die-cast steel attachment clips were not always strong enough.
Features
Comfort and padding: padded with breathable fabric
Durability and material: nylon with riveted pressure points
Attachment system: 4 die-cast steel clips
Fit: adjustable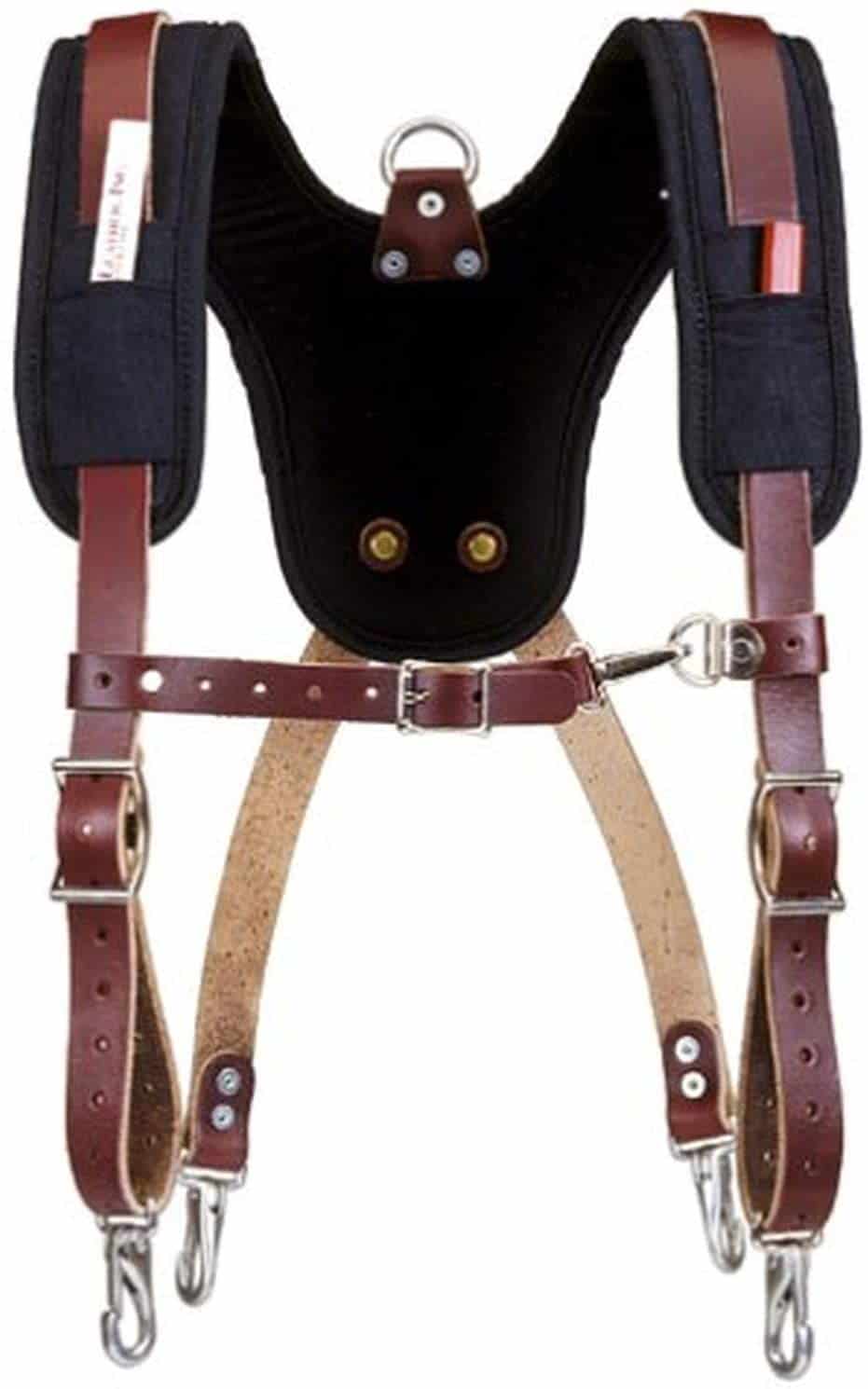 Occidental Leather has an excellent reputation for producing the sturdiest and best hand-crafted leather tool accessories.
The 5055 Stronghold Suspension System by Occidental Leather would be the best overall choice tool belt suspenders on the market if it weren't for its price tag.
It has all the features of the ToughBuilt suspenders but is more expensive. However, this is a premium tool so it is worth the investment.
This suspender is made of hand-crafted leather with strong stitching and rivet reinforcements at pressure points for excellent durability.
Whereas other suspenders only have metal links for attachment, this suspender has four links as well as leather loops for belts up to 3" in width.
These hoops can be used with or in place of the metal links. This feature is extremely useful for belts that don't have attachment points and makes them super secure.
The best thing about this suspender is its ability to accommodate a wide range of body types. It is suitable for individuals up to six feet two inches tall because of its adjustable straps.
Here's how to adjust the straps to your body:
Another noteworthy feature of this tool belt suspender is its comfortable design, which is made possible because of the padded and contoured yoke.
The contoured yoke prevents the suspender from slipping off your shoulders and also distributes the weight across your body to prevent back pain. The padded yoke is made from Dri-Lex fabric which is highly breathable and waterproof.
The 5055 Stronghold Suspension System can be stored easily thanks to a sturdy steel D-ring, which can be used to hang it conveniently on your wall.
The only minor issue with this product is that the leather requires some breaking in, so expect to do some adjustments during the first few days of wearing it.
Also be sure to treat it well, making sure to always store it away dry and grease the leather every now and then to avoid cracking.
Features
Comfort and padding: contoured yolk with breathable Dri-Lex padding
Durability and material: hand-crafted leather with riveted joints
Attachment system: 4 metal links and leather loops
Fit: adjustable fit
Also check out my review of the Best Occidental Tool Belt | Functionality Durability Comfort
Best budget tool belt suspenders: TradeGear Heavy Duty Tactical Suspenders
The TradeGear suspenders are a great choice that is kind to your wallet. The TradeGear suspenders are cheaper than the Occidental and ToughBuilt suspenders, but still top quality.
The nylon straps make these suspenders very durable and the elastic straps are up to the challenge of even the heaviest of tool belts. They are designed to distribute the weight evenly across your shoulders for comfort.
The one-size-fits-all design makes it perfect for a variety of body shapes, from small to extra large.
This is one of its most noteworthy features because a number of the other tool belt suspenders are often unsuitable for someone with a smaller build.
So this makes it a great choice for you, ladies.
Another great feature of these suspenders is that they are multi-purpose. They are ideal not only for use with a tool belt, but also for use by sportsmen, police & security enforcers, outdoor lovers, and more.
The tool belt suspenders can be hooked at four points with nickel clips or with the loops attached to the clips for secure attachment.
Unfortunately, the nickel hooks are not the strongest material and the velcro may become worn out over time.
Features
Comfort and padding: breathable mesh shoulder padding on shoulders
Durability and material: nylon and elastic straps
Attachment system: 4 point – nickel hooks and loops
Fit: adjustable fit
Best magnetic tool belt suspenders: MELOTOUGH Magnetic Suspenders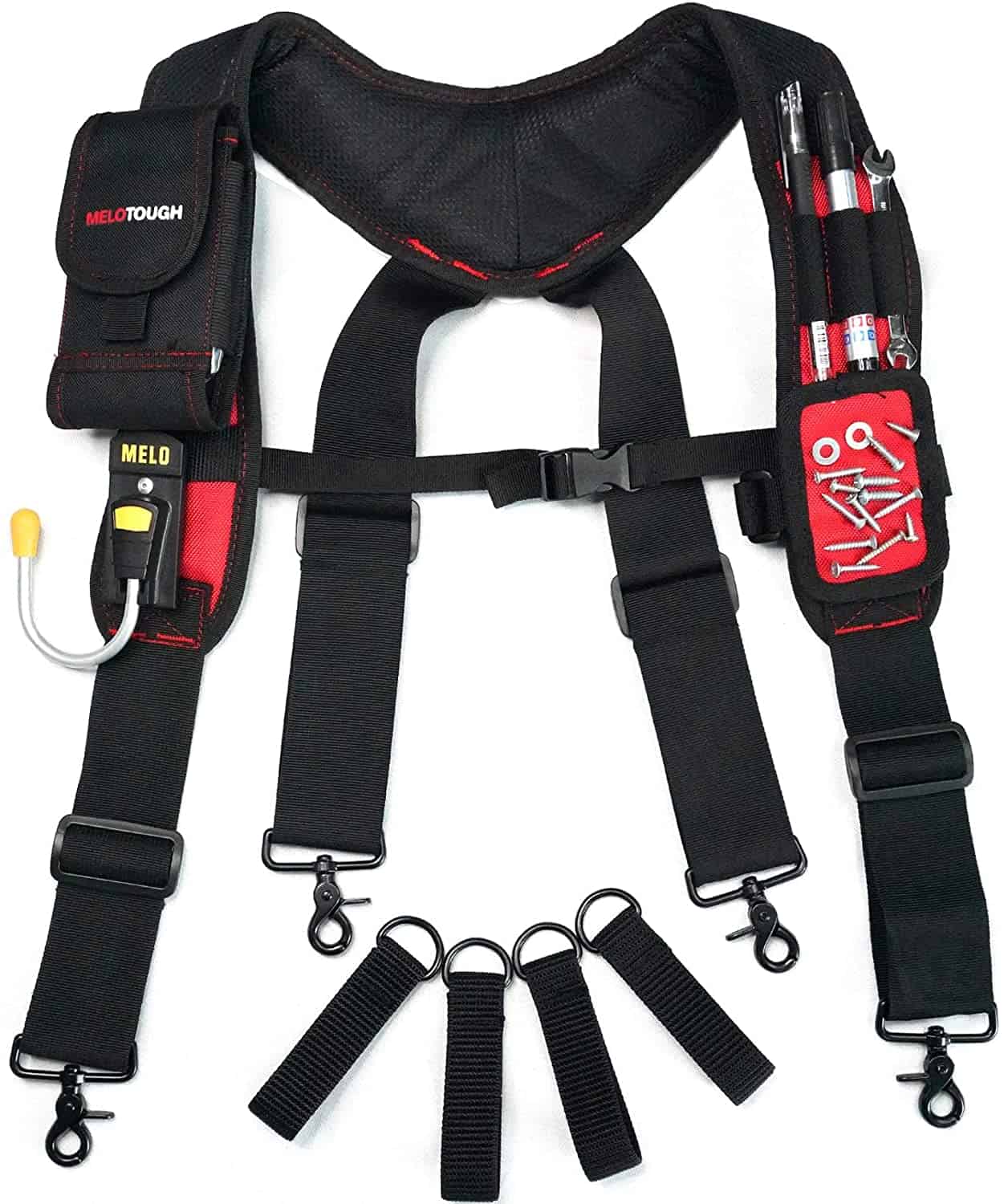 The MELOTOUGH suspenders have a nifty feature that none of the other suspenders on the list does.
These suspenders have a magnetic pad that can keep small metal items like screws close at hand. This is especially useful when drilling overhead.
For extra storage, it also has a handy phone pouch, pencil holder, and webbed pouch to store your measuring tape or other small tools. This will save you the effort of scratching around in your tool belt for these smaller items.
The suspenders are made from durable 600D heavy-duty polyester fabric and nylon webbing so they won't fray easily. The design allows for good weight distribution across your shoulder.
The straps are well padded with breathable foam and easily adjustable for great comfort. These suspenders have a four-point attachment system with trigger hooks as well as loops.
Unfortunately, these suspenders are not suited to individuals with a smaller build and some users have reported that the foam padding isn't waterproof so it absorbs quite a lot of perspiration when working in hot conditions.
Features
Comfort and padding: breathable foam padding
Durability and material: heavy-duty polyester and nylon webbing
Attachment system: 4 point – trigger hooks and loops
Fit: adjustable
Check on the latest prices here
Best gel-foam tool belt suspenders: McGuire-Nicholas BL-30289 Gelfoam Suspenders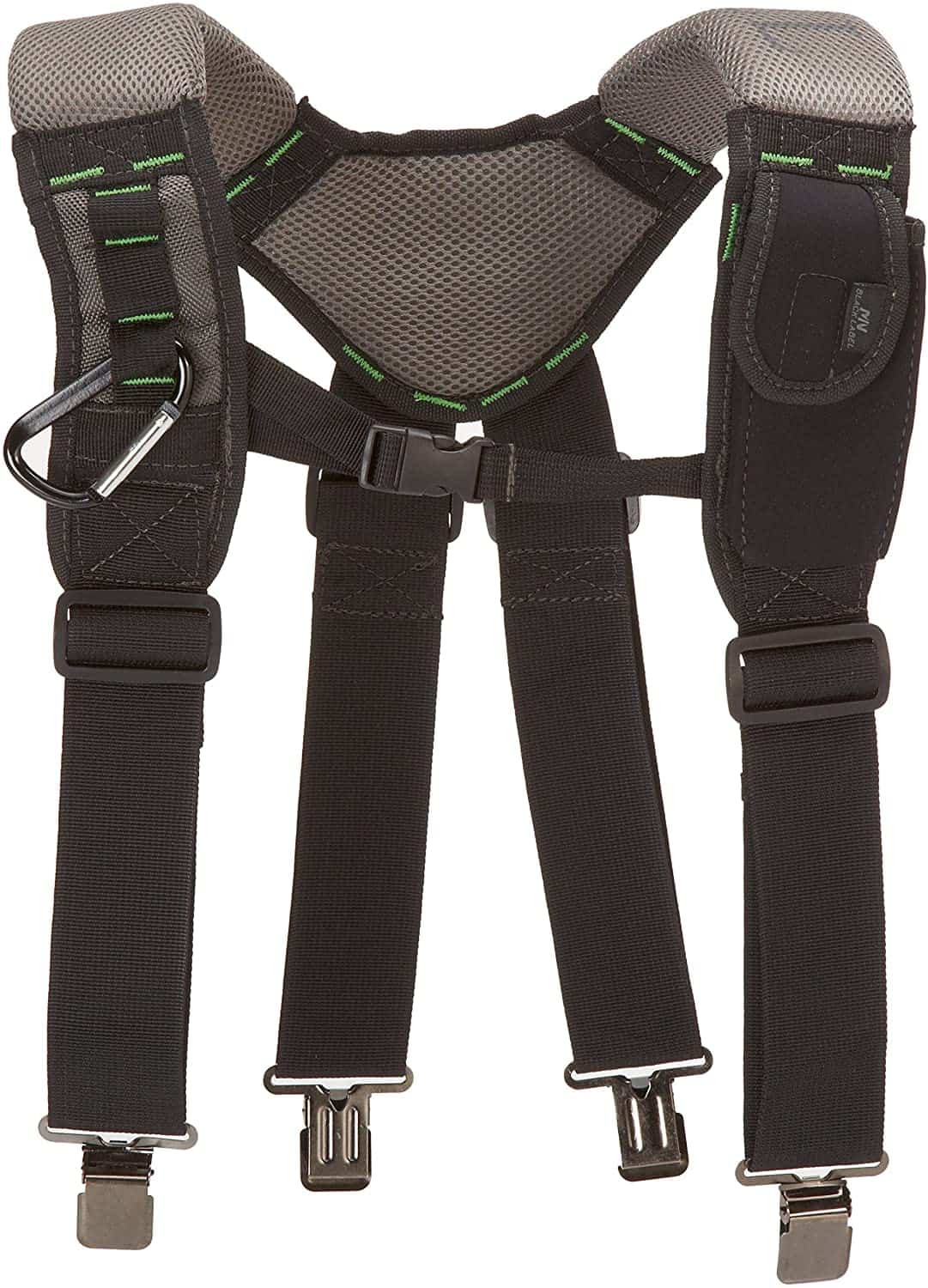 The McGuire-Nicholas BL-30289 suspenders are the best option on this list for people who suffer from back pain, because of their unique gel foam padding.
This advanced compressed gel foam provides comfortable padding and support across the shoulders. This support makes it ideal for those who suffer from chronic back pain, even when wearing them with no toolbelt attached.
These lightweight suspenders have adjustable web straps lined with moisture-wicking drilled mesh for maximum comfort. This breathable and waterproof lining makes these suspenders ideal for hot conditions.
The suspenders have an added cellphone pouch. Unfortunately, unlike the MELOTOUGH suspenders, this pouch was designed for old flip phones and is not large enough for a smartphone.
However, this little pouch can be useful for screws or nails etc.
The suspenders have the same four-point attachment as the others on this list, but these suspenders attach with bite clips. These clips are good for lightweight tool belts, but not rigid enough for anything heavier and detach easily.
Features
Comfort and padding: gel-foam padding with waterproof lining
Durability and material: web straps and drilled mesh
Attachment system: 4 point – bite clips
Fit: adjustable
Best suspenders and tool belt combo: DEWALT DG5617 20-Pocket Pro Framer's Combo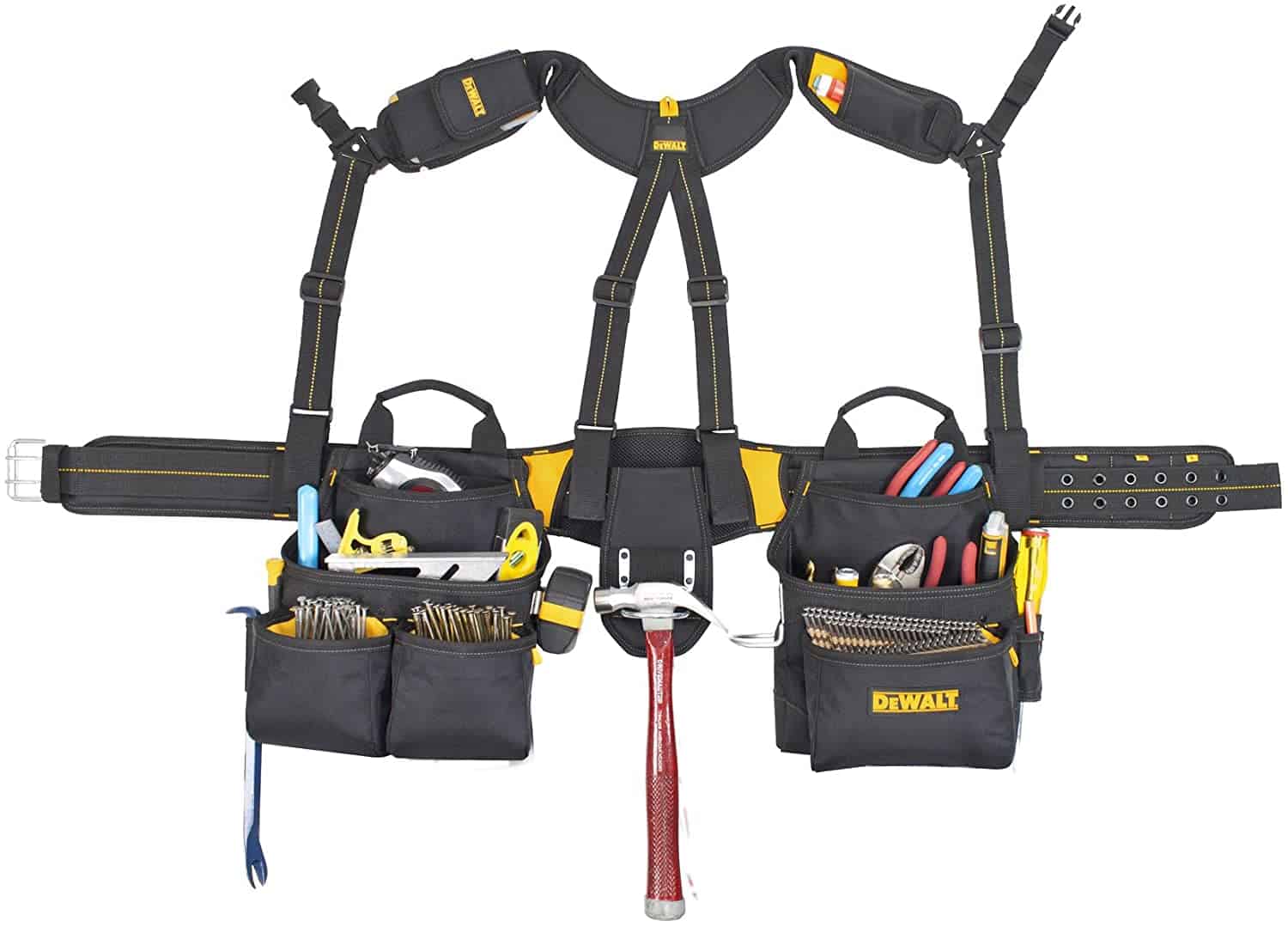 If you are looking to purchase both a tool belt and suspenders at once, then this product is an excellent choice.
This all-in-one option is made from durable nylon. The yoke-style suspenders have padding for comfort, as well as air mesh lining to help reduce heat and moisture accumulation.
Like the McGuire and MELOTOUGH suspenders, these suspenders also have a cellphone holder. This cellphone holder is neoprene-padded and closes with a hook and loop.
This is great because if you bend over a lot you can keep your cell phone handy and you don't have to worry about it falling out of the pocket. There is also an additional zipper pocket for storing valuables, keys, etc.
The adjustable chest strap keeps the suspenders firmly in place. Also, the loops at the end of the suspenders are wider than 4", so they can attach to extra-wide tool belts.
Unfortunately, this is not the best choice if you are very tall as the straps aren't long enough.
Features
Comfort and padding: breathable padding
Durability and material: durable nylon and neoprene
Attachment system: loops and hooks
Fit: adjustable
Looking for just a hammer holder? I've reviewed the best options here
Toolbelt suspenders FAQ
Do tool belt suspenders have loop attachments?
Several premium-quality suspenders feature loop attachments that securely attach the suspenders to the tool belt.
How do you clean tool belt suspenders?
Good tool belt suspenders are washable. Either wash them by hand or put them in a mesh laundry bag and use the delicate or gentle setting of the washing machine.
For non-elastic suspenders such as leather, rather leave it to a professional. Spot treatment is advisable.
If the suspenders are made of leather, a premium-quality leather conditioner will keep them in good condition and prevent it from drying and flaking.
How do you wear tool belt suspenders?
To ensure that your suspenders are worn correctly, first attach the suspenders to the back of the tool belt, then wrap it up around your shoulder and back and pull it across your chest.
Then simply clip it onto the front of your tool belt.
Will the suspenders fit all sizes?
The majority of suspenders today are built to be adjustable.
However, people that are over six feet and five inches or those who are shorter than five feet need to spend time checking and scrutinizing the description provided by the manufacturer in terms of sizing.
It is because the suspenders may not be adjustable beyond those limits.
Conclusion
It was a difficult decision between the Toughbuilt and Occidental suspenders as they are very similar in their offering.
The Toughbuilt suspenders pipped the Occidental suspenders at the post though, because they are more affordable. However, if you are looking for a premium, legacy tool, then the Occidental is worth the investment.
Looking for suspenders that are durable and kind to your pocket? The TradeGear suspenders are perfect for you. If you suffer from chronic back pain and need support even without a tool belt attached, you should go for the gel-foam padded suspenders from McGuire.
The MELOTOUGH suspenders are an excellent choice for the nifty additional features such as the magnetic strip and cellphone case. Finally, if you are looking for an all-in-one option, the DEWALT combo is a great choice.
Like the idea of a portable toolkit, but rather be able to put it down? Check out my top choices for tool backpacks here
I'm Joost Nusselder, the founder of Tools Doctor, content marketer, and dad. I love trying out new equipment, and together with my team I've been creating in-depth blog articles since 2016 to help loyal readers with tools & crafting tips.