I love creating free content full of tips for my readers, you. I don't accept paid sponsorships, my opinion is my own, but if you find my recommendations helpful and you end up buying something you like through one of my links, I could earn a commission at no extra cost to you.
Learn more
Cleaning is an important household task, but it's also very time consuming and boring. If you're struggling to lug around the heavy vacuum cleaner on a daily basis, let me share some good news.
The backpack vacuum cleaner is the solution you never knew you needed. Recently, more and more consumers are making the switch from the upright devices to this backpack version.
If you're wondering why it's because these vacuum cleaners offer more flexibility and they have excellent filters that remove more dirt and dust particles.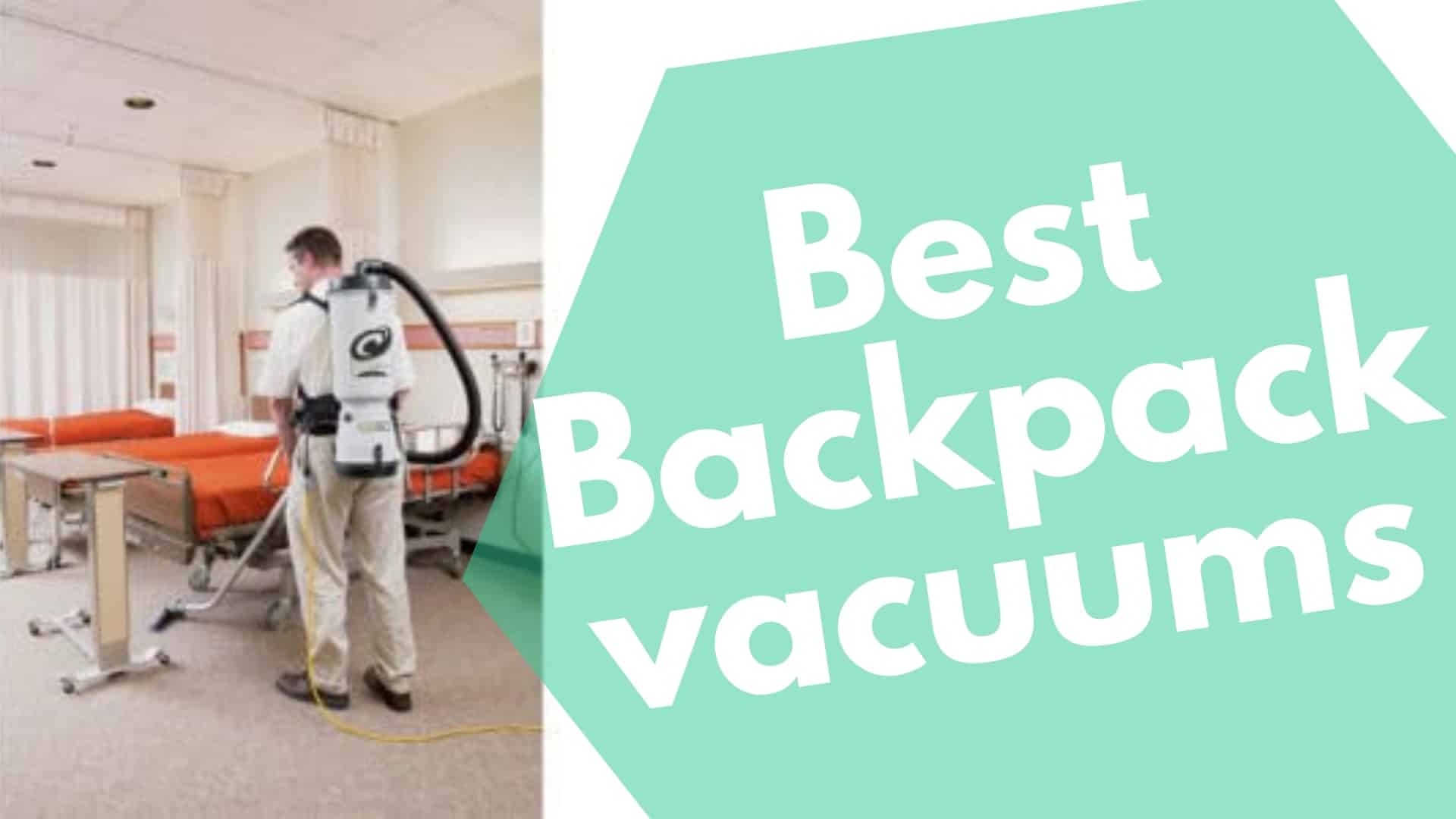 Maintaining the cleanliness of the house can be a very difficult task to do. However, it is still important that you keep your house clean.
There are many cleaning techniques and strategies that you can use to clean your house easily and effectively with a backpack vacuum.
In this post, we are going to share our top picks for the best backpack vacuum cleaners that are going to help you make your house cleaner in less time.
Let's first take a look at your top choices, after that I'll get more into the why of a backpack vacuum and a detailed review of each:
If you want to clean your entire house in half the time it usually takes with your upright vacuum, then you need the commercial-grade ProTeam Super CoachVac with HEPA filtration.
It comes with a set of accessories to help you reach even the tiniest of spaces.
As well, it has excellent suction, and the HEPA filter traps 99% of dust, so your home is cleaner and safer for the whole family.
If you're tired of lugging the heavy vacuum cleaner around like me, then you will appreciate the lightweight backpack design that's super comfortable and easy to use.
But, don't worry, I'll tell you more about the best backpack vacuum cleaners below because I know you're curious by now.
What to know when buying a backpack vacuum cleaner
I'm sure you're thinking about buying a backpack vacuum but you're probably wondering if it can really solve your cleaning dilemmas.
If you struggle to move your heavy vacuum around, if you experience back pain when being over to clean for long periods of time, then you definitely need this product.
But first, take a look at some important information about these machines.
What is Backpack Vacuum Cleaner?
The Backpack vacuum cleaners are formulated and designed to help many people clean the house fast and effectively.
The Vacuum cleaner is a piece of equipment and a tool used for cleaning the house. It optimizes your house cleaning capacity.
Just like other types of vacuum cleaner, the backpack vacuum cleaner is effective. It's a useful cleaning equipment that can effectively vacuum dust and dirt in the place.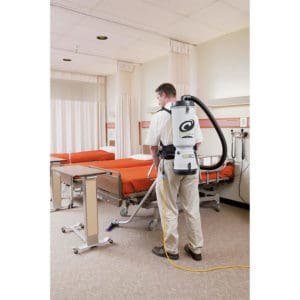 The difference of backpack vacuum cleaner from other vacuum cleaners is that the backpack vacuum cleaners are formulated and designed to be put on the back of the user.
So, as you use the vacuum. you carry it on your back. The backpack vacuum cleaner has some straps which are intended to serve as the support.
These hold the equipment attached to the back and shoulder of the user. The backpack cleaner may also include the heaviest part of the equipment which is the motor.
However, users must not worry because the gravitational design of the backpack vacuum cleaners ensures good balance while the user carrying the cleaning equipment.
Is a backpack vacuum cleaner effective?
Very much so. In fact, this type of device makes cleaning much quicker and more efficient. The secret to a great vacuum cleaner is the overall design.
According to a study, "Since a backpack vacuum is a piece of equipment that the operator wears, the total weight, weight distribution, sound level, harness comfort, and air discharge direction can impact operator fatigue, overall cleaning effectiveness, productivity, and the potential for repetitive stress injuries."
Top Backpack Vacuums Reviewed
Here is our list of the best vacuums for all budgets, carefully selected to fit certain criteria.
Best Commercial backpack vacuum: ProTeam Super CoachVac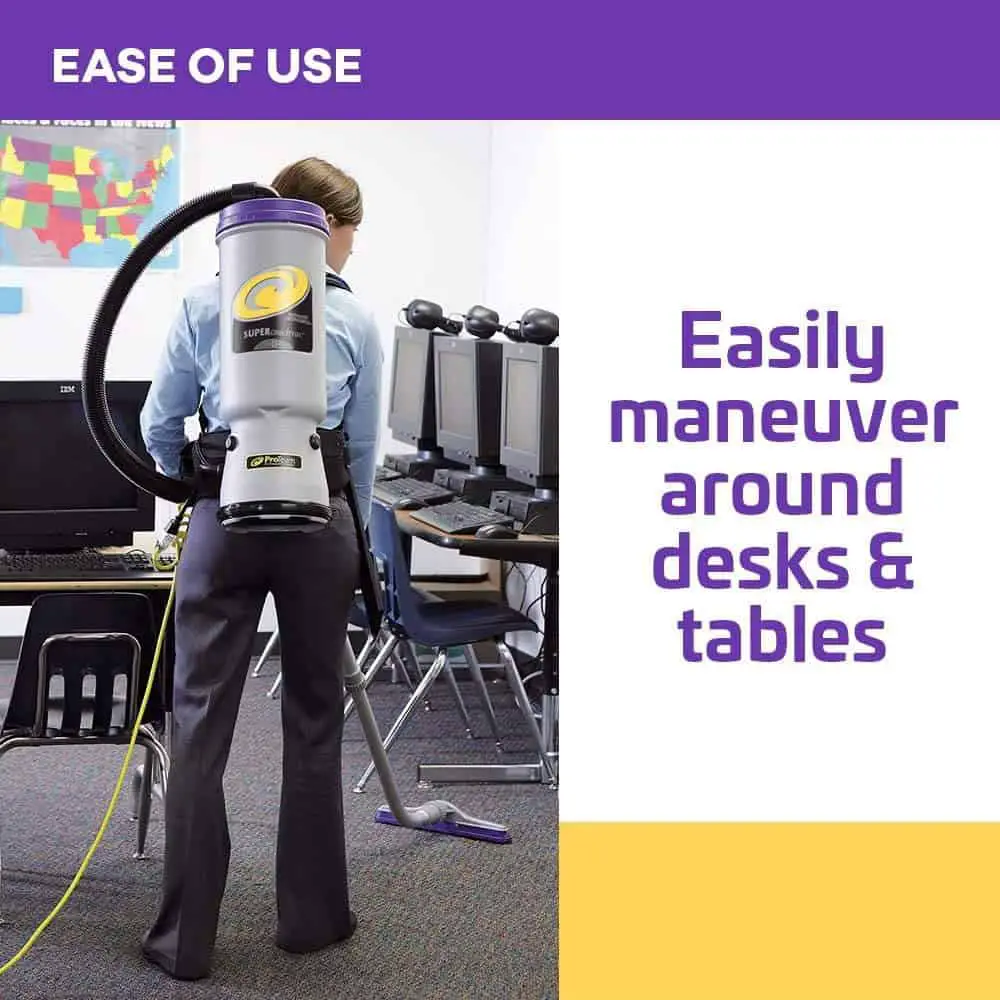 Do you like to clean your home on a daily basis? Do you avoid vacuuming very often because your vacuum cleaner is bulky and heavy?
There's nothing easier than using this lightweight backpack vacuum. Imagine being able to clean your carpet, stairs, blinds, and even light fixtures in one go!
And best of all, you probably don't even need to stop to empty the bin while you clean.
A commercial backpack vacuum is by far the best option if you like a spotlessly clean home.
It has great suction, a big dust bin, and many accessories that make cleaning a whole variety of surfaces easy.
This product is our top pick because it performs very well and cuts your cleaning time in half with minimal effort on your part.
After all, we all need a convenient device that makes life easier. With a corded device, you no longer need to worry about charging the batteries and rushing to clean up before it runs out.
Features
Large capacity filter:
This vacuum has a huge 10-quart filter capacity which is 3 times the capacity of a regular upright vacuum.
This means you can get much more cleaning done in less time, without taking breaks to empty the bin.
Easy to maneuver:
The only thing you have to pull and coordinate is yourself. This tool is very easy to use because you simply take the hose right to the spot you want to clean.
So, you can get the floors under the kitchen table and then immediately move the hose up towards the window to grab the dust on the blinds.
Long cord:
This device has a very long 50ft cord, so you don't even feel that it's corded, you can clean a huge area.
Adjustable harness:
The straps are adjustable so you can make them longer or shorter to suit any family member.
As well, this is an articulating harness with an integrated tool belt and a cord hook so the cord doesn't tangle.
HEPA filtration system:
This device has a HEPA filter that traps even the smallest particles.
There are 4 levels of filtration to ensure that it traps all the dust and allergens. It picks up to 99.67% of dust mites, pet hair, dead skin cells, pollen, mold, and bacteria.
Quiet Operation:
This vacuum cleaner is ideal for use in the home as well as commercial buildings, schools, offices, theaters, etc. It is very quiet so it doesn't disturb the people around you.
At 66 dBA, this product is one of the quietest in its class.
Take note that this vacuum is very quiet, so if you like to clean without disturbing the entire household, this is a great feature.
So, if you want a backpack vacuum to replace all your other vacuums and cleaning tools, then this is a great option.
Check the latest prices on Amazon
Best Cordless Backpack Vacuum: Makita XCV10Zx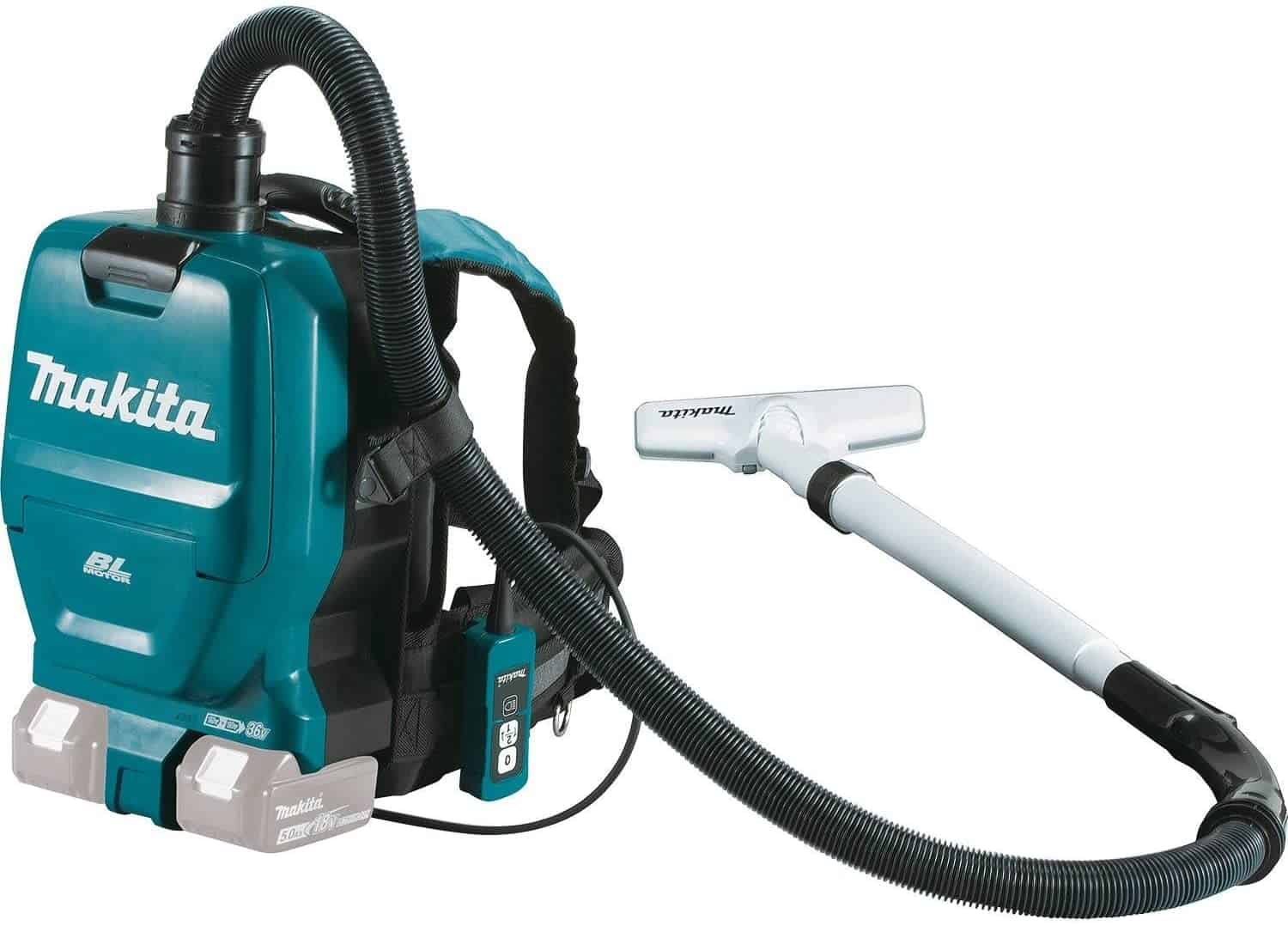 If you have a multi-level home, then the corded vacuum is a hassle to use because you need to keep unplugging the device.
That's why this Makita backpack vacuum is handy to own. It is cordless and has a lithium-ion battery and up to 90 minutes of run time which is more than enough time to clean a house.
Imagine the convenience of cleaning with no cords, no power outlets, and unlimited movement.
Theref0re, you can move up the stairs comfortably with this lightweight device on your back.
The brushless motor is electronically controlled to optimize the device's energy use and battery, depending on the surface you clean.
This means you can switch between hardwood floors, carpets, and upholstery without worrying about the battery draining.
It makes a huge difference because you can finish cleaning much faster and get back to doing the things you love.
So, if a cordless backpack vacuum sounds like the perfect cleaning product for you, check out all the cool features it has.
Features
Brushless:
This vacuum cleaner has a brushless design that picks up all the dirt and dust without any brushes getting jammed. It means you no longer need to keep picking out the hairs and other dirty debris between the bristles.
Lightweight:
The vacuum cleaner is very portable because of its lightweight design. It only weighs 9.4 lbs with the batteries included. That's one of the lightest cleaners in this category, so you don't need to worry about working up a sweat while vacuuming.
HEPA filter:
A HEPA filter is very efficient when it comes to removing the allergens in your home. This type of filter captures large, small, and micro-dust particulates so your home is cleaner.
Powerful Lithium-Ion Battery:
Most upright cordless vacuums have a short battery life of about 3o minutes. But, compare this Makita vacuum which has 90 minutes of run time on the low setting and 60 minutes on high. That's double the time so you can get more cleaning done on one charge. The battery is very powerful so the device also has great suction power.
Big Dust Bag:
The size of the dust bag is quite large. It has a half-gallon dust bag, which means you can pick up lots of debris before you need to empty it. The filter is also easy to replace and takes seconds.
For those of you that want to clean the whole house in one go, this backpack vacuum is going to be very handy. You can have peace of mind knowing you have more than an hour of uninterrupted run time. Plus, this is such a lightweight device, it's not going to be uncomfortable on your back. Now you have no excuse not to clean your house!
Best Backpack Vacuum With Beater Bar:

Hoover C2401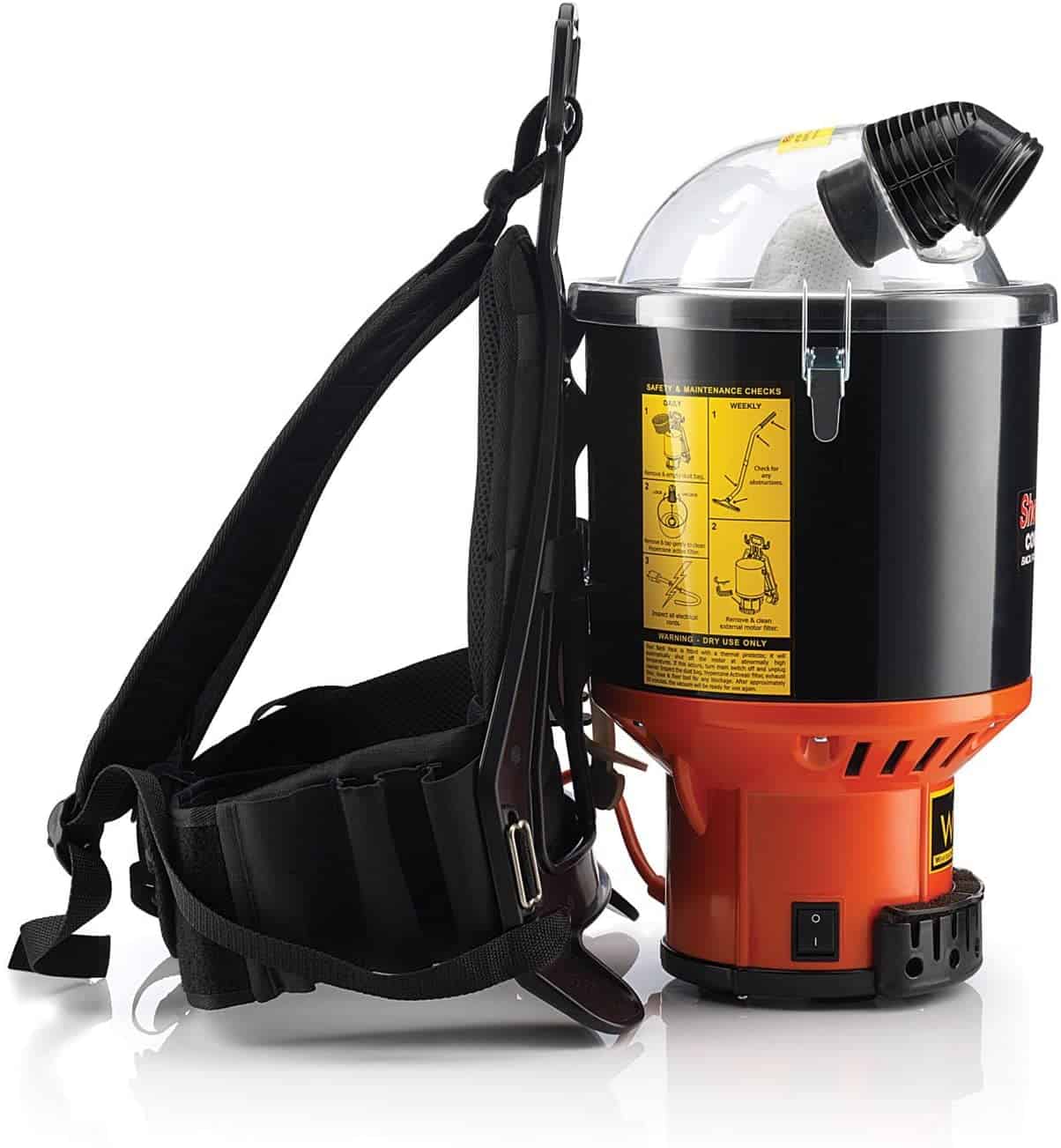 When your home has lots of carpets, you know that a beater bar is a must-have accessory for any vacuum cleaner. There's nothing worse than vacuuming and then later realizing the debris is still stuck inside the carpet fibers. This vacuum has a floor nozzle with a rotating beater bar that spins and loosens any debris that's stuck. Therefore, it sucks up more dirt than a vacuum without a beater bar.
This product is lightweight and commercial-grade, so it has a great design and powerful suction. Since the unit weighs less than 1o lbs, it saves you energy. Also, you don't have to worry about injuring your back or breaking a sweat. It's the perfect cleaning accessory for all kinds of vacuuming tasks.
The harness is designed with the input of professional chiropractors to maximize comfort and safety for the wearer. Therefore, Hoover built this vacuum using only the lightest materials, without compromising on quality and durability. So, you know you are investing in a product that is only going to make your life easier.
Features
Chiropractor designed harness:
If you worry about backpack vacuums causing injury, then don't worry. This harness was designed with the input of professional chiropractors to ensure minimal and low impact on your back. Therefore, it won't feel like it's weighing down your back and shoulders.
Clear dome lid:
The clear dome lid allows you to check and see the debris level inside the recipient. This eliminates the guesswork and you can make fewer trips to the garbage can to empty the bin.
Lightweight Design:
This is a very light vacuum cleaner with a total weight of 9.2 pounds.
Hypercone filter:
The device has a unique hypercone filter. This is made with HEPA media but it is a cartridge filter. It attracts all the small dust and dirt debris, leaving you with a cleaner house. The cartridge filter ensures an uninterrupted airflow which means the device never loses suction power.
Positive Lock Hose:
The hose is 48 feet long and there is a 3-Wire Quick Change Cord. Also, the vacuum cleaner has a positive lock system that ensures the hose doesn't fall off as you vacuum. We all know how annoying it is when the hose comes loose and we have to stop our cleaning to put it back.
For those of you with lots of carpeting, this vacuum cleaner is very handy because it has that beater bar to remove even the smallest debris out of the carpet fiber. Since this device is so light, you can spend more time spot cleaning the pesky carpet messes without experiencing fatigue and back pain.
Best Backpack Vacuum With HEPA filter:

Atrix VACBP1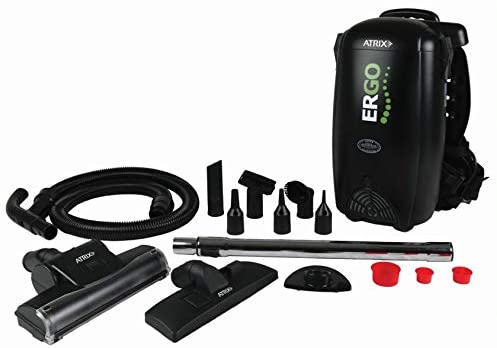 When it comes to HEPA filters, there's no doubt they are extremely efficient because they capture more than 99% of dirt and debris particles. But, most modern backpack vacuums have a HEPA filter so we picked this specific model as our best one because it is affordable. The Atrix model has all the features of a more expensive device, so if you specifically want the HEPA filter, this is a great budget buy.
If you struggle with allergies and want to ensure your home stays as clean as possible, this cost-effective model is the best bet. It has a high-efficiency filtration system and HEPA filter bag. The vacuum comes with all kinds of useful accessories so you can deep clean those cracks between the floor. As well, you can use this device to clean all kinds of surfaces from couches to windows and everything in between.
Therefore, if you don't feel like splurging on a backpack vacuum but still want the comfort and features of an expensive model, the Atrix is a great alternative.
Features
Ergonomic Design:
This device is lightweight and comfortable to wear as a backpack. It weighs weighs 10.3 lbs with dimensions of 12″ x 9″ x 20″. You can also convert the vacuum for right or left-handed users, as needed. The backpack is low profile and comes with an adjustable belt loop and shoulder straps. The design ensures a comfortable fit and offers firm back support.
HEPA filter:
Considering the price of this vacuum, it has a high-quality HEPA filter which captures more than 99% of particles. It safely captures all the harmful allergens including dust, dirt, bacteria, mold spores, pet dander, and other types of harmful particles that can cause allergies. So, you can feel safe and clean inside your home.
Tons of accessories:
When you buy this vacuum cleaner, it comes with a variety of useful tools to help you clean every part of a home or commercial building. The attachments include a 6′ hose, blower adapter, exhaust filter cover, extension wand, multiple nozzle sets, crevice tool, several brushes, HEPA bag, shakeout bag, filter sets, and set of hose and filter plugs.
Powerful Suction:
This vacuum cleaner is very powerful and has excellent suction. This is a 1400 WATT 12 AMP 120 VOLT  device. The backpack vacuum cleaner has a CFM output of 106 CFM.
Use it as a Leaf Blower:
You can convert it from a vacuum to a blower with a set of 3 blower nozzles. Therefore, it's also a versatile vacuum you can use for more tasks around the home. If you notice leaves on the front porch, you can easily blow them away without a new device.
Everyday tasks no longer require a multitude of vacuums and cleaning products. With this affordable cleaner, you get the benefits of a HEPA filter and all the attachments of expensive brands. Therefore, when all you want is comfort and extreme cleanliness, this vacuum cleaner delivers.
Check out the prices on Amazon
Best Lightweight Backpack Vacuum:

Powr-Flite BP4S Pro-Lite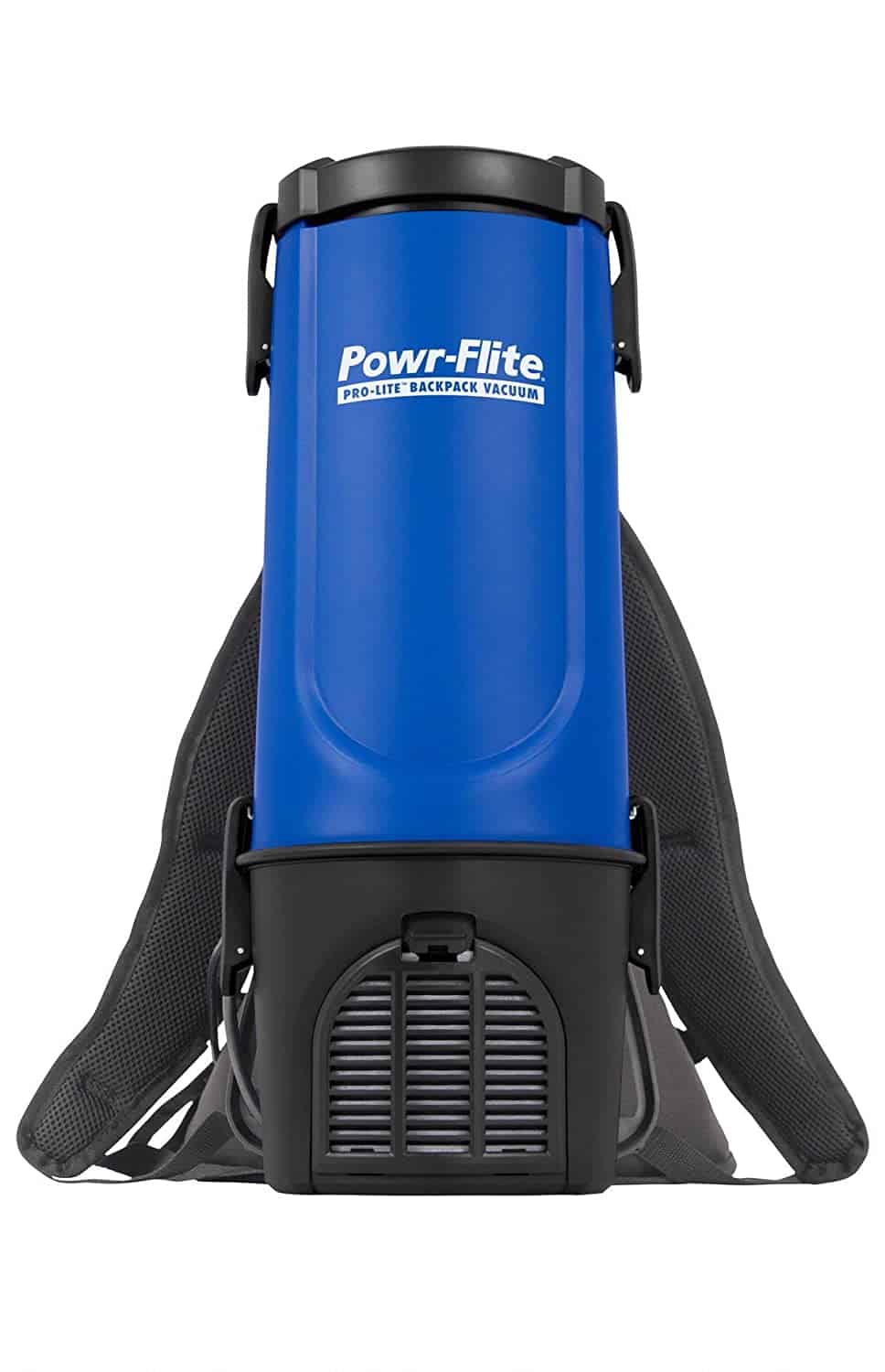 Comfort is the keyword when it comes to this great lightweight product. This one delivers professional-grade results without causing fatigue and pain to the user. At only 10 pounds, it is light enough to clean for hours but also effective to help you get everything spotless clean faster. The design is ergonomic and all the components of the harness are made to help the user feel comfortable.
If you're like me, you need a high-performance vacuum cleaner to clean the multiple surfaces in your home. You probably also want the lightest device because the last thing you want to do is work up a sweat carrying a heavy backpack. After all, you want to clean, not workout. This device is so good you can even take it to work and clean all kinds of industrial and commercial buildings.
Let's take a look at some of the features so you can understand why I'm so keen on this model.
Features
4 Stage Filtration:
This device has a four-stage filtration system. The dust goes into a paper filter bag, then a microfilter cloth bag. It works its way into a pre-motor filter, and finally, it goes out the exhaust filter for improved indoor air quality.
It's not quite the HEPA system, but it works effectively and improves the air quality in your space.
Lightweight and Comfortable:
The main reason we love this vacuum cleaner is that it weighs only 10 pounds. But the lightweight design is also improved with the great design details. The anatomically-formed shoulder straps are made of perforated foam and cell-mesh lining. That makes them very soft and comfy, plus they deliver a perfect fit. As well, you still maintain flexibility as you move around.
Tools are Included:
A variety of handy attachments are available. These include a 1 1/2″ double-bend wand, 17″ crevice tool, 14″ Powr-Glide carpet tool, 14″ hard floor tool, and a 4′ hose.
Good for Above Floor Cleaning:
The vacuum cleaner has a 40 ft hose which allows you to clean above ground and reach those high places. This means you no longer need to climb up onto a chair and risk injury to clean vents, blinds, and ceilings.
Fit for Smaller People:
If you're a short person, you know that these backpack-type vacuums can be too large and uncomfortable. They often don't adjust well to a petite frame. But, this harness design is adjustable and fits smaller bodies very well.
People with sensitive or small bodies are going to enjoy using this backpack vacuum because it fits petite bodies. It is such a lightweight and easy to use product that you won't feel sore and tired after you vacuum. If you prefer lightweight portability and powerful suction and don't mind a small 4-quart dust bag, this is a great option.
Check out the prices on Amazon
Best Backpack Vacuum for Carpets:

Powr-Flite BP6S Comfort Pro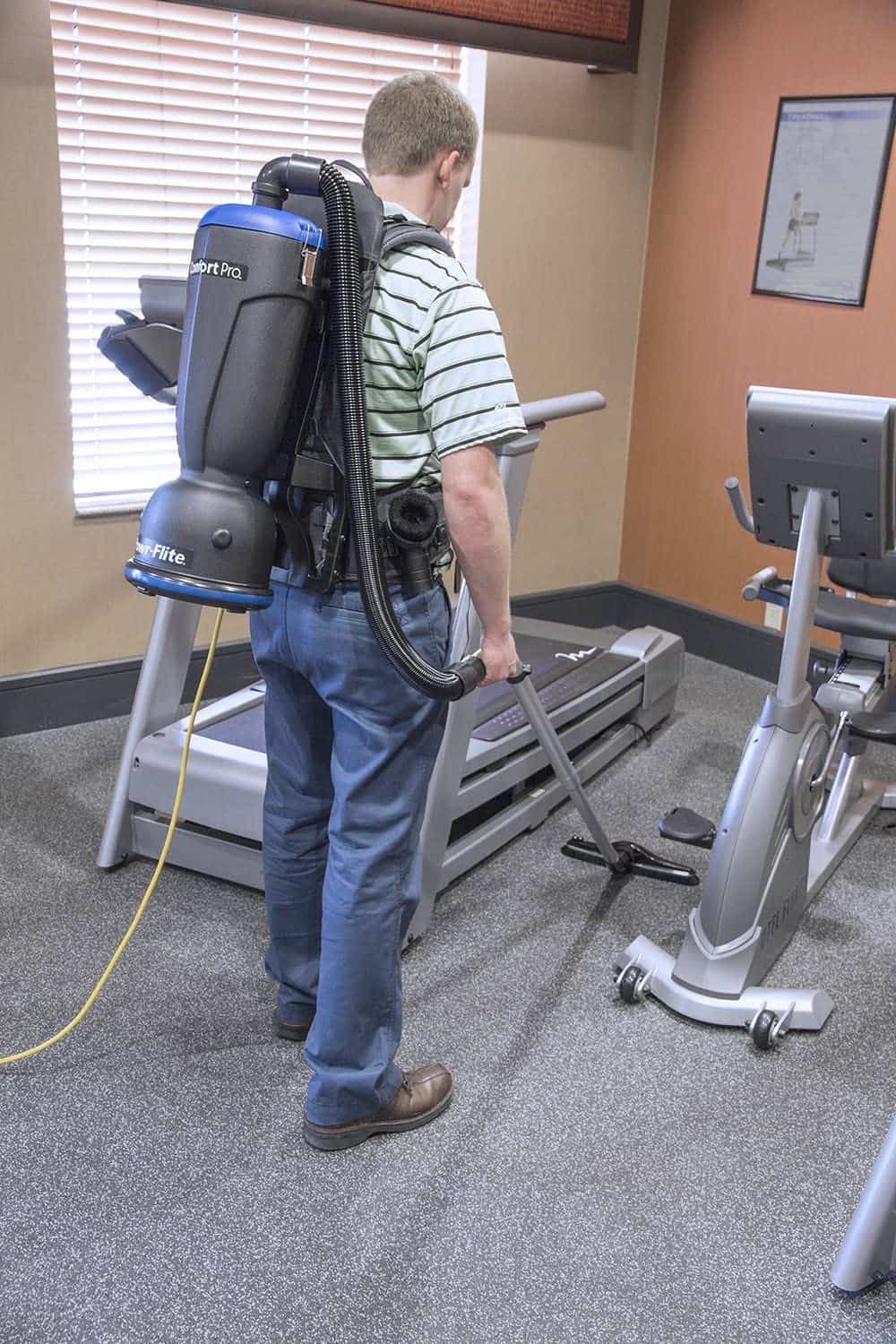 Cleaning the carpet is a hard task if you don't have the right tools for the job. This vacuum cleaner has powerful suction and is most recommended for carpets and upholstery. It has a 50 ft long cord which allows you to clean the entire carpeted area with ease.
If you clean carpets often, you know how frustrating it is when you have to keep going over the same messy spot over and over again. That's why you need a good vacuum cleaner that has excellent suction and a powerful 130 CFM and 110″ waterlift. With this backpack vacuum, you can cover more space in less time. 
You'll also be impressed at how quiet this device is. You can even vacuum while others are resting or working in other rooms. If this sounds like something you need, check out the features below.
Features
Powerful Suction:
The one thing you don't need to worry about with this device is weak suction. It has a powerful 130 CFM and 110″ waterlift which ensures you can pick up all the small debris stuck inside the carpet fibers. 
5-stage HEPA filter:
If you want a deep clean, this is the perfect vacuum. It has a 5-stage HEPA filter system that removes over 99% of all dust, dirt, bacteria, and allergens in your home. This means you get improved air quality after you vacuum.
Very Quiet:
This vacuum is very quiet and doesn't overwhelm you with a loud noise. That's because it has a superior 62 dBA rating.
Toolbelt:
The harness has a very convenient tool belt where you can put all the accessories. So, when you need to switch attachments, you don't need to take the backpack off. All the tools are lightweight so they don't weigh you down.
Comfortable Harness Design:
This harness has a comfortable design that transfers most of the weight to the hips, thus eliminating any strain on your back. As well, the backpacks are designed by Deuter, known for great quality and comfort. The shoulder harness doesn't make you feel any discomfort so you can clean all day long if you need to.
As I mentioned above, this long corded vacuum cleaner has great suction power so it's a great option for carpeted surfaces and upholstery. If you know that you struggle with debris getting stuck in fibers, then this device is going to help you get the mess out.
Best for Hardwood Floor & Hard Surfaces:

ProTeam MegaVac with Hard Surface Tool Kit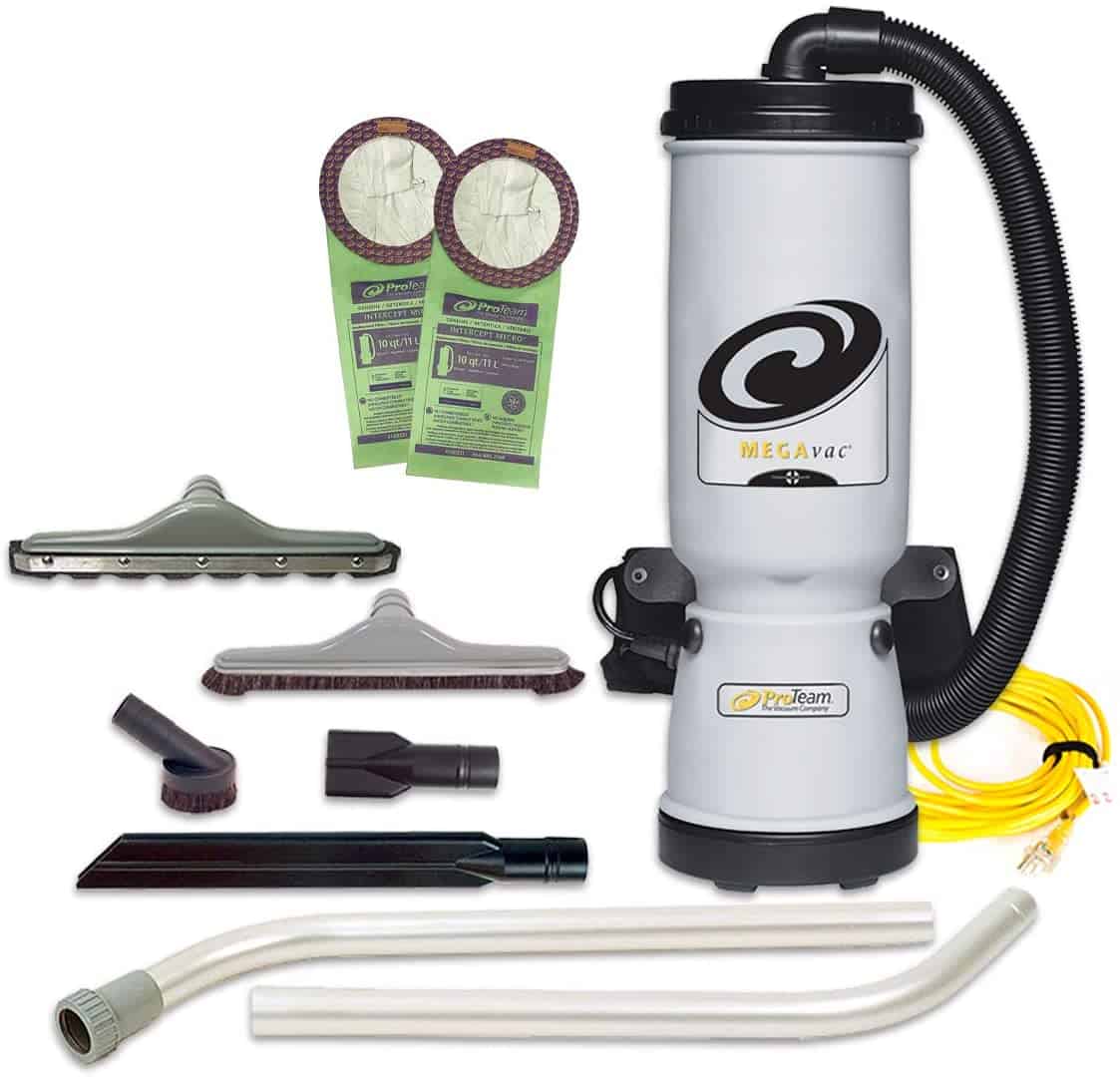 Have you ever scratched your floors with a bulky vacuum cleaner as you pulled it around?
A hard surface requires a special vacuum with hard surface attachments that don't scratch your beautiful hardwood or laminate floors. This vacuum cleaner is designed to pick up all the dirt and dust that accumulates on hard surfaces throughout the day. It is ideal for high-traffic areas such as kitchens, offices, and schools.
The 10-quart filter bag and extra-long 50-foot power cord make this vacuum ideal for high-square footage areas in homes and commercial spaces. When you've been cleaning hardwood floors like me, you can appreciate a long cord and powerful suction that sucks up all the tiny particles in the cracks.
Features
High Efficiency:
This particular ProTeam model is very efficient when it comes to covering large square footage areas. In one hour, this vacuum covers 7,407 sq ft, while a regular upright bagged vacuum covers only 2,857. Imagine how much less work it takes to finish a big cleaning job with this device.
Hard-Floor Tool:
The reason we picked this model as the best for hardwood floors is the special hard-floor tool. It is made of a horse-hair brush which traps more fine dirt and doesn't scratch the floor.
2-in-1 Versatility:
This vacuum cleaner converts to a blower tool in a few easy steps. According to the manufacturer's description, "it quickly converts into a high powered blower in two easy steps without additional parts or accessories making it ideal for office buildings, walkways, universities, construction clean up jobs and more".
Comfortable Harness:
Although this model is slightly heavier (11lbs) when compared to others, it is still very comfortable to wear on your back. It has an ergonomic design to prevent back pain and discomfort, even after prolonged use. The harness fits close to the body so you avoid hitting yourself against objects as you move around.
4-level Filtration System:
The vacuum cleaner has a 4-level intercept microfiltration system that efficiently traps dust, dirt, and other small particles.
Still, thinking about this model? The best thing is that even though it's recommended for hard surfaces because of the horsehair brush, there are more attachments. Therefore, you can use it on all surfaces without a problem.
Best Battery Powered Backpack Vacuum:

Atrix VACBP36V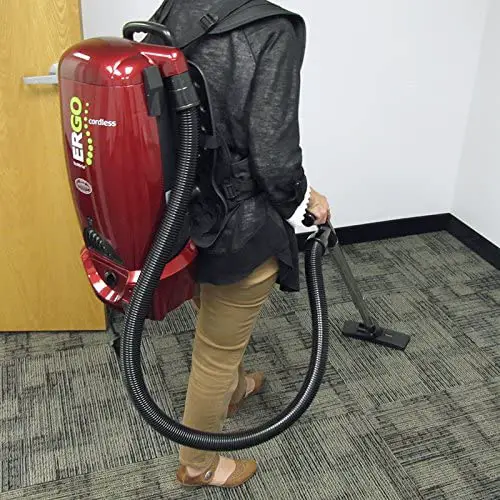 Many people look for cordless vacuum cleaners but it's important to look for a great battery quality. Here's where this Atix model delivers: a great battery with an hour of continuous run time and fast charge time (around 3 hours). Therefore, you have enough time to clean the whole house or office but you don't need to wait around all day until the vacuum cleaner is charged again.
This is a premium professional-grade vacuum cleaner and it has a high price, but it delivers amazing results. It cuts down on cleaning time so you can spend more time doing more important things than vacuuming. It comes with a range of accessories for different surfaces so you can get more done.
As technology advances, the lithium-ion battery keeps getting better and better so this type of vacuum cleaner is worth the investment.
Features
Long Run-time:
Since it has a great lithium-ion battery, the vacuum cleaner works for 55 to 60 minutes non-stop with one 3 hour charge. Therefore, this vacuum cleaner is suitable for both residential spaces and commercial ones because you can cover a lot of surface area in one hour.
Many attachments:
This vacuum is very versatile and suitable for any type of vacuuming task. The kit comes with many attachments. There is a floor brush and 7 nozzle attachments for all surface types from upholstery, to carpets, to hardwood floors and more.
Large HEPA-Filter:
The vacuum cleaner has a large 8-quart HEPA-filter bag. It's great for commercial and residential units because it traps and collects all types of dangerous particles hanging around your home. If you or someone you live with suffers from allergies, then a great premium vacuum cleaner can make the air more breathable.
This filter collects dust, pollen, toner, bacteria, dander, hair, crumbs, machine dust, and more!
2-in-1:
When you don't feel like using the vacuum on the battery setting, you can plug it in and it becomes a corded cleaner. That's useful if you are a professional cleaner and use your vacuums for many hours each day.
Large Size:
This particular Atrix model is larger and heavier than others but that's because it's a professional product. It's great for men or people with larger bodies who want to clean very large spaces in one go. This vacuum weighs 18 pounds, so it's considerably larger than others on our list.
Considering the large size of this model, we recommend it for people with a large stature and those who vacuum very big areas at once. It is a versatile device with many nozzle attachments so it's quick and easy to clean a room from top to bottom.
Best Leaf Vacuum and Blower Backpack: BLACK+DECKER BEBL7000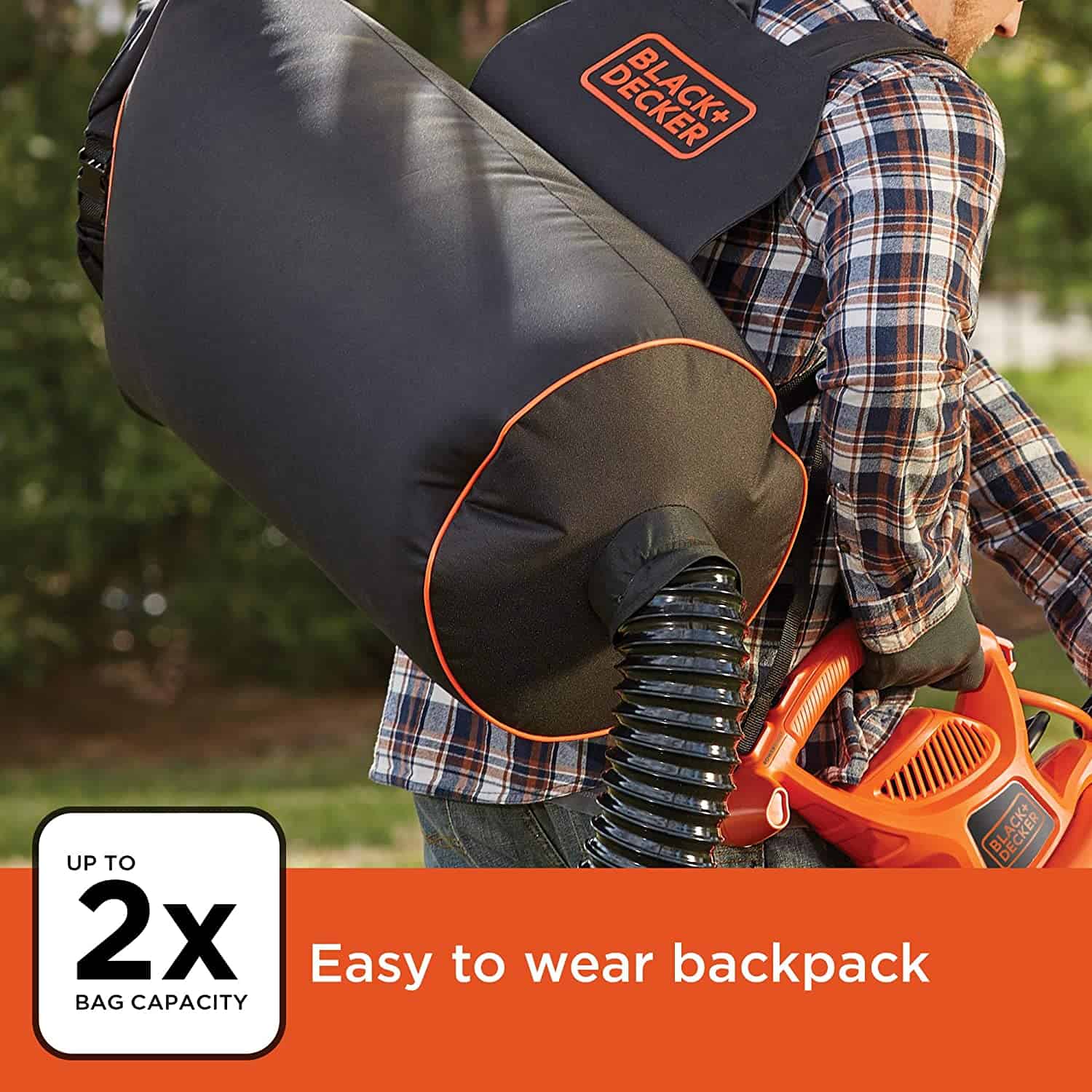 When you need to clean the yard, a handy leaf blower, mulcher, and vacuum cleaner combination is most useful. With one backpack tool, you can cover large areas, get rid of dirt, and shred the leaves. Many people complain about handheld leaf blowers and vacuums because they are generally very heavy and make your arms hurt. But with this model, you have a 3-in-1 product that's lightweight, has a large bag capacity and is powerful.
It has a power boost to help you blow away all the debris at a faster rate from the yard or other hard surfaces. This product is not recommended for lawns and grassy areas. The backpack's bag capacity is huge because it expands so it fits a lot of leaves and debris.
This product only weighs 11 lbs, so anybody can use it without any strenuous physical effort or back pain. The weight is evenly distributed and the harness is made of lightweight material for maximum comfort.
Features
Fast Air-Speed
The blower air velocity is 250 mph, which means it's very powerful. In addition, it comes with a power boost feature to help you get through larger piles of leaves and debris from the yard. When you get too many sticky wet leaves, the power boost can help you clean up faster.
Lightweight Design:
The backpack is lightweight and only weighs 11 lbs so it's great for all body types. As well, the harness is ergonomic and designed to feel comfortable when you wear it. It doesn't cause shoulder and back pain because the weight is evenly distributed.
Zipper-free bag:
You know how annoying those zippers are when they get stuck. You end up wasting so much time as you empty the debris. With this zipper-free bag, it only takes a few seconds to empty the beg and start cleaning again. The bag also has a wide opening so all of the contents get empties immediately.
3-in-1:
This is a 3 in 1 product, and it works as a yard vacuum cleaner, a leaf blower, and a mulcher. It's the ultimate yard tool for the busy individual who doesn't have time to use multiple devices.
When you lead a busy lifestyle, you definitely don't need to waste time with multiple yard cleaning tools. A device like this one with a big zipper-free bag and lightweight design lets you get more work done without emptying the bag constantly. If it sounds like something that you could use in your household, then don't worry, it's very affordable ($80 or less).
Tips for Using a Backpack Vacuum
let the vacuum cleaner do the work, don't force it into the surface.
don't twist the hose, keep it steady in your hand
avoid making awkward movements, postures, and twisting
keep your back straight
keep feet apart to avoid tripping
Check out this video that shows you how to use a backpack vacuum properly and safely:
FAQ's about Backpack Vacuums
Are backpack vacuums good on carpets?
Yes, you can clean the carpets easily. A backpack vacuum cleaner actually covers a lot more square footage in less time than a regular canister or upright cleaner.
How much is a backpack vacuum?
As you've noticed on our list of vacuums, the prices range anywhere from 130 to upwards of 1000 dollars for a professional and commercial-grade device. However, a residential household doesn't need the most expensive vacuum. The cheap and mid-range devices have all kinds of attachments so you can clean any surface easily.
How much weight do you carry around with a backpack vacuum?
Most models are lightweight and weigh under 11 lbs. The big professional ones are about 18 lbs, but it's not necessary to carry a large one around. Backpack vacuums are actually a great option for users with limited mobility and/or lifting restrictions. Once the vacuum is fitted to your back properly, you expend less energy than you do with a classic upright model. The weight is distributed evenly towards the hips and legs, so there's no pressure on the back.
How do I store the backpack vacuum cleaner?
The backpack vac design is sometimes tedious to store. It has straps, tall and narrow canisters, extension cords, and a variety of tools. So, where do you put them all to keep them all in one place?
Well, first, you need a medium-sized area to place it in. I suggest something like the corner of a closet, under stairs, or hung up on heavy-duty wall hooks.
Where can you use a Backpack Vacuum Cleaner?
You can use the backpack vacuum cleaner to any places that you want to clean. The main purpose of this backpack vacuum cleaner is to clean those areas that are hard to reach with little space and a short period of time. Backpack vacuum cleaners are also made that can surely fit in the back of any person who might use the cleaning equipment. The cooling mechanism is also included in the backpack vacuum cleaner. Its role is to ensure the safety of the user of the cleaning equipment.
Why should you use a Backpack Vacuum Cleaner?
The backpack vacuum cleaner is indeed effective cleaning equipment. Use it to eliminate pet dander, dust mites, and other small particles. The backpack vacuum cleaner also includes a personalized belt that you can use in accordance with your wants and needs. So, cleaning is much easier and more comfortable, because there is no heavy lifting required.
What are the advantages of backpack vacuums?
Portability: you can move around easily with these vacuums. Simply place them on your back just like you would a backpack and start vacuuming.
It's easy because you can get to all the places that need cleaning in half the time.
Lightweight: most of the models on our list are lightweight, so you won't feel any back pain while cleaning. The majority of models weight 11 lbs. or less.
This is much lighter than your classic canister or upright vacuum cleaner. And since the vacuum is on your back you don't need to bend down.
Versatility: the vacuums are compatible with all types of surfaces. They come with extensions and accessories so you can vacuum the carpet, blinds, hardwood, couches, and more.
You can actually clean everything quicker than you thought.
Large Container Capacity: the dust collector bins can hold a lot of dirt and debris. Most models can handle 6 quarts or more before you need to empty the bin.
This means more vacuuming in one go and fewer trips to the garbage can.
Conclusion
The bottom line is that if you have a hard time using upright vacuums due to their bulky size and weight, the backpack device is the best option.
You can cover much more space in a lot less time. Even if you face the daunting task of cleaning thick carpets, you can do it with a backpack vacuum.
Since these have a slew of attachments, you can clean almost any type of surface.
Best of all, these devices are available at all price points so you'll surely find one for your budget.
I'm Joost Nusselder, the founder of Tools Doctor, content marketer, and dad. I love trying out new equipment, and together with my team I've been creating in-depth blog articles since 2016 to help loyal readers with tools & crafting tips.