I love creating free content full of tips for my readers, you. I don't accept paid sponsorships, my opinion is my own, but if you find my recommendations helpful and you end up buying something you like through one of my links, I could earn a commission at no extra cost to you.
Learn more
The hacksaw, a small but handy cutting tool that features a solid metal frame and a fine-toothed blade, is used to cut metals. It is also suitable for cutting plastics and wood.
Today, the best hacksaws are a far cry from the simple hacksaw designs of yesteryears. Manufactured with lightweight alloys, hacksaws are designed for higher dependability, straighter cuts, and constant results.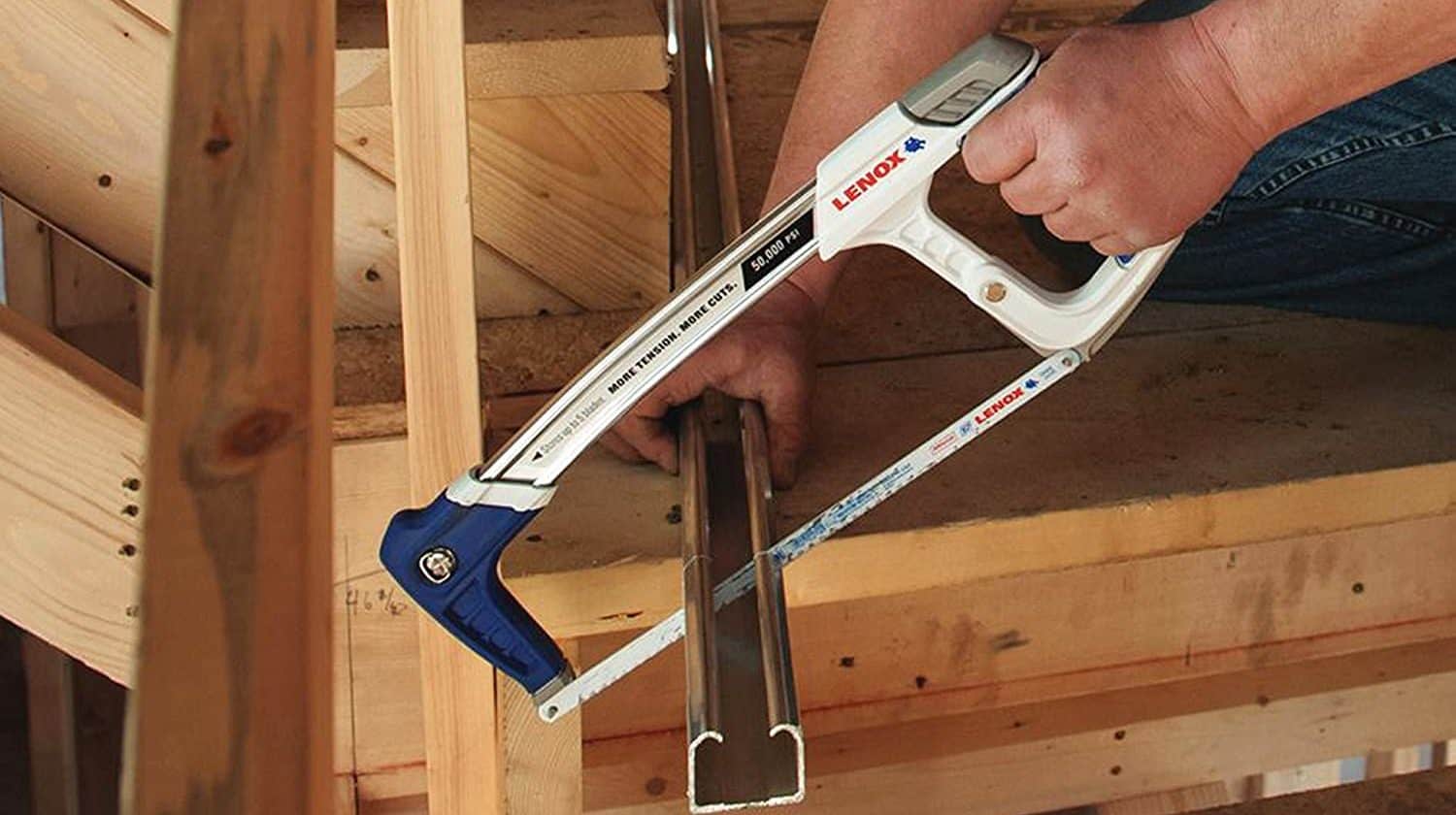 Professional craftsmen depend on hacksaws that are suitable both at home and on the job.
But there are so many hacksaws to choose from, if you're looking to purchase one yourself, the options can become overwhelming. We have created a quick buyer's guide for you before going into detail about each saw.
If I would have to pick a favorite though, I would go for the Lenox Tools 12-Inch High Tension Hacksaw. It has a nice, high blade tension to ensure quick, accurate cuts, with a rubberized handle to make it comfortable as well. It also can convert into a jab saw, if need be, so it can be a quick 2-in-1 tool if you ever needed.
It might become your next favorite too, but have a look at my other suggestions, that all have something going for them.
Buyer's guide to buying the best hacksaw
When shopping for a hacksaw for cutting pipes and metals, there are a variety of options. However, to be assured that you get the highest quality hacksaw, it is important to consider some issues.
The best hacksaw you can find will have sturdy and durable metal construction, with a rubberized handle for comfort in both cold and hot weather.
It is also best to look for hacksaws that can accommodate a variety of blade lengths, cut different materials, and make different cut lengths.
Here is a buying guide providing noticeable features we can't overlook.
Frame
The frame of the hacksaw is very important and should not be overlooked. There are two types of frames
fixed frame
adjustable frame
Fixed frame saws have a specific frame length and only accept a particular blade length. On the other hand, adjustable saws can accommodate different hacksaw blade lengths.
The best hacksaw frame is also one that has a sturdy and durable metal construction. A bow saw can be a good alternative that requires throats of varied depth at a time.
Standard or high tension
There are generally two types of hacksaws:
standard tension
high tension
Standard tension means the blade is simply put in the frame and fastened with a wing nut. It's probably the type of hacksaw you are most used to.
A high tension hacksaw is something completely different though. With these types of hacksaws, you insert the blade, which has to be a bi-metal blade, under a certain amount of tension.
It's like your stretching the blade a bit both ways, which makes it incredibly tight and taut.
The extra tension on the blade will cause the blade to bend less and make a cleaner cut.
Handle
Hacksaws feature handles on one or both ends, from where they are operated. Comfort is the most important thing to consider in choosing the handle that's right for you.
For the utmost comfort, go for something with a rubberized grip because it is comfortable in both wet and cold weather.
These rubberized handles are also less likely to slip from your hands while you are working.
When choosing a handle, make sure the handle is spacious enough to accommodate your hand.
Blade
The best type of hacksaws are those that can use a variety of blade types and lengths because they make it possible to cut different materials as well as different cuts.
It is important to consider the blade types that come with the hacksaw and ensure that they have high-quality construction and high teeth per inch (TPI).
There are various kinds of hacksaws, but the main and most common ones are the full-frame ones that use 12-inch or 10-inch blades.
Another common type of hacksaw is the junior hacksaw that features a smaller blade than the full-frame ones. It is ideal for cutting plastic tubing and metal pipes.
These saws are ideal for applications that require a neat finish and for precise cutting.
Regardless of the type of hacksaw that you prefer to use, it is always important that you buy a high-quality unit that can handle all your cutting needs.
Check out this informative tutorial (featuring my top pick hack saw) for more things to look for in a good hacksaw and how to use it properly:
6 of the best hacksaws you can buy reviewed
Here are some top-rated hacksaw reviews to keep in mind when buying your next hacksaw.
Overall best hacksaw: LENOX Tools High-Tension 12-inch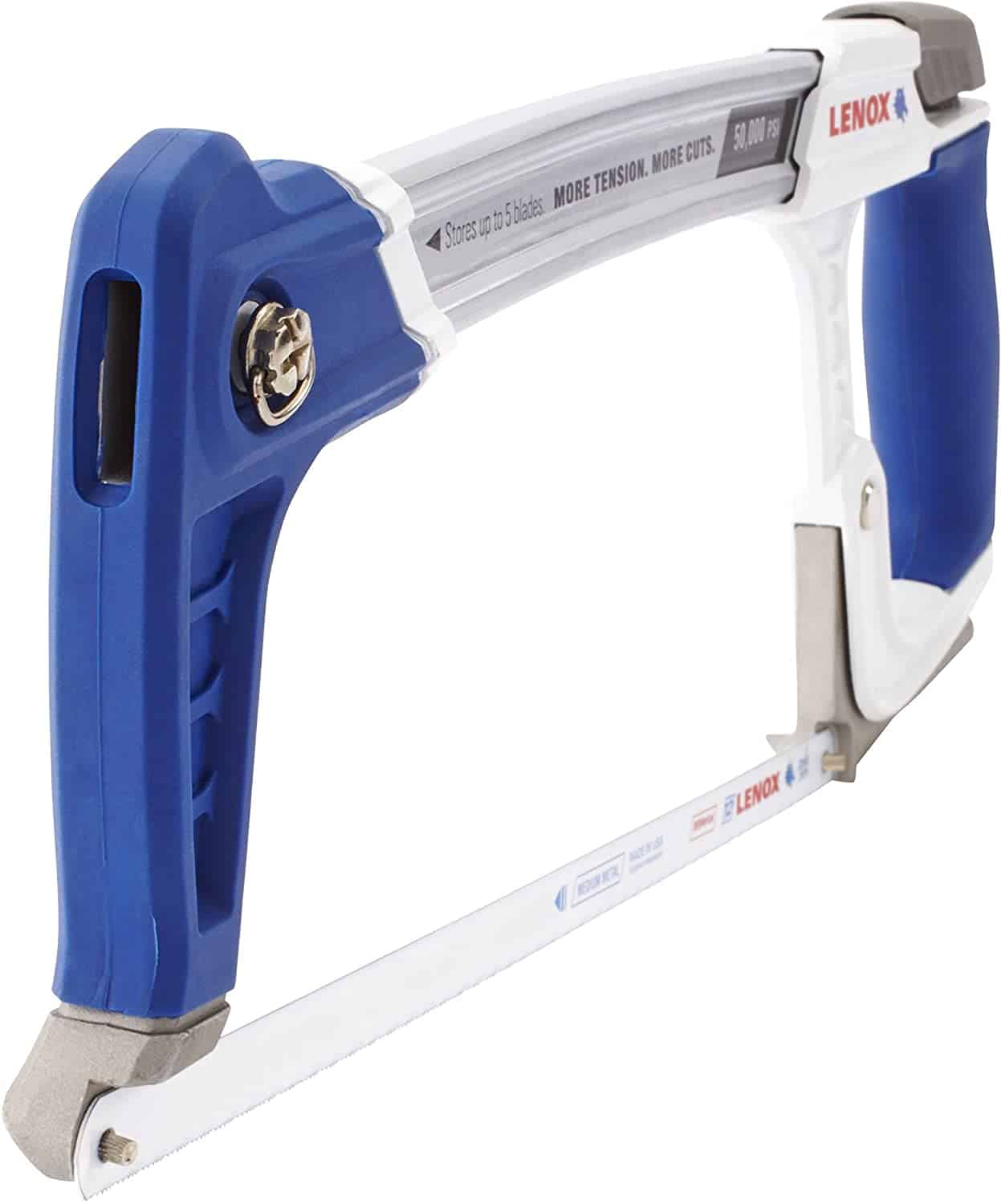 This Lenox High-Tension hacksaw is one of the best hacksaws money can buy. I-beam construction is used while making this high tension hacksaw to give it blade tension of up to 50,000 PSI.
At such a high blade tension you can be confident enough of making quick, accurate cuts.
This hacksaw has rubberized handles on both ends to make it comfortable, and is also suitable for use in wet conditions. You can be confident in your grip and handling of this tool.
The hacksaw accepts any reciprocating blade by Lenox which allows it to convert into a jab saw too.
You can store up to 5 blades on the handle of this hack saw. So you will always have a ready replacement in case you need it in the middle of a job.
This hacksaw is suitable for cutting both wood and metal, and is able to do the job of tin snips to some extent.
The only downside is that it does not release the blade quickly when you are changing it.
This Lenox hacksaw is a good choice for someone who values speed and accuracy because the high tension in the saw guarantees both. It is also a cool-looking hacksaw, so it will impress those who value aesthetics.
Best compact hacksaw for tight spaces: Milwaukee 48-22-0012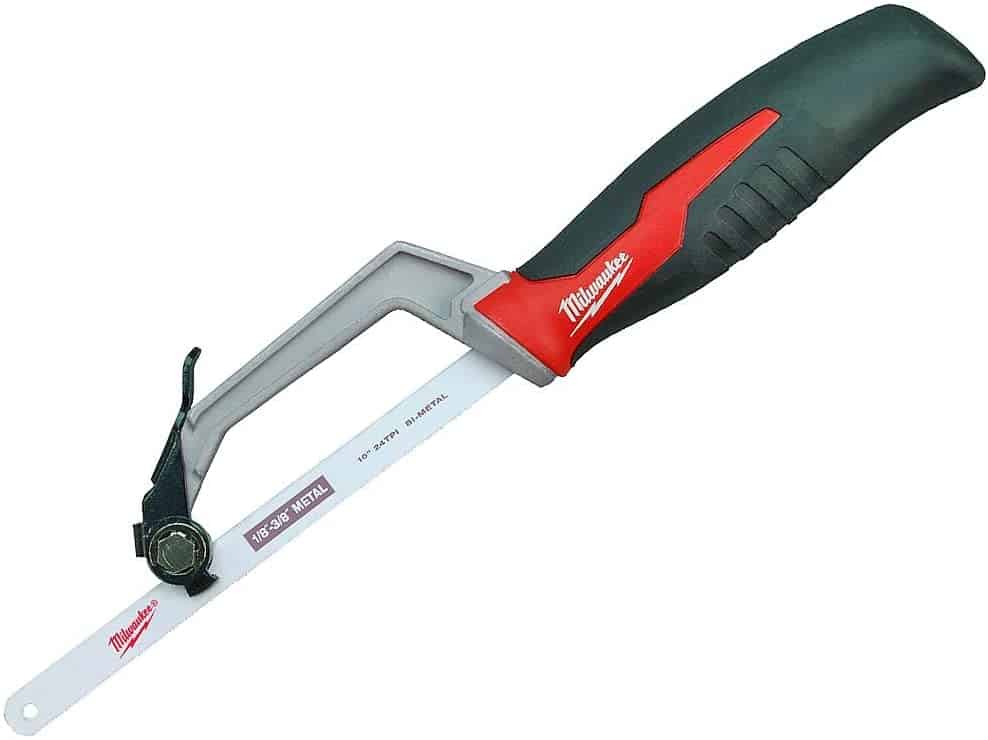 Most hacksaws cannot work in tight spaces. This is one of the major problems of using hacksaws.
But the 48-22-0012 solves this issue with a short 5-inch handle and the ability to partially retract the 10-inch blade.
The handle comes in at a mere 5 inches in length that lets you work in tight spaces where larger power tools would not fit.
A tool-free blade-changing design allows quick replacements. A lever on top of the saw flips down to release the blades. It's easy to replace them in seconds with these intuitive design features.
The ergonomic plastic handle is coated with rubber. This rubber over-mold gives a superior grip to provide you with a perfect working experience in slippery conditions.
The handle supports a 10-inch blade, and you can push this blade deeper into the handle for improved portability. It can cut through wood and different types of metals like brass and even softer steel perfectly.
Ideal for versatile cutting in tight spaces and also for easier flush cutting.
The quick-release handle is one of the winning points of this saw. Despite the small size, it can cut through a wide range of materials smoothly and is highly durable.
Best of all, its compact size means this can easily fit into your tool belt (or buy one of these).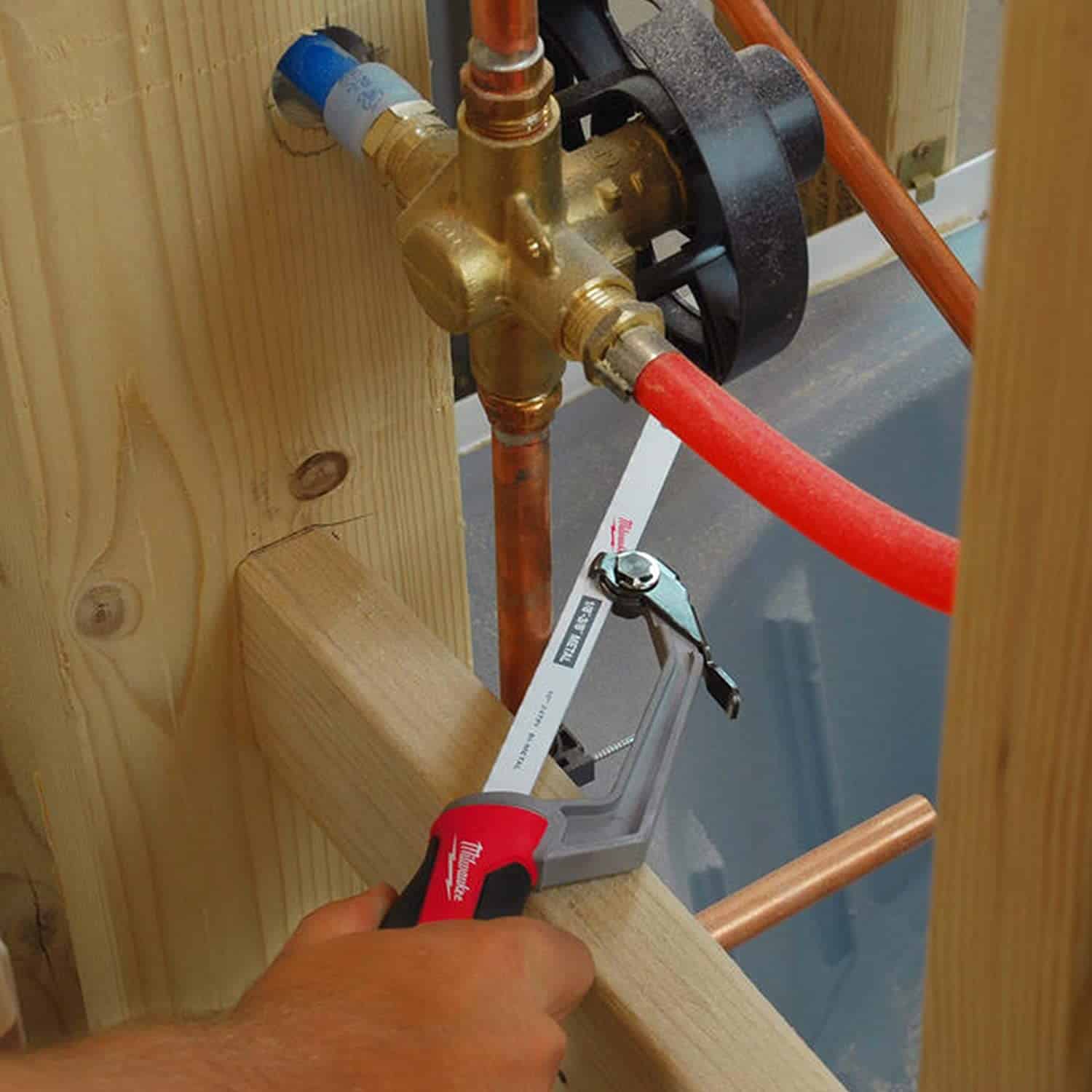 One downside to this tool is that since this tool is designed for tight spaces, you might have difficulty making it work for larger projects.
This is true when working with larger curved surfaces, as a screw bisects the working area of the saw blade.
Despite this, it is one of the best hacksaws for your cutting purposes. It's a nice handy hacksaw, especially for hobbyists.
Also check out my review of the Best Electrician's Tool Belts (+safety & organizing tips)
Most cost-effective hacksaw: STANLEY STHT20138 High Tension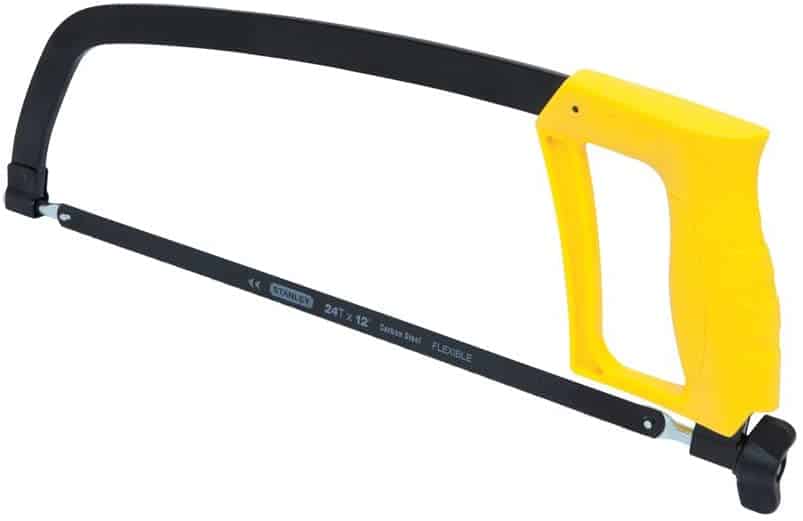 The Stanley STHT20138 is the most affordable hacksaw, having the advantages of great cuts. It performs better than many other pricier options.
This hacksaw has a fixed frame design. The frame also has an all-metal construction to ensure durability that will last for many years.
With this saw, you can adjust the blade to 90-degrees and 180 degrees. This adjustment makes flush cuts possible.
This saw accommodates a standard 12-inch sharp blade. This arrangement of the blade provides more than 4 inches of cutting depth. This is very much helpful.
The large and comfortable adjustment knob makes adjusting the blade angle easy.
This hacksaw comes with a full-grip handle. It's also bright yellow, which makes it easy to locate the handle.
Unfortunately, the handle is not made of rubber and is therefore not as comfortable as rubberized ones.
It's one of the best hacksaws with an affordable price tag and high quality. It's cheap in price but still performs as well as other expensive ones.
Best hacksaw value set: Original 15-in-1 Magic Universal Hand Saw Kit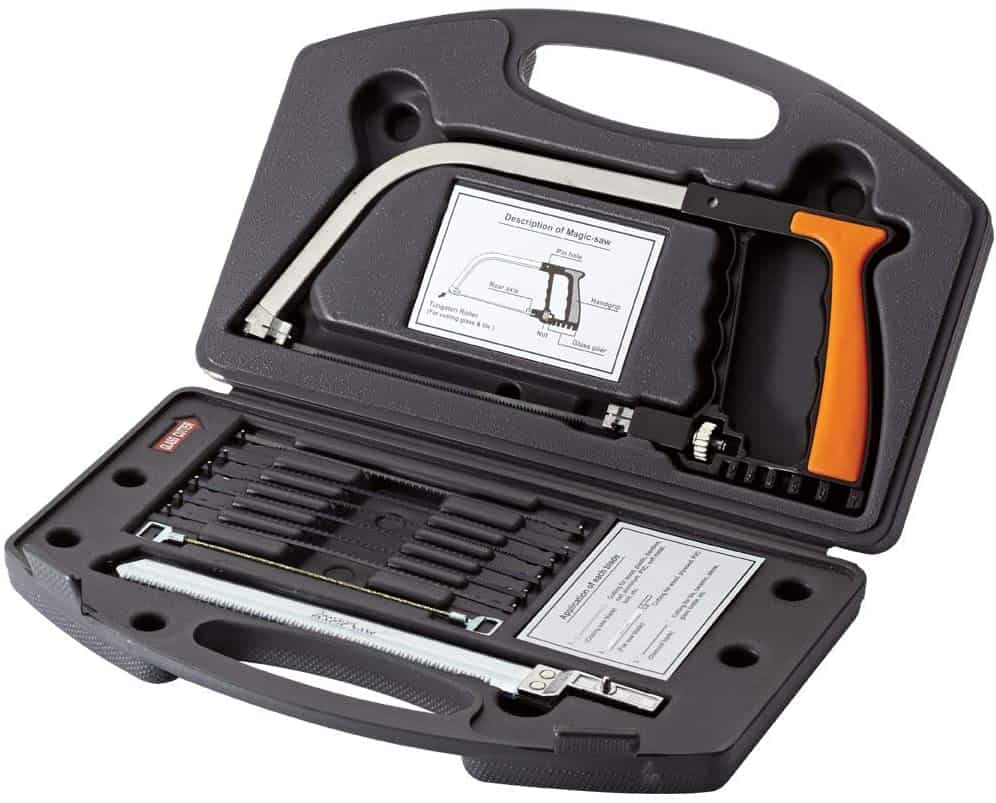 This kit by Han-A Tools is an impressive one. It is also perfect for those who prefer to buy a set instead of a single saw unit.
It features a multifunction saw and several other types of blades. This can be used for cutting wood, metal, ceramic, stone, and many other materials.
The design of the saw, the adjustability, and the blade variety make it possible to make both straight and curved cuts as well.
It's easy to use and makes the cuts smooth, no matter whether the workpiece is straightened by a sheet metal seamer or not.
Despite having many items in the set, this hacksaw is still quite affordable and also lightweight. The set comes in a hard case shell that will make transportation and storage convenient.
The Magic Universal Hand Saw Kit is for a person who loves to do home crafts. It comes with a variety of blades and a few other extra tools to ensure your needs for any project.
The only downside to this tool is that this hacksaw feels a little flimsy when cutting. It is not as durable as the other saws on my list and is best for the occasional cutting project.
Best hacksaw for experienced hobbyists or professionals: Klein Tools 12-inch Reciprocating Blades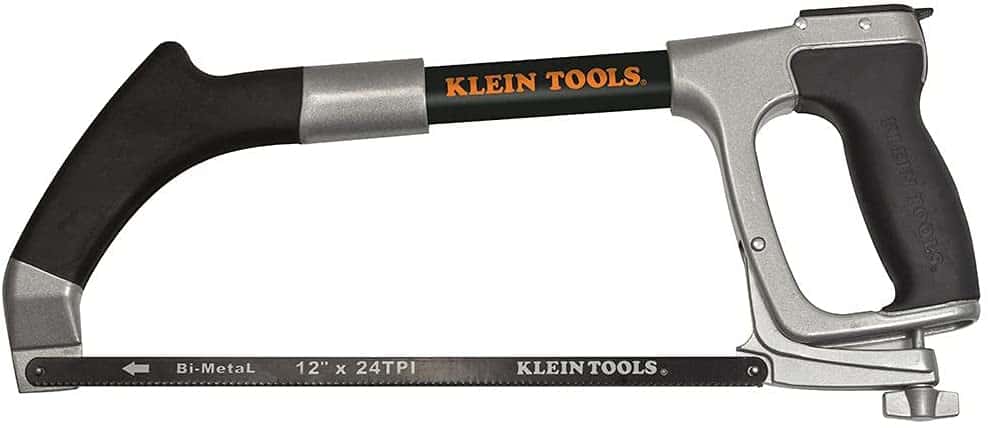 This Klein 702-12 hacksaw model is handy for your work. It has an adjustable blade tension, and you can get up to 30,000 PSI which is vital for precise and fast cuts.
This hacksaw has rubber handles on both ends to make the two-handed operation possible. The handle also includes convenient storage for the blades.
The rubber handle on both ends is for two-handed operation.
This saw has both the quality of a hacksaw and a reciprocating blade saw since it has a front mount that accommodates the reciprocating saw blade. This is very helpful for carpentry works.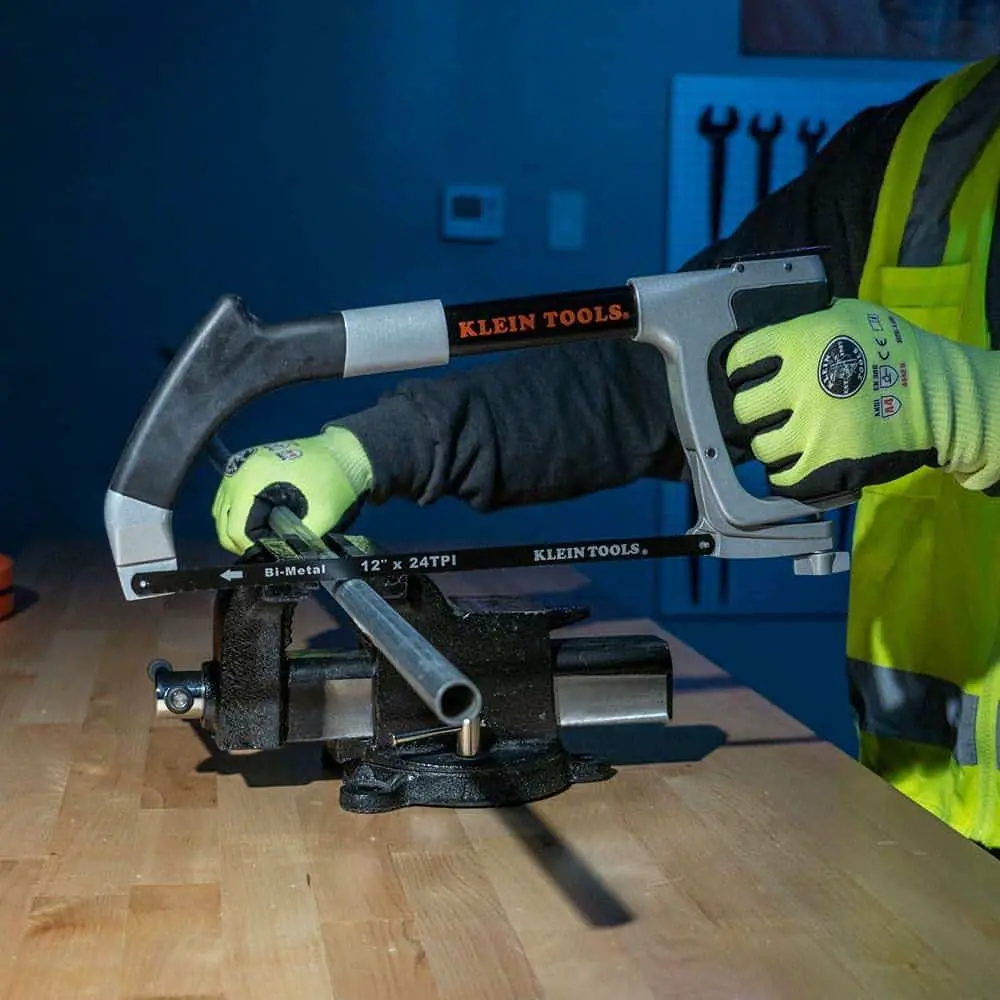 It also provides a 12-inch bi-metal blade for hacksaw purposes and a 6-inch reciprocating blade. The front mount accommodates reciprocating saw blades to make it more versatile.
An alternative 45-degree mounting helps to make flush cuts and adds to the versatility of this hacksaw.
This saw is quite pricey and it is also quite weighty meaning it will take some time to master it.
This hacksaw is for professionals or serious hobbyists who are ready to spend some extra dollars to get a top-notch product. It is a little heavy, and so it will work better for someone with some experience.
Best lightweight easy-to-use hacksaw: Park Tool Saw-1

The Park Tool Hacksaw features a simple and traditional hacksaw look. It is a convenient cutting tool to have in the shop.
It has an all-aluminum die-cast frame construction for maximum durability and long tool life and a 12-inch bi-metal blade with a 32 TPI. This blade provides clean and smooth cuts.
This hacksaw comes with a blade tension adjuster that makes it possible to vary the tension according to the cut or material. The design makes the blade change effortlessly.
It also has an ergonomic and comfortable rubber handle that also helps to make it one of the best hacksaws to have at home or in the workshop. The lightweight construction makes it easy to handle.
The only downside perhaps is that this hacksaw does not have onboard blade storage like other top hacksaws have. You'll have to store your spare blades elsewhere.
The size, construction, and cutting capabilities make this hacksaw one of the best hacksaws though.
Whether you have a woodworking workshop, metalworking shop, or even a bicycle repair shop, it will be a handy and helpful tool for you.
Hacksaw FAQs
Here are some frequently asked questions and their answers.
What is the best hacksaw blade for cutting metal?
A Bi-Metal Hacksaw Blade is ideal for cutting. The blades cut most metal including unhardened tool steel and stainless steel.
The Bi-Metal construction combines flexibility from carbon steel and cutting performance from high-speed metal. These blades beat out major competitors in quality in their class.
How do I choose a hacksaw blade?
Which blade you choose should depend on which metal you will be cutting.
For heavy-duty cutting jobs like steel reinforcing rod or pipe, an 18-teeth per inch blade would be the best choice.
For a job that requires medium-duty cutting, like a thin wall electrical conduit, a 24-teeth per inch blade would do a better job.
Who makes the best hacksaw?
LENOX Tools makes a great hacksaw. Their 12-inch High Tension Hacksaw provides a good price point, with a comfortable grip and great durability.
It is suitable in any condition and will make accurate cuts in almost every material you put in front of it.
What are the two types of hacksaw blades?
Coarse blades are appropriate for soft metals, while finer blades are better for sheets and harder metals.
The set of the blade refers to the angle of the teeth and can be either an alternating set for softer metals or a wave set for harder metals.
Will a hacksaw cut through stainless steel?
Bi-Metal Hacksaw Blade is ideal for cutting. The blades cut most metal including unhardened tool steel and stainless steel.
Will a hacksaw cut through hardened steel?
If a clean cut is desired when cutting through hardened steel, or if the steel's hardness must be retained, a fine-toothed hacksaw will work wonderfully, though the process is long and will require a great deal of intense effort.
Use a bench vise to firmly hold the hardened steel as it is cut.
How tight should a hacksaw blade be?
Install the blade so it's tight in the saw and won't bend. When you do a lot of cutting, the blade will heat up and expand, so be sure to tighten it if it starts to bend.
What can I use instead of a hacksaw?
You can use the same technique anytime you need a straight cut on aluminum or other light-gauge sheet metal, even steel.
Clamp or hold a straightedge or square along the cutting marks and score a line with the tip of a sharp utility knife blade.
Can I cut a big piece of wood with a hacksaw?
It's difficult to cut a big piece of wood with this saw, you can use a crosscut saw for this.
Conclusion
Pick the best hacksaw based on its simplicity, comfortable handle, high-quality blade design, and tension to ensure you get exactly what you need for your work.
Don't let the price be the only factor unless you don't use your hacksaw often.
With the best hacksaw, you can get to work cutting every piece of material in your workshop with ease. The hacksaws are the top in the market.
Before buying one follow the buying guide and reviews as well to get the best product for your work.
I'm Joost Nusselder, the founder of Tools Doctor, content marketer, and dad. I love trying out new equipment, and together with my team I've been creating in-depth blog articles since 2016 to help loyal readers with tools & crafting tips.