I love creating free content full of tips for my readers, you. I don't accept paid sponsorships, my opinion is my own, but if you find my recommendations helpful and you end up buying something you like through one of my links, I could earn a commission at no extra cost to you.

Learn more

A well-organized multipurpose garage is a useful feature of a house. Most of us prefer to use that place only to park our cars. Although it's a small space, it can be home for many of your stuff if you're not desperate for extra rooms and use your garage only as a garage. From storing your cars to bikes, tools, gears, boxes, decorations, and other accessories, your garage may come handy. Most of the time, it's a messy and dusty place, which results in costing much time to find the desired stuff. A rumpled garage is not only sickening to look upon, but it can also quickly become a breeding ground for unwanted pests that prefer dark and abandoned places. But why not organize that place neat and tidy and save up your valuable time and space? Check out these great overhead garage storage ideas to give your garage a new look from a cluttered mess of garbage.
In this post we'll cover:
Adjustable Ceiling Storage Racks

Are you looking for a solution to store all of your barely used seasonal items? With adjustable overhead ceiling storage racks, you can store different sizes of boxes, toolboxes, gears, and other accessories easily. Keeping your items off from the garage floor saves those from water damage, which is also the best way to use your ceiling space. You can adjust the level of the racks conveniently. Bikes and other accessories can also be hanged from the hooks of the shelves, which are strong enough to hold pretty much anything. Store your goods without any worries with these heavy-duty cold-rolled steel construction, which can provide safe loading.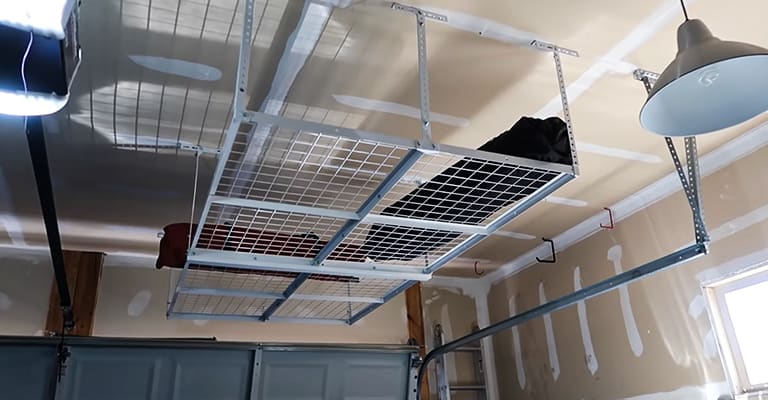 Multi-layer Wooden Cabinets

Wooden shelves installed into your garage wall can be a great place to store your small toolboxes, paints, and other kinds of stuff. Low and medium weight items as in hose pipes, ropes, tools, gears, bike helmets can also be hung from the hooks of the cabinets. It's divided into small cabinets, which allows us to keep different kinds of stuff in different sections. The system is easy to install and convenient. You can also prefer DIY solutions to construct and install the system in your garage.
Pulley Bike Hoisting System

If you have a garage with a high ceiling and looking for a place to store your bicycle, this is the perfect choice for you. With this pulley system, you can lift lower heavier objects efficiently. Lift and mount your bikes, kayaks, ladders high up from the ground with ease.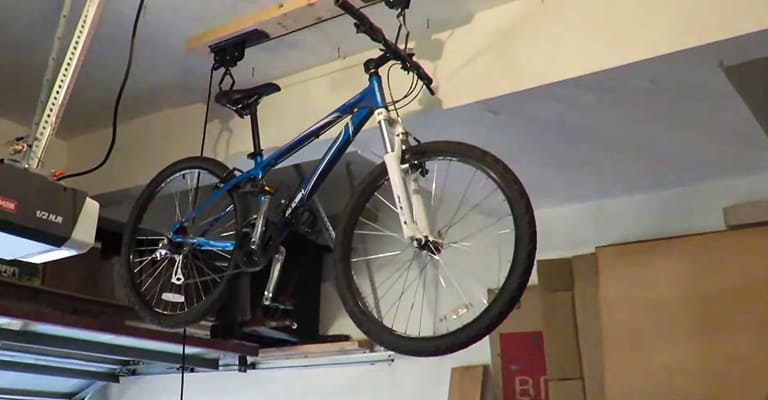 Motorized Lifting Racks

Overhead garage storage systems are indeed efficient, but lifting all those heavy goods can be a significant problem. With this automated platform, you can lift all your stuff with a touch of your smartphone. This system has an easy step-by-step installation so that you can install the system all by yourself. Control the speed of lifting and get overload warnings with a mobile app, which is compatible with iOS and Android smartphones. It also comes with overload protection, the lifter won't lift more than the weight capacity. The platform and the strings are super durable so that you can store your goods without any worries.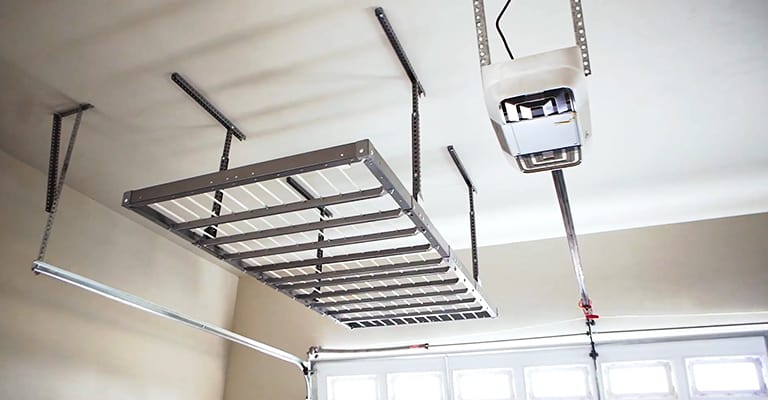 Tool Storage Rack

Get your garden tools, brooms, mops, rakes, and other handled tools off from the floor with these cozy tool storage racks. Mounting one of these racks into your wall can help you store all of your handled tools and gears instead of keeping those here and there causing a huge mess. You can also hang your light-weight accessories from the hooks. A pegboard and/or Slatwall can eventually be the best among the options in this regard.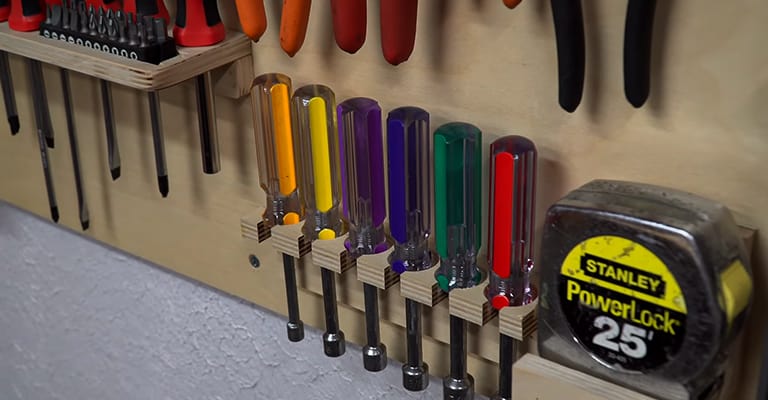 Trifecta Sports Racks

Are you a sports enthusiast? These trifecta sports racks can be a perfect place to store your sports accessories such as skateboards, ski, cricket bats, snowboards, hockey, or lacrosse sticks. Helmets, pads, skates, and other sports gear and equipment can be stored too. There are generally three rack levels to hold three skateboards or other equipment. They are made with ABS plastic construction, which makes it durable.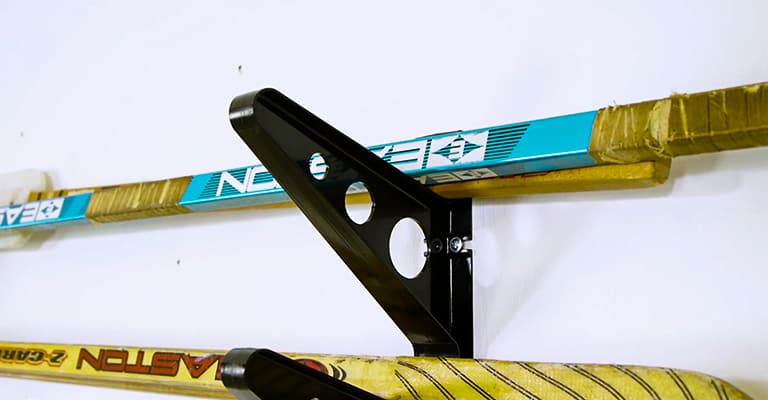 To Conclude

When you are looking for overhead garage storage ideas, you should consider the stuff you want to store and choose the shape or size of the shelves or racks accordingly. Give your hardly used seasonal goods a perfect place with adjustable ceiling storage racks. Store your bikes up from the ground with a pulley bike hoisting system. Save up all the lifting jobs by installing motorized lifting racks. To sum up, utilize every little corner of your garage by using the ideas mentioned above according to your stuff and space allocation.