I love creating free content full of tips for my readers, you. I don't accept paid sponsorships, my opinion is my own, but if you find my recommendations helpful and you end up buying something you like through one of my links, I could earn a commission at no extra cost to you.

Learn more

When it comes to your garage, it is all about the optimal use of space. A cluttered and disorganized garage means wasted time and energy spent hunting for tools that are not where they should be. The overhead garage storage rack is the ultimate organizer for your garage. It organizes your garage and frees up working space, as well as provides protection for your valuable tools and accessories.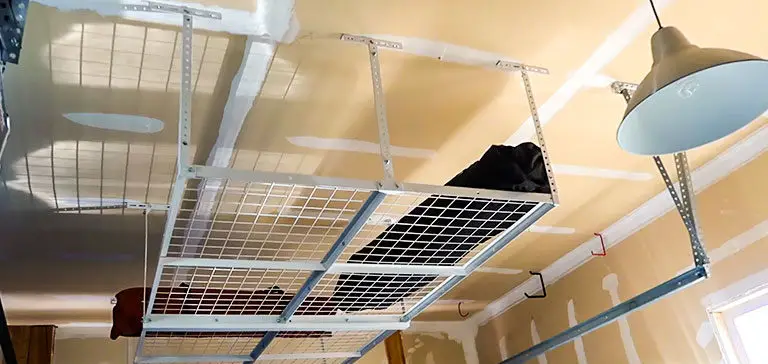 Any overhead garage storage system in my book should be made of strong and durable material so that it lasts. It also needs to have ample load capacity, a height adjustment feature and must be compatible with all types of ceilings. Finally, it needs built-in safety features and should, ideally, be easy to install. I found all these features, and more, in the Fleximounts 4X8 Overhead Garage Storage Rack which is why it would be my top recommendation to anyone looking to purchase a garage storage system. It's easily adjustable, strong as a rock, and super simple to install.  If you are looking for a smaller rack, however, or something to store your winter tires properly, I've got you covered as well, so keep reading.
Tips for buying the best overhead garage storage system

First, let's see what makes a good overhead garage storage system. Since there are a number of similar products on the market, some of which are showcased below, my advice is that you look out for certain features before making your final purchase decision. This could save you money in the long run. These are the basic features you should take note of before purchasing an overhead garage storage system. This will help you to buy the right one for your needs and your available space.
Compatibility of the product with your garage ceiling

This is the most important feature. You need to consider the ceiling compatibility of the product with your space. If your ceiling is compatible with the various ceiling joists then you should have no trouble mounting the ceiling rack on wall studs or on the wall.
Loading capacity

Weight capacity is also extremely important. The weight capacity must be sufficient for your needs. If you plan to store heavyweight tools and machinery, then the system must be able to take a weight of up to 600 pounds. Load capacity largely depends on beam construction. L-beams or Z-beams cannot hold very heavy loads. C-channel beams are designed to hold heavyweight racks.
Size

Size is another important feature to consider, as it needs to be compatible with your space. You will find two types of overhead garage storage in the market. One is expandable, one is fixed. You can adjust expandable garage storage as needed, but, if you don't need this feature, then the fixed-size storage is perfectly adequate and generally cheaper.
Adjustable or fixed height

The adjustable height feature makes the overhead ceiling rack safe and convenient. It allows you to lower or raise the rack, depending on your reach and the space available. Most products offer between 20 to 49 inch flexibility for raising or lowering the rack.
Easy installation

Easy installation is important if you want to avoid having to hire someone to do the job for you. So, look for easy installation if you want to DIY.
Safety

There are a number of safety features that you should look for. Clearance is one of the most important. Also, it is important that all the fastening bolts are sold with the product. You can also opt for a motorized overhead system that will make raising and lowering the rack safer.
There are other garage storage solutions to consider (including overhead systems like these) which I've listed here
My top recommendations for the best overhead garage storage options

Alright, now you know better what to look for in overhead garage storage, let's get into the reviews.
Best overall overhead garage storage: FLEXIMOUNTS 4×8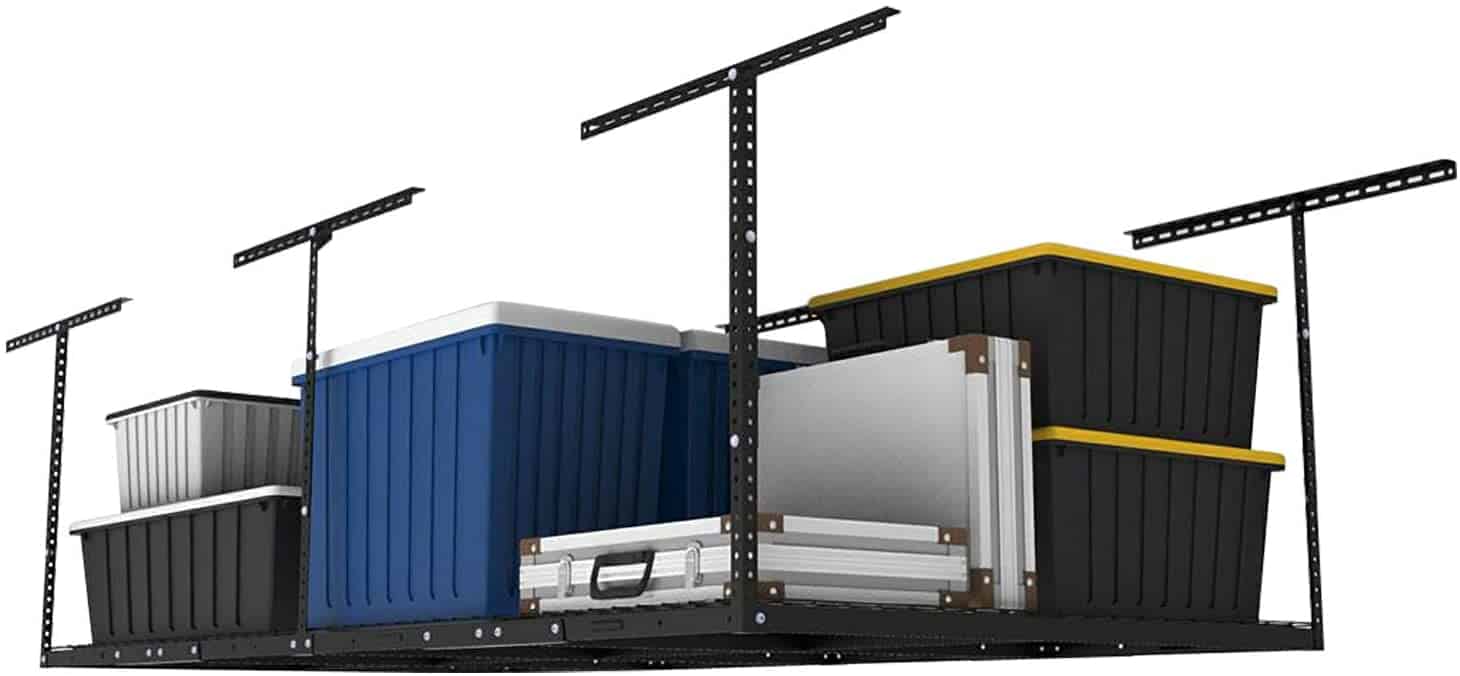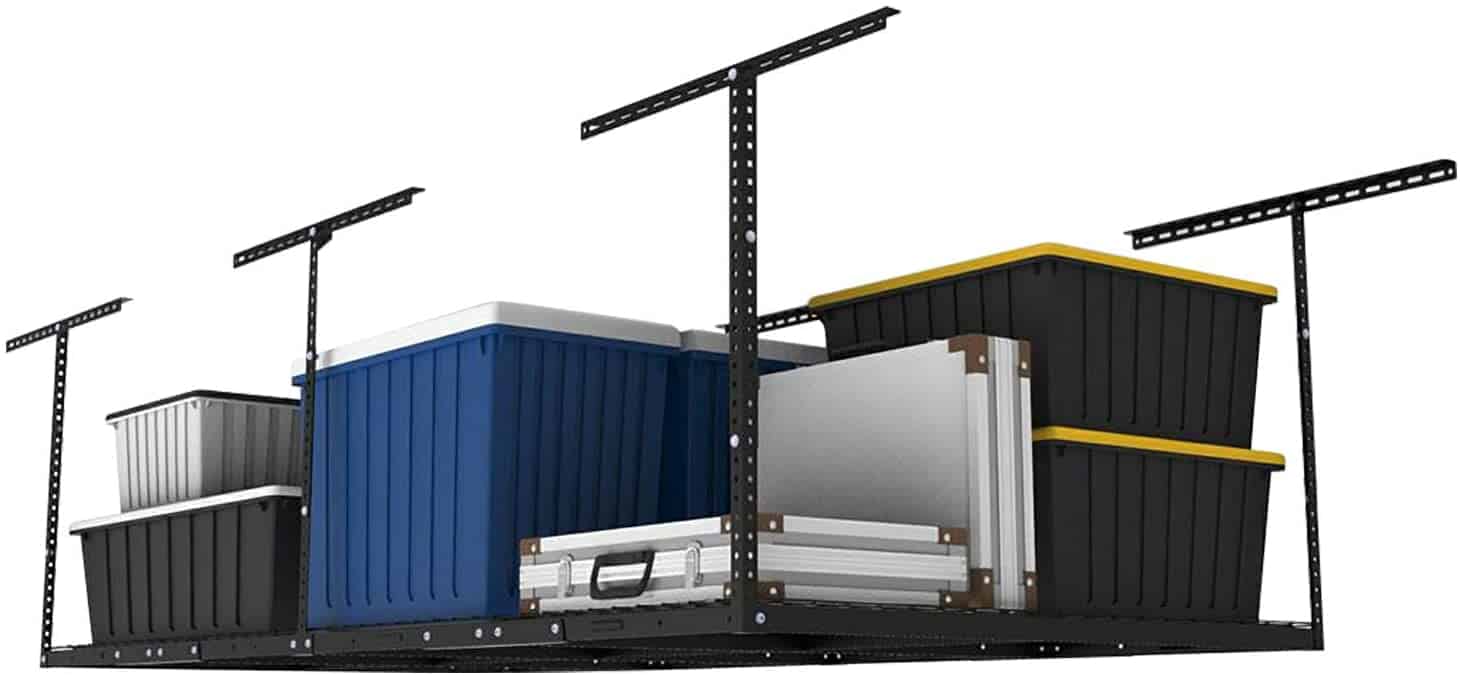 help you maximize your garage storage space. This durable and heavy-duty storage system can store a safe loading of up to 600 pounds. It is solidly constructed and made of powder-coated steel. It is sturdy and stable, due to its welded together integrated wire grid design and frame. The height-adjustable ceiling dropdown can go from 22 inches to 40 inches, allowing you to customize the height to suit your needs. Most importantly, it has universal ceiling compatibility. The system is easy to install and comes with all the hardware and instructions needed for assembly.
Features
Solid construction: The construction of this product is solid and sturdy. It is made of heavy-gauge cold-rolled steel which makes it highly durable.
Integrated design: This product has an integrated grid design of 4 x 8 ft. This offers more stability compared to other systems with separate frames and wires. It offers flexibility while providing a good weight capacity. This product is available in one-pack or two-pack with a choice of white or black finish.
Weight capacity: It has a loading capacity of up to 600 pounds.
Adjustable height: It has an adjustable height feature that will allow you to adjust the height from 22 inches to 40 inches for lowering or raising the drop-down space. It offers up to 105 cubic feet of storage.
Safety: This product offers maximum safety. The hardware that is used for this product is top quality and the screws provided have all been through strict quality tests.
Ceiling capability: The rack is compatible with securing to either ceiling studs or solid concrete ceilings. The ceiling brackets can be attached to two joists for added flexibility and security.
Installation: No special skills are needed to install this product. It comes with all the hardware needed, as well as an installation template and detailed step-by-step instructions.
Overall, a very good buy for almost any application. Check the latest prices here
Best for heavy-duty garage storage requirements: MonsterRax 4×8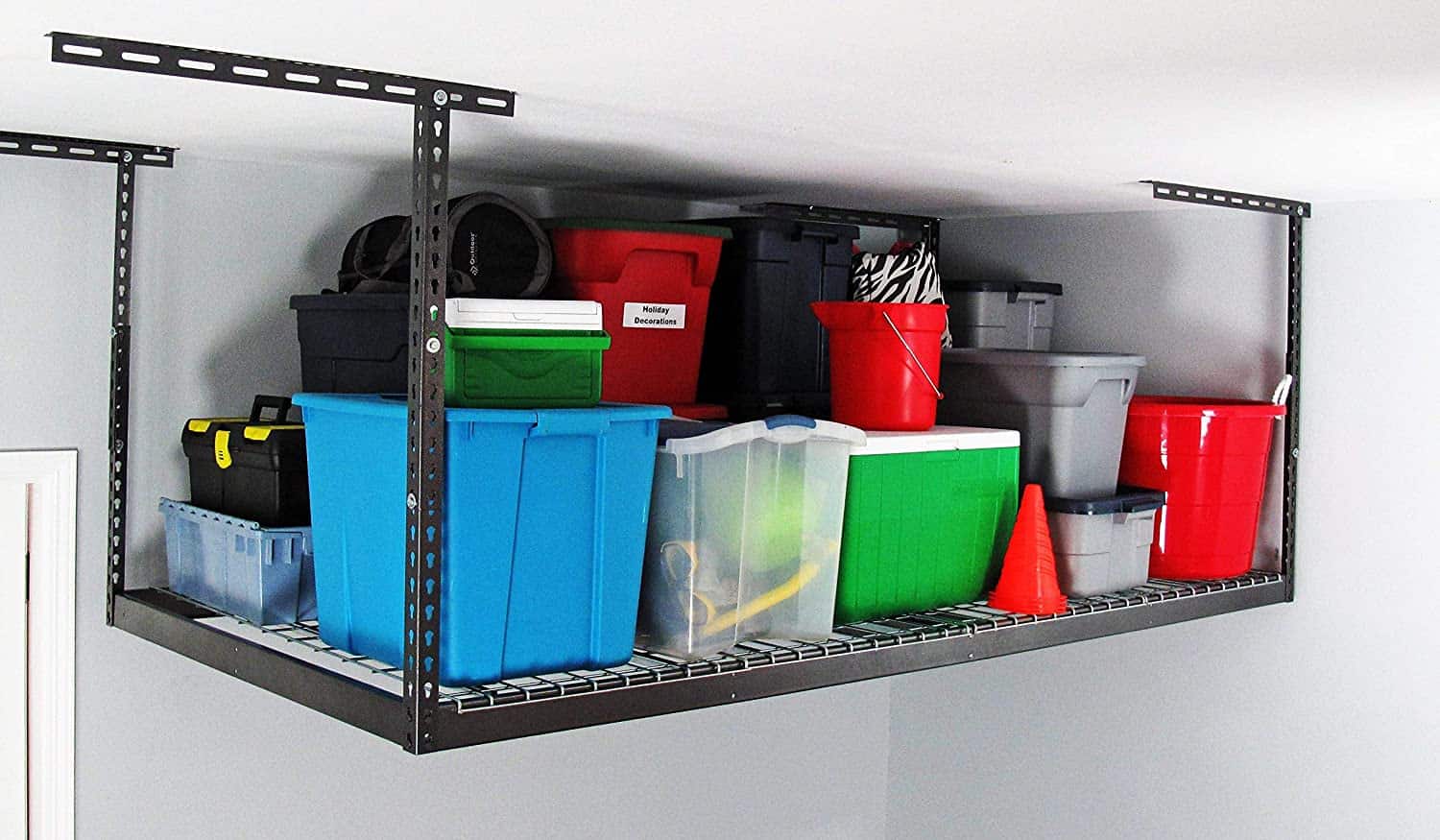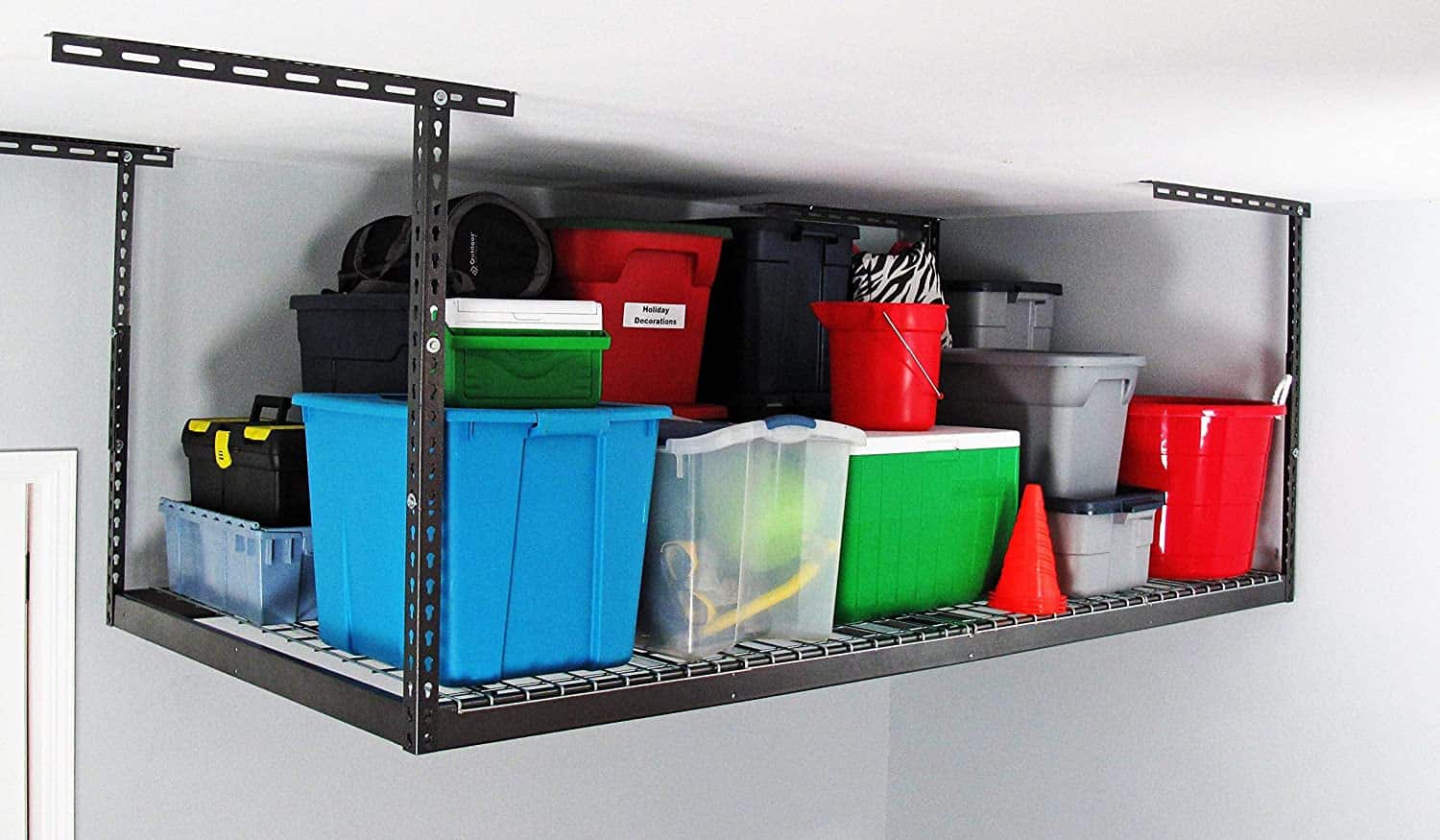 Features
Durability: This rack is durable as it is made of sturdy material. The powder coating makes it weather resistant. It is designed to last for years.
Design and construction: This overhead ceiling rack is sturdy and made with good quality material. The nut, bolts, ceiling bracket, and other hardware are of good quality. For its size, it has a serious weight-bearing capacity – up to 600 pounds. It offers a wide range of different drop lengths.
Installation: This product is easy to install but it is not designed to be installed in steel or concrete.
Weight capacity: This rack can hold up to 600 pounds.
Overall a solid product. For the price and warranty, it is a pretty good overhead ceiling rack. Check the latest prices here
Make sure you keep it warm while working in your garage with these best garage heaters
Best for smaller garage storage solutions: HyLoft 00540 45-Inch by 45-Inch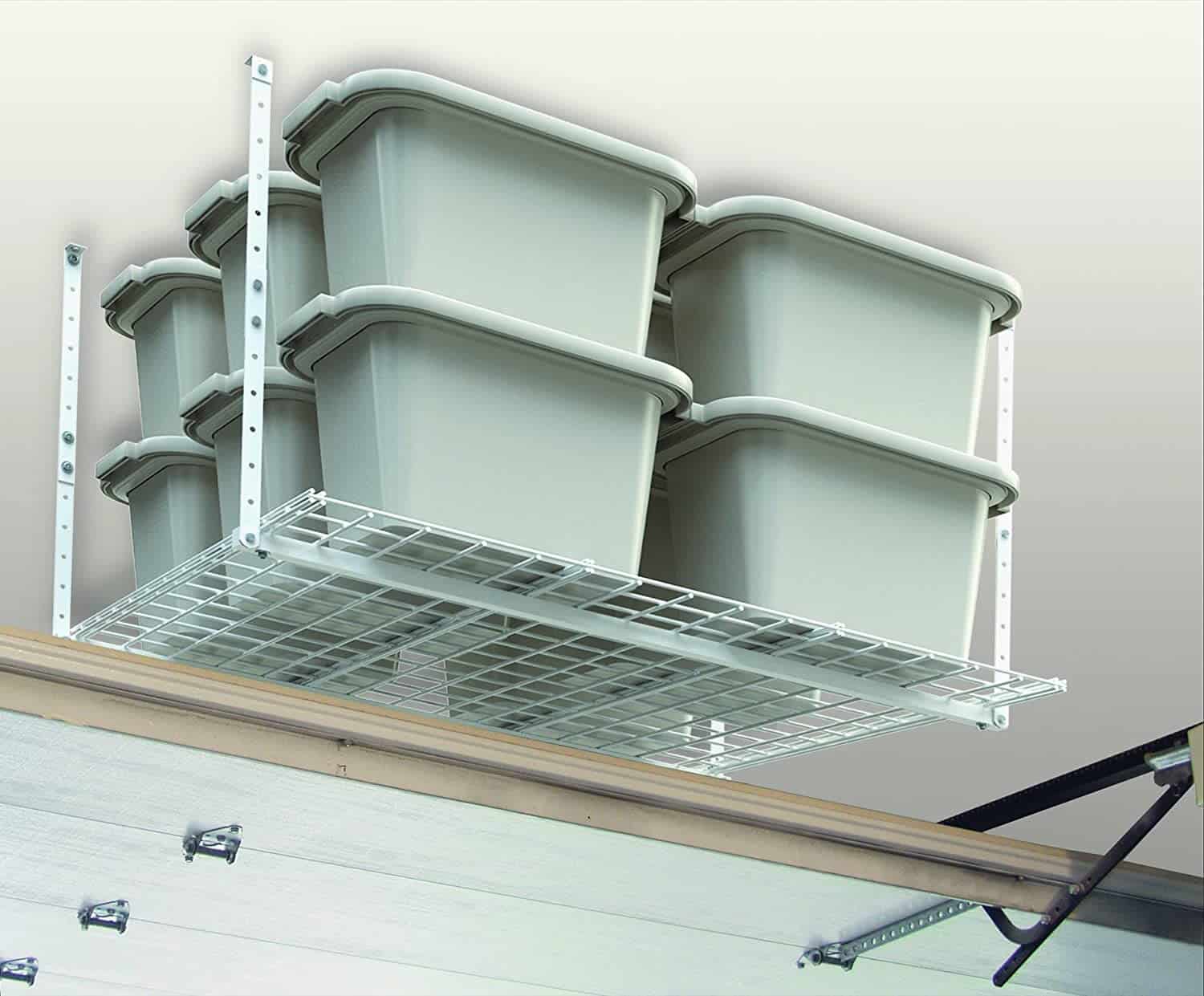 Features
Durability: The powder-coated finish makes it resistant to scratches and rust.
Weight capacity: It has a 250-pound weight capacity and, thus, is not designed for very heavy loads.
Adjustable height: It offers a 17 to 28 inches adjustable height feature.
Installation: Easy to install and all the hardware comes with the product.
This lightweight rack is particularly suited to storing lighter items such as seasonal decorations, suitcases, and coolers. If you are looking to store heavier items, this is not the product for you Check the latest prices here
Best for storage of seasonal tires and sporting equipment: HyLoft 01031 Folding TireLoft Silver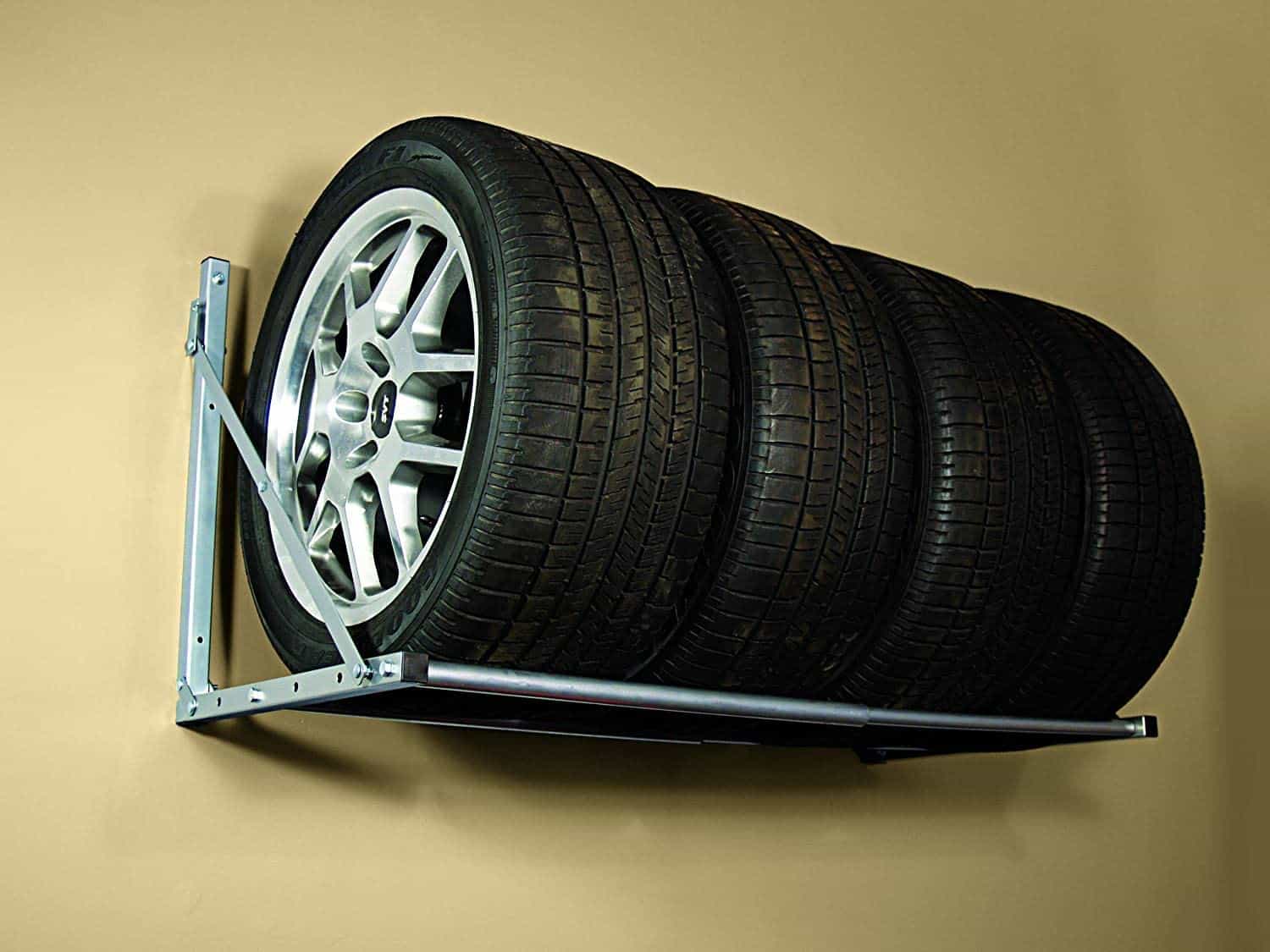 Construction: It is made entirely of durable and high-grade steel. Weighing only 16 pounds itself, it is sturdy enough to carry up to 300 lbs.
Durable: This is a good durable product. Constructed of steel, it has a scratch-resistant silver powder coat finish.
Installation: This product is easy to install. It is mounted on the wall using studs and screws. All hardware is included in the package
Check the latest prices here
I have some more great ideas for storing bikes in your garage or shed here
Best value for money overhead garage storage: SafeRacks Factory Second 4×8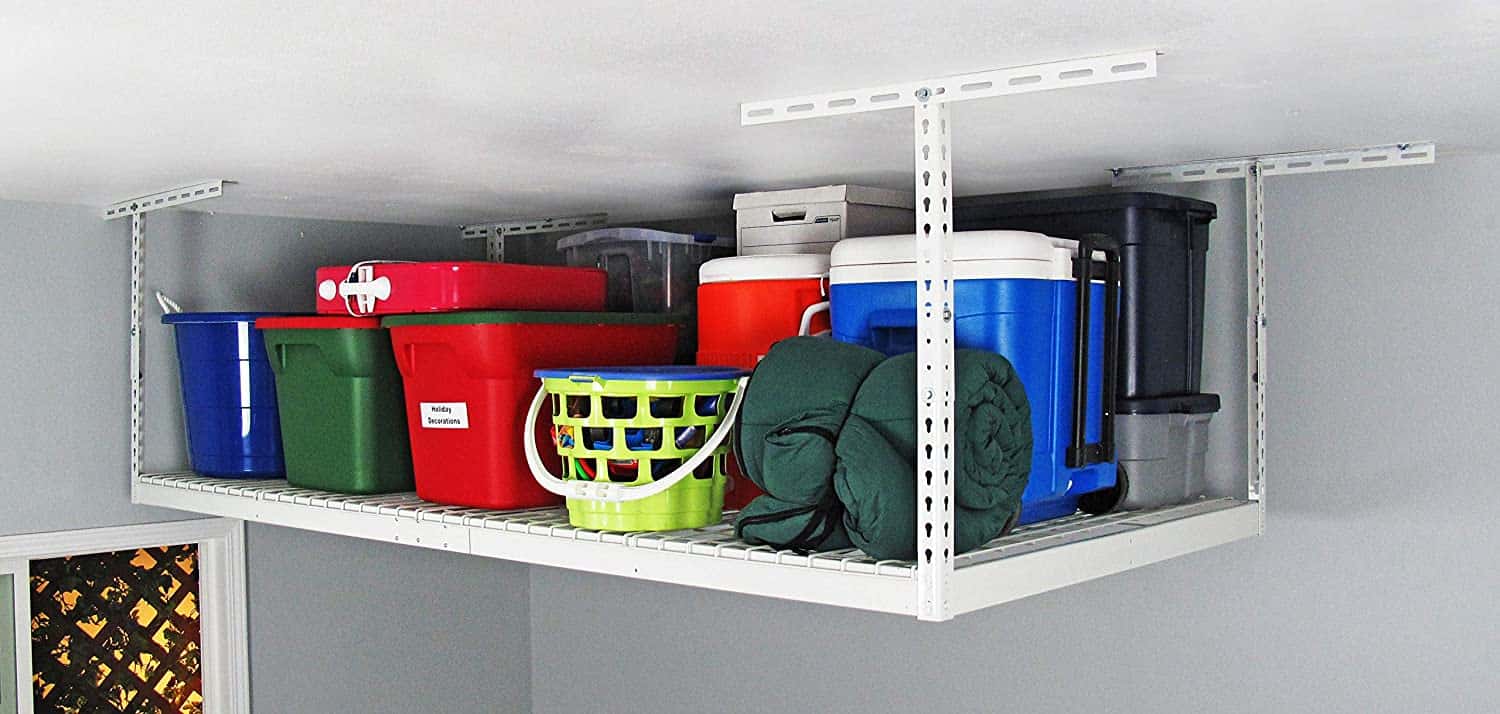 Construction: Constructed from industrial-strength steel, with a powder coat finish, this system is both sturdy and durable.
Compatibility: This product has universal compatibility. It has a capacity of up to 600 pounds.
Installation: This rack is reasonably easy to install and there are several YouTube videos that give step-by-step instructions for assembly and installation.
Check the latest prices here
Overhead Garage Storage Ideas to Make Your Life Easier

A well-organized multipurpose garage is a useful feature of a house. Most of us prefer to use that place only to park our cars. Although it's a small space, it can be home for many of your stuff if you're not desperate for extra rooms and use your garage only as a garage. From storing your cars to bikes, tools, gears, boxes, decorations, and other accessories, your garage may come handy. Most of the time, it's a messy and dusty place, which results in costing much time to find the desired stuff. A rumpled garage is not only sickening to look upon, but it can also quickly become a breeding ground for unwanted pests that prefer dark and abandoned places. But why not organize that place neat and tidy and save up your valuable time and space? Check out these great overhead garage storage ideas to give your garage a new look from a cluttered mess of garbage.
Adjustable Ceiling Storage Racks

Are you looking for a solution to store all of your barely used seasonal items? With adjustable overhead ceiling storage racks, you can store different sizes of boxes, toolboxes, gears, and other accessories easily. Keeping your items off from the garage floor saves those from water damage, which is also the best way to use your ceiling space. You can adjust the level of the racks conveniently. Bikes and other accessories can also be hanged from the hooks of the shelves, which are strong enough to hold pretty much anything. Store your goods without any worries with these heavy-duty cold-rolled steel construction, which can provide safe loading.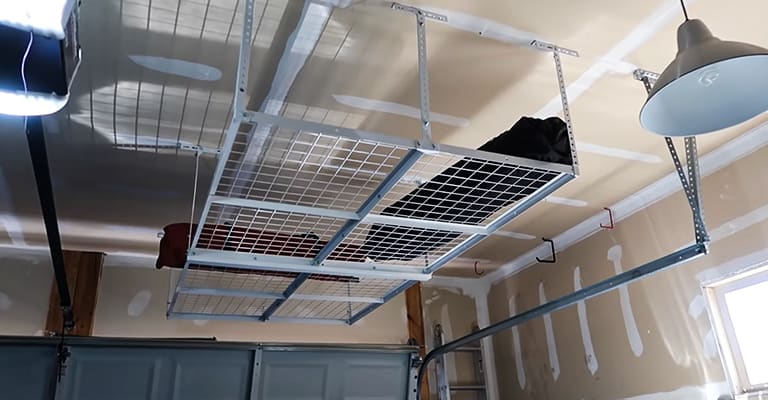 Multi-layer Wooden Cabinets

Wooden shelves installed into your garage wall can be a great place to store your small toolboxes, paints, and other kinds of stuff. Low and medium weight items as in hose pipes, ropes, tools, gears, bike helmets can also be hung from the hooks of the cabinets. It's divided into small cabinets, which allows us to keep different kinds of stuff in different sections. The system is easy to install and convenient. You can also prefer DIY solutions to construct and install the system in your garage.
Pulley Bike Hoisting System

If you have a garage with a high ceiling and looking for a place to store your bicycle, this is the perfect choice for you. With this pulley system, you can lift lower heavier objects efficiently. Lift and mount your bikes, kayaks, ladders high up from the ground with ease.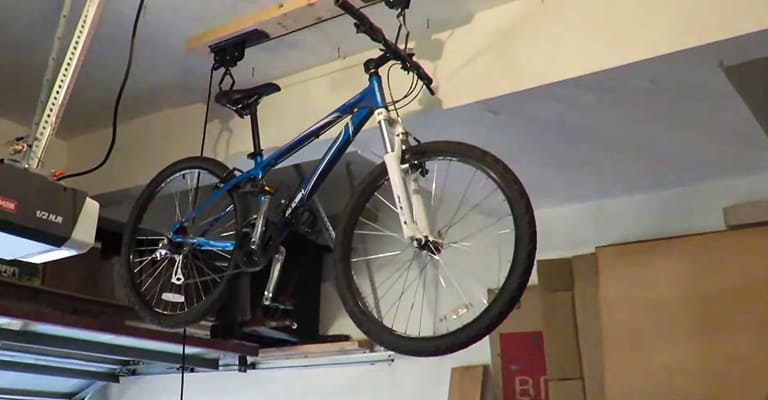 Motorized Lifting Racks

Overhead garage storage systems are indeed efficient, but lifting all those heavy goods can be a significant problem. With this automated platform, you can lift all your stuff with a touch of your smartphone. This system has an easy step-by-step installation so that you can install the system all by yourself. Control the speed of lifting and get overload warnings with a mobile app, which is compatible with iOS and Android smartphones. It also comes with overload protection, the lifter won't lift more than the weight capacity. The platform and the strings are super durable so that you can store your goods without any worries.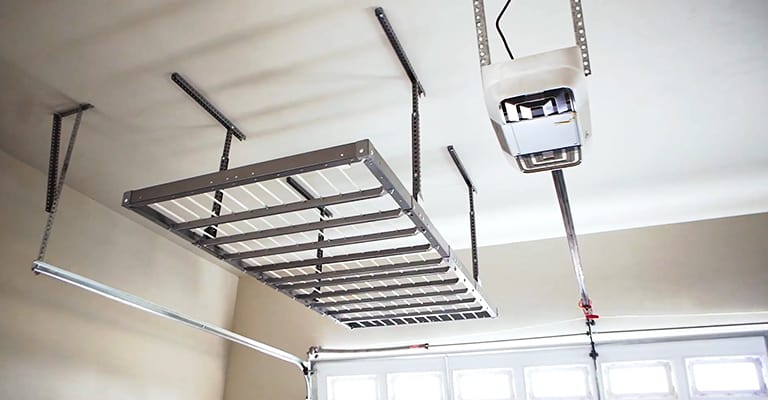 Tool Storage Rack

Get your garden tools, brooms, mops, rakes, and other handled tools off from the floor with these cozy tool storage racks. Mounting one of these racks into your wall can help you store all of your handled tools and gears instead of keeping those here and there causing a huge mess. You can also hang your light-weight accessories from the hooks. A pegboard and/or Slatwall can eventually be the best among the options in this regard.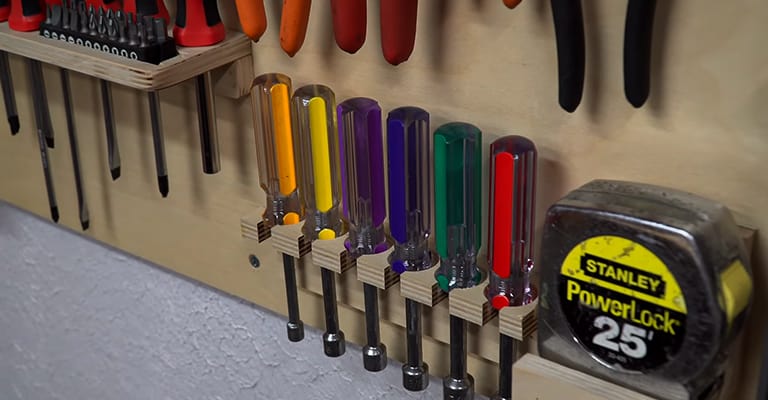 Trifecta Sports Racks

Are you a sports enthusiast? These trifecta sports racks can be a perfect place to store your sports accessories such as skateboards, ski, cricket bats, snowboards, hockey, or lacrosse sticks. Helmets, pads, skates, and other sports gear and equipment can be stored too. There are generally three rack levels to hold three skateboards or other equipment. They are made with ABS plastic construction, which makes it durable.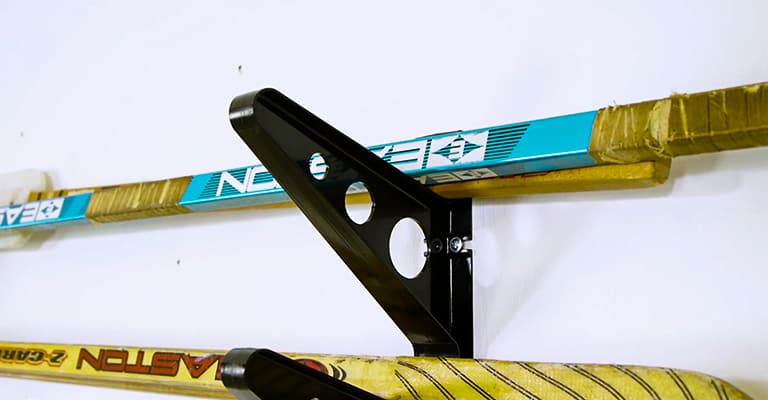 Overhead garage storage FAQ
What is overhead garage storage?

Overhead garage storage is a product that will help you organize and streamline your garage so that you can make maximum use of your space. This product is a ceiling rack where you can store your tools and other accessories.
How to install overhead garage storage system (Quick Guide)
Step 1 Layout joists and hanger board positions.
Step 2 Layout the ledger
Step 3 Find the studs along the line
Step 4 Position the ledger
Step 5 Secure the ledger with screws.
Step 6 Layout the ceiling cleat and then install the ceiling cleat
Step 7 Cut and install the hanger boards
Step 9 Install L-angles where cleat and hangers meet.
Step 10 Install the Joist Hangers and the outer L-angles
Step 11 Position the front joist and then attach the front joist
Step 12 After that install the other joists and remaining L-angles
Step 13 Finally, install the floor
Here's a video explaining how to install a FLEXIMOUNT system, but it's similar to other ones:
How much does it cost to install garage ceiling storage on average?

You can expect garage storage systems to cost between $615 and $2,635, with the national average somewhere in the middle (around $1,455). The extent of your garage storage system—as well as the necessary installation costs you may have to pay a pro—will help to largely determine the price. On AVERAGE, this is what you'll pay for garage ceiling storage by size.
Is overhead garage storage safe?

Overhead garage storage is safe, and a great storage solution for your garage. You need to stay under the maximum weight limits of both the storage rack and your garage ceiling. Attaching the overhead racks or shelves to the walls will add an additional layer of security.
Do all the overhead garage storage options have compatibility with ceiling studs?

Not every overhead garage storage has this compatibility. You must buy one which is compatible with your ceiling or you can buy one that has universal ceiling compatibility.
Is there any risk of scratch and paint-off problems?

To avoid this problem, you can buy powder-coated overhead garage storage. They are resistant to rust, scratches, paint off etc.
How much weight can garage ceiling racks hold?

If you have another floor above your garage, the ceiling\floor structure can usually support up to 40 lbs/SqFt (including the weight of the floor above it). If you do not have another floor above, the ceiling trusses may only be able to hang a maximum of 10 lbs/SqFt.
Takeaway

Now that you are familiar with the various overhead garage storage systems that are available, and are aware of the features that you should look for when purchasing such a system, you are in a strong position to make the best choice for your specific needs. When you are looking for overhead garage storage ideas, you should consider the stuff you want to store and choose the shape or size of the shelves or racks accordingly. Give your hardly used seasonal goods a perfect place with adjustable ceiling storage racks. Store your bikes up from the ground with a pulley bike hoisting system. Save up all the lifting jobs by installing motorized lifting racks. To sum up, utilize every little corner of your garage by using the ideas mentioned above according to your stuff and space allocation.
Read next, these are the Best Garage Door Rollers (& how to replace them: Complete Guide)
I'm Joost Nusselder, the founder of Tools Doctor, content marketer, and dad. I love trying out new equipment, and together with my team I've been creating in-depth blog articles since 2016 to help loyal readers with tools & crafting tips.