I love creating free content full of tips for my readers, you. I don't accept paid sponsorships, my opinion is my own, but if you find my recommendations helpful and you end up buying something you like through one of my links, I could earn a commission at no extra cost to you.
Learn more
Water filters for vacuum cleaners are a great way to clean your floors without all of the hassles. They're easy to use, and they work quickly.
The problem is that most people don't know how to choose a water filter vacuum cleaner. That's why we wrote this guide!
I'll walk you through everything you need to know about choosing the best water filter vacuum cleaner for your home or office! You can thank us later.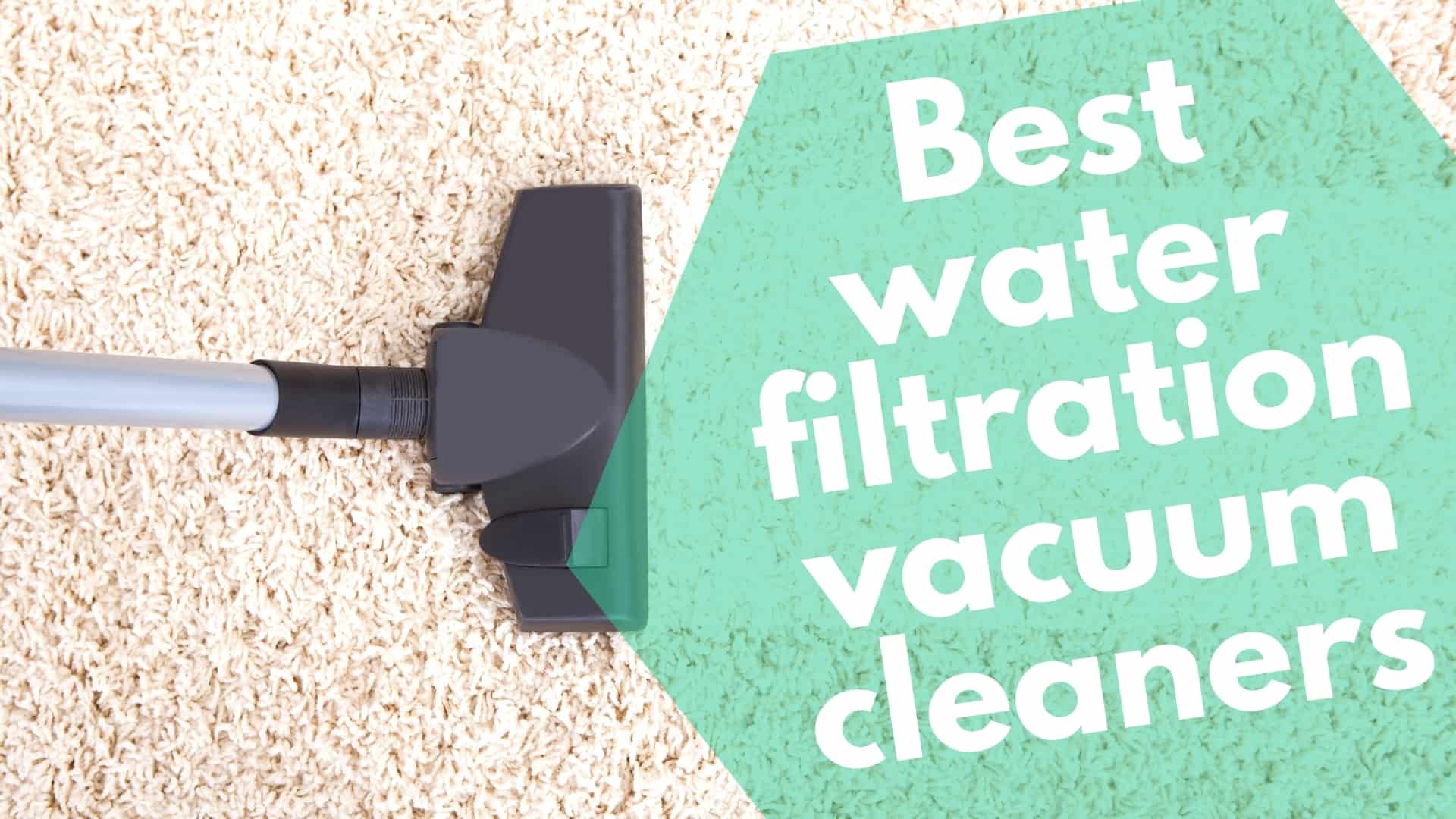 In this guide, I'll talk about all the things you need to look for in a good cleaner, plus why these following three are my top picks.
The best water filtration vacuum cleaner from our tests was by far this Rainbow Model E2, one of the few models I've seen with a good low-speed setting for soft surfaces like carpets or upholstery, as well as a high-speed setting for couches and other harder surfaces.
Here's the top 3 real quick, after that I'll get into more detail on these products:
Water filtration vacuum Buyer's Guide
Here's what to consider before buying a water filtration vacuum cleaner:
Some of these vacuum cleaners cost more than $500, therefore it's important to do your research before making a purchase. 
Price
As I mentioned above, these vacuum cleaners are quite pricey. The more expensive brands are also better ones when it comes to performance and longevity.
A Rainbow can last you for decades, whereas a cheap model won't last more than seven or eight years, maybe even less. 
Personal Cleaning Needs
If you're looking into water filtration vacuum cleaners, you probably want a spotlessly clean home. These machines outperform regular vacuum cleaners because they pick up more dirt and put out purified air.
Therefore, they do more than just clean. The type of vacuum you choose depends on the types of surfaces in your home.
If you have large carpeted areas, look for a vacuum with a motorized cleaner head that's suitable for cleaning soft carpets.
This kind of head makes cleaning deep messes in the carpet fibers easy. Usually, bulky machines are the best for carpets and rugs. 
If, on the other hand, you have more hard surfaces, then a machine like the Kalorik is the better choice. It's more suited for low-pile carpets and hardwood floors.
Since it's air-powered, it picks up more fine dust particles. Also, the smaller and lighter machines are better for hard surfaces because they are easy to maneuver.
The canister water filtration vacuum cleaner is ideal for all types of above-floor cleaning tasks. These machines usually come with a variety of accessories like dusting brushes, special edge tools, and crevice tools. 
Canister vs Upright
There are two types of water filtration vacuum cleaners. 
Canister Models
These models are easier to use. The main reason is that even though they are relatively bulky and heavy, the weight is not supported by your wrists.
As well, cleaning time is reduced by at least half because it's easier to pull and maneuver the canister vacuum around the room. Moreover, the canister machine is the best model for above-floor cleaning. 
Upright Models
The upright model is less popular because it's less practical.
These machines slightly less heavy and bulky, so it doesn't take as much energy to use them and move them around. But the downside is that the wrists support the weight so they can be tiring to use for longer periods. 
Best Water Filtration Vacuum Cleaners Reviewed 
In this section, I am going to review and share my top picks and tell you all about the amazing features of each one.
Overall Best Water Filtration Vacuum Cleaner: Rainbow Model E2
If you're struggling to keep your home clean and you're concerned about dirt, dust, pet hair, and germs, then you need a heavy-duty machine to get the job done.
These days, it's even more important to keep all the surfaces in your home extra clean to prevent infections. Therefore, the water-filtration vacuum is definitely worth the investment.
A machine like the Rainbow will last you for over a decade, perhaps two!
The Rainbow is the most popular water filtration vacuum model. It comes with a premium price tag, but it's one of the most effective ones you'll ever find. It does more than simply clean with water.
Instead, it's a dual cleaning system: first, the water traps the large and medium dust and dirt particles, then a HEPA filter catches even the finest dust, to ensure your home is extremely clean.
You can clean multiple surfaces with this vacuum. With the low-speed setting, you can clean soft surfaces like upholstery, to get rid of pet hair and crumbs. With the high-speed setting, you can remove even the deeply embedded dirt particles. 
This model has an amazing carpet cleaning head with LED lights so you can see all the tiny messes and remove them in an instant. The carpet cleaning head also lets you get into all the edges, for a more effective clean.
Features
Purifies the Air
When you vacuum with this machine, it also purifies the air in your home. It traps all the dirt particles in water and the HEPA filter and releases clean air into the house.
Therefore, you can be sure you're not releasing any germs, hair, dirt, dust, and other allergens into the air. It's a great vacuum cleaner for allergy sufferers.
Durable Telescopic Wand
One of the biggest problems with large vacuum cleaners is that the telescopic wands break after a couple of years. Even though this is a very bulky vacuum cleaner, the telescopic wand doesn't break.
That's because it's made of a high-quality durable stainless steel, that withstands the test of time. 
Unicorn Head
The vacuum cleaner has a special unicorn head to hold the accessories, so they're not falling all over the place while you clean. As well, this feature ensures you don't misplace and lose the special attachments. 
LED-light Carpet Cleaner Head
We know how hard it is to clean the carpet effectively. Without proper lighting, you can easily miss spots and messes. This carpet cleaning tool has an excellent design that allows for edge cleaning.
But what's even more remarkable is that it has an LED light so you can see exactly what the head is cleaning. Therefore, you're less likely to miss a spot. 
Easy to Empty the Water Tank
There's no need to worry because it's not hard to empty the water tank. You can see the amount of dirt in the water clear so you always know when it's time to change the water.
It's also quite quick and easy to empty the tank and you don't need to take apart the whole machine. 
Works on all surfaces
This vacuum is ideal for both soft and hard surfaces. Since it has two different speed settings, you can use it to clean things like carpets, sofas, and furniture on the low setting.
On high, you can clean hardwood floors, laminate, and crevices, or hard edges. It's perfect if you need to pick up watery messes with lots of dirt pieces. 
There's no going wrong with this particular Rainbow model. Customers rave about its cleaning capacity and it's a very long-lasting machine. 
Best cheap water filtration vacuum: Kalorik Canister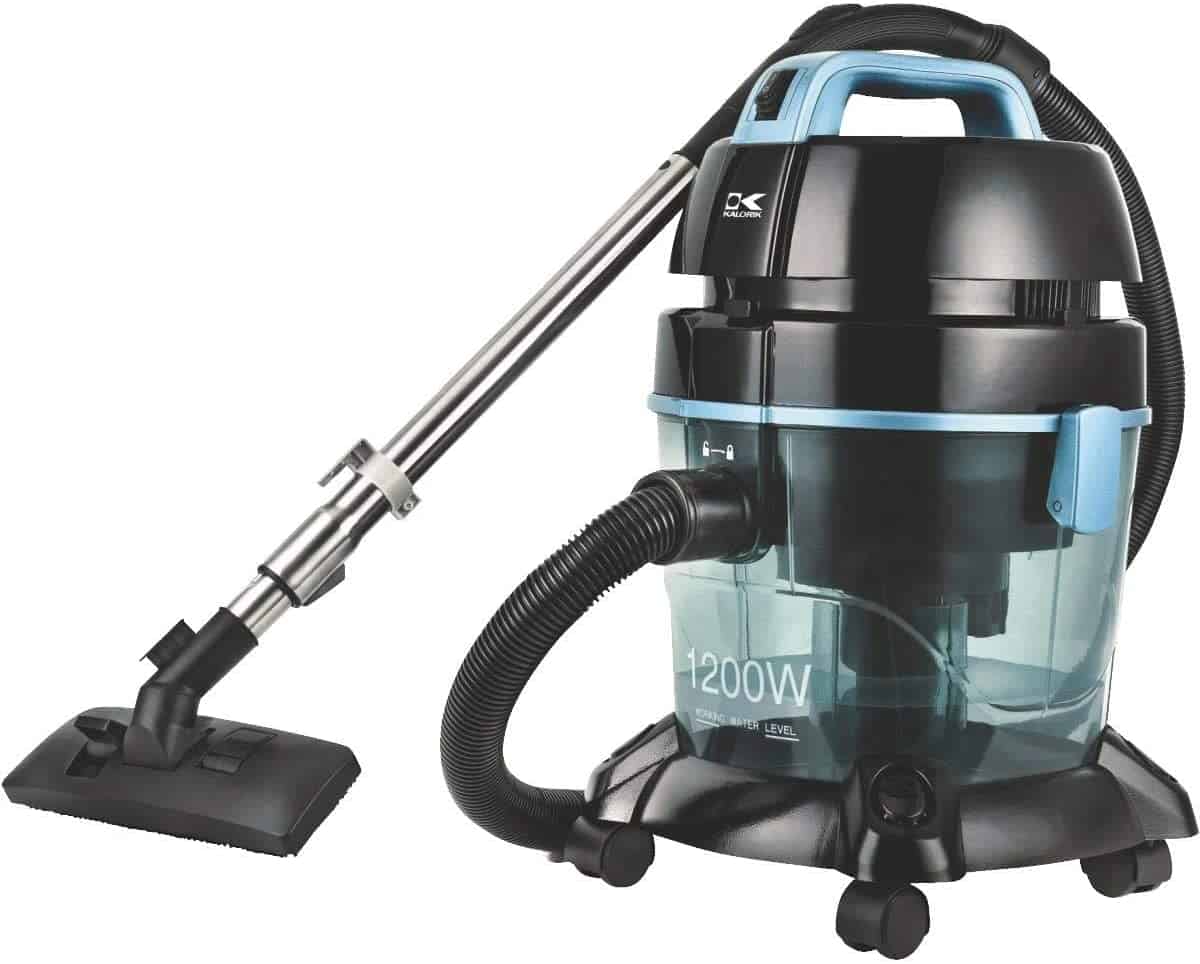 When it comes to the best water filtration vacuum cleaners, most people stay away from these machines because they are very expensive. But, luckily, this Kalorik model is very affordable and has tons of great reviews.
This model is less sophisticated than its pricier counterparts, but it still cleans effectively. What makes this wet & dry vacuum cleaner such a great cleaning tool is the fact that it does more than just vacuum.
It has a cyclonic water filtration system that cleans the air and reduces the number of allergens in your home. 
I'm impressed at how quiet this vacuum cleaner is compared to similar models. It has an extra motor gasket, so it's much quieter so you can clean the house without disturbing everyone.
The bagless design makes it easy to use because you don't need to keep emptying and cleaning the bag. The overall design is fairly simple, but the machine is easy to use.
It has a caddy design with 4 wheels, so you can easily move it around and maneuver it without straining your back.
I recommend this particular vacuum cleaner for those of you looking for the benefits of a water filtration system without the big bulky design of expensive models.  
Features
Ideal for all floor types
This vacuum cleaner works very well on all floor types. This means it can clean all kinds of surfaces, both soft and hard.
The wheels make it easy to pull the machine across all the different flooring types, including hardwood, laminate, carpets, and area rugs.
But best of all, you don't need to press any additional buttons – simply transition from one surface to the next. 
Large Canister
The vacuum cleaner has a large canister to allow for a deep clean. You don't need to keep changing the water as often because this extra-large canister has a big capacity.
Just think about all the cleaning you can do. You can pick up all the dirt and dust in multiple rooms in one go. 
Bonus Accessories
When you buy the Kalorik, it comes with several accessories and attachments that make cleaning easier. There is a special dust brush to help you pick up even the finest dust particles.
Then, there is a crevice tool for those hard to reach cracks and crevices you struggle to clean. In my opinion, the best attachment is the heavy-duty 2-in-1 floor brush which helps you pick up those big wet and dry messes like spills. 
Bag-free
If you're looking into water filtration vacuums, you surely want to stop using bagged machines. This bagless vacuum is effortless to use because you don't need to empty and replace the bag.
All you have to do is empty the water, which means you don't get your hands dirty. As well, the bagless design (as opposed to bagged) reduces the number of dust particles and allergens released into the atmosphere. 
Great for Pets & Allergy Sufferers
This vacuum cleaner is great for pets because it picks up all the pet hair and dander and traps it in water. Therefore, your home will have less pet fur flying around causing allergies.
It's also a good machine to have if you suffer from asthma and allergies because it removes almost all allergens from the floor, the furniture, and the air. 
If this sounds like a vacuum cleaner your home needs, you won't be let down by the quality, the performance, or the price!
Check out the prices on Amazon
Best Water Filtration Vacuum For Pets: Sirena Pet Pro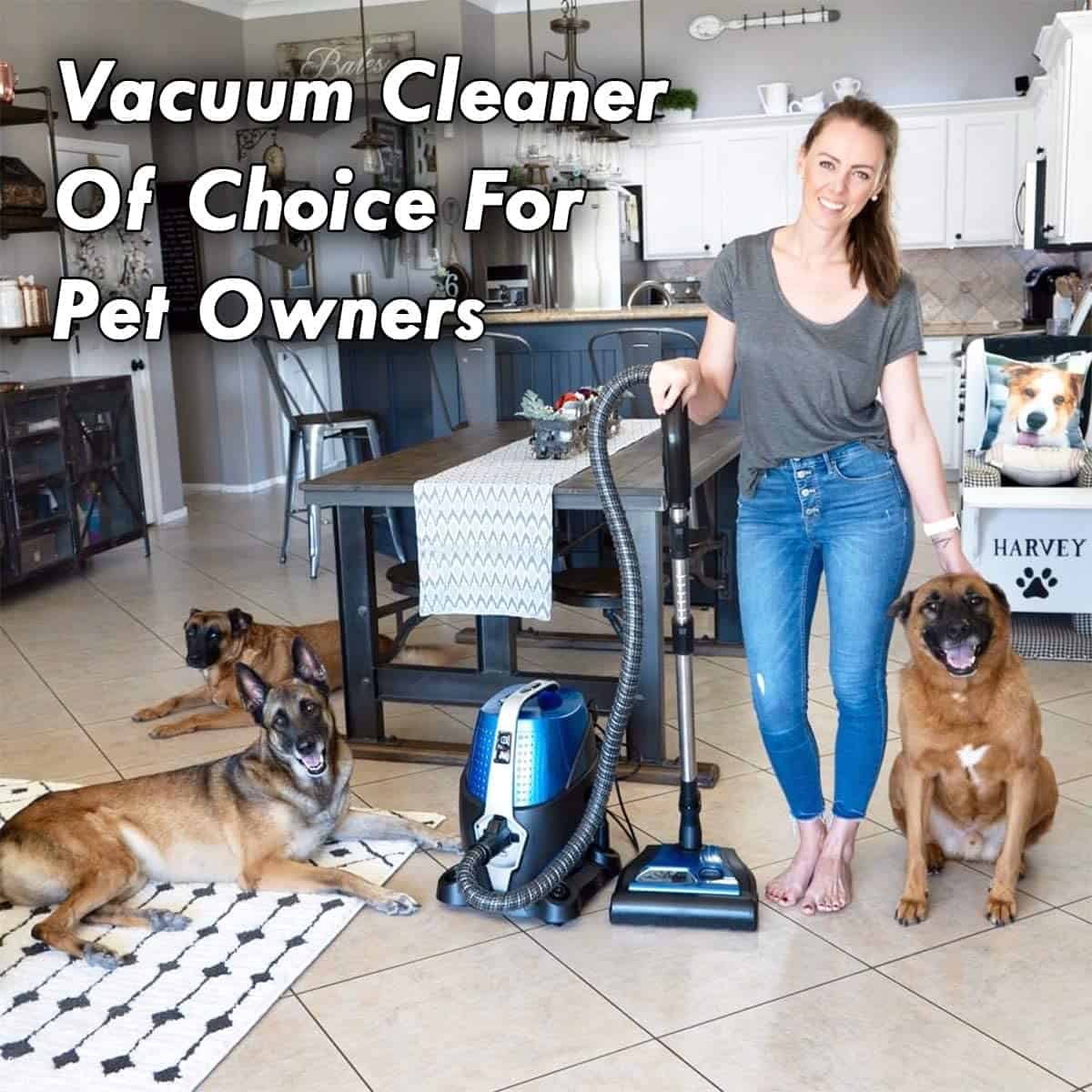 Pet owners know how much mess pets can make in the house. Whether it's endless amounts of pet hair or the occasional accidental liquid mess, you need a good vacuum cleaner to tackle the clean-up.
The water filtration vacuum cleaner is the handiest household machine because it's going to help you clean efficiently.
The Sirena works on both hard floors and soft carpeted surfaces, so it's a great option. It comes with many attachments that make cleaning any surface easy peasy. 
The water is much better at trapping and the pet hairs and dander than my classic upright vacuum cleaner. I personally love this vacuum cleaner because it removes all the pet odors and leaves my home smelling fresh.
After all, I want to eliminate odors and refresh the air in my home. It removes germs and allergens, so the air is breathable and nobody has to suffer the harsh effects of allergies. 
So, if you want to stop cleaning filters and emptying dust bags, then this Sirena vacuum is an excellent choice. It's heavy but it's probably the most effective at removing dirt and pet hair.
Another feature that has me excited is that the Sirena works as a stand-alone air purifier.
Features
2-speed modes:
The motor is a powerful 1000W component and it has great suction power. But, you can use this vacuum on two modes, depending on your needs.
You can use it at low speed and it works as an air purifier. At high speed, it sucks up all the dirt both wet and dry very rapidly. 
6 unique attachments:
This vacuum comes with a variety of attachments. Use them to clean carpets, hardwood floors, furniture, mattresses, and more.
You have a perfect tool for any type of cleaning task. The Sirena can also be used to inflate mattresses and balloons. 
Reduces Allergens:
This vacuum cleaner reduces the number of allergens in your home. Water is the best method of trapping allergen particles.
It is an impenetrable barrier for dust mites, pet hair, dander, germs, and pollen. Therefore, this device is the best choice if your home is full of pet hair. It helps reduce allergens for asthma and allergy sufferers. 
Wet and Dry Function:
With the Sirena, you can easily clean both wet and dry messes. So, even if you spill juice or dry cereal, you can pick it all up effortlessly. After picking up wet messes, you can rinse the hose by vacuuming up a glass of clean water.
Odor removal:
Sirena doesn't cause odors and it doesn't get smelly over time. As long as you empty and clean the water, you aren't going to spread odors around.
Other vacuum cleaners get smelly and moldy, but this one doesn't. It also eliminates the odors in your home when you vacuum and it will purify the air. This is especially handy for pet owners, as we all hate that wet dog smell. 
HEPA filter:
This vacuum cleaner has an additional HEPA filter which removes over 99% of dust and dirt for a superior clean. It has a great air cleaning ability which means the vacuum cleans, purifies, and removes more dirt, germs, and allergens.
The air itself gets water-washed and then it's returned fresh. The HEPA filter is washable so you can clean it as often as you like!
If this sounds like a machine that makes life easier, check it out. 
How does a water filtration vacuum cleaner work?
They use water rather than a filter to help get rid of dirt, debris, and odors from the air. Sucked up with normal air suction, it's then filtered using water to make sure that the dirt, debris, and odors are trapped in the water.
The more you suck up, the dirtier the water gets – this helps to see just how much dirt and gunk are being captured!
They are better at handling wet messes, too, given their waterproof nature to become with. They also get rid of more bacteria and pathogens from the air, and they pump out more air than a normal vacuum.
As a very powerful filtration system, these are so easy to use and the fact you just empty out that dirty water to clean it out makes it even easier to use than ever before.
If you're curious how water 'filters' the air, let me explain briefly. Water droplets bond or destroy the dirty particles, including dirt, dust, pollen, and other small impurities.
There is a special hydrophobic filter around the motor and the water-bonded dirt stays trapped in the water basin.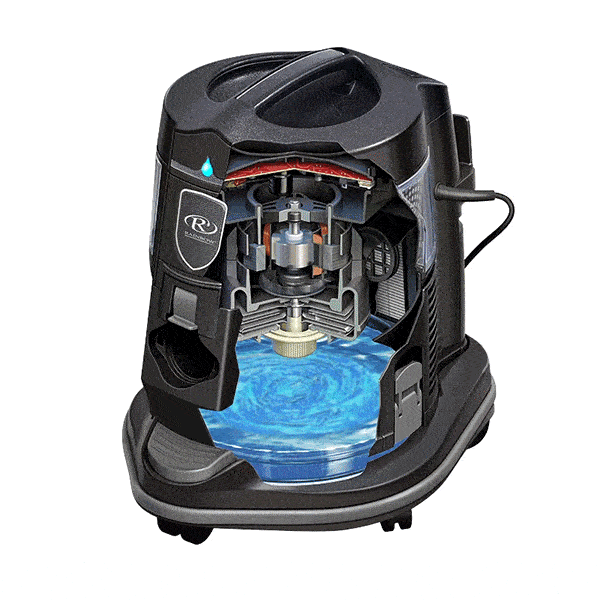 Are water filter vacuum cleaners better?
For many people, a vacuum cleaner is just that. They see it as an appliance to help them get rid of all the dirt and debris from their house or apartment and don't really think about what happens after this.
The problem with these cleaners is that they often leave behind a lot of particles on the floor which are not visible to the naked eye but can be detrimental to our health over time.
This means that you may have cleaned your home thoroughly only for there still being traces of dirt in places where you cannot reach such as under furniture or between cracks in floorboards etc.
There are several types of vacuum cleaners available today, including water filter vacuum cleaners.
These work by using suction via a hose connected directly into one end of your bin (which also holds any collected dust) before being sucked through another long tube connected directly onto your cleaning head which then gets pushed out through small holes at its tip allowing you to suck up those
The fact they are more powerful and versatile is not a secret; it's just a fact. Based on the principle "Wet Dust Can't Fly", water filtration vacuums are better at getting the air filtered.
They are more versatile in the kind of mess that they can be used to deal with. As well, they tend to be very effective at trapping away all the garbage and gunk without issue.
They are also more energy-efficient than their normal selves. Therefore, these vacuums are a very effective form of cleaner. The fact they tend to remove even more mess from the air makes them such a useful option for cleaning with.
That being said, they are much heavier. Usually, they are larger, bulkier, much harder to move around. This factor makes them quite dangerous to move around on your own if you lack physical force.
They are harder to maneuver, too, and you need to be smart about where and how you move around. Dropping or spilling water filter vacuum cleaners is a lot messier than a dirt-based one, that's for sure!
Also, the water gets dirty so fast that they need to be replaced a fair amount of times. Therefore, make sure you have ample access to water sources wherever you are cleaning.
Top brands within the water filter vacuum cleaners' industry include names like Rainbow, Hyla, Quantum, Sirena, Shark, Hoover, Miele, and Eureka, so much sure you take a look around some of these top brands and try to decide the model you want to pick up.
Top Advantages of Water Filtration Vacuum Cleaners
As I mentioned above, there are many benefits to using a water filtration vacuum, especially if your home gets very messy. 
No clogging and loss of suction
A classic vacuum cleaner will lose suction power as the canister or bag gets full. To get a good clean, you need to keep emptying the bag all the time.
With a water filtration vacuum cleaner, you don't have to worry about clogging and loss of suction. The water traps the dirt particles and water doesn't clog, so that's one issue you don't need to worry about.
So, you don't need to replace the filter, unclog the machine, or worry about reduced suction power.
Cleans up wet messes
Let's face it, many of the messes we deal with on a daily basis are wet. Kids spill juice, you spill pasta sauce, and pets bring in soggy mud.
These messes require more than a dry vacuum cleaner. The main advantage is that a water filtration vacuum cleans up any type of wet mess and you don't need to have two separate bins or fumble around with the machine's settings. 
Great for cleaning pet hair
Pet hair is notorious for clogging up your vacuum cleaner's hose and filters. A water filtration vacuum doesn't get clogged. The water traps pet (and human) hair very efficiently without clogging up your vacuum.
So, if your sofa is full of pet fur, simply bring out the vacuum and you can clean up in an instant. 
Purify the air & remove allergens
Did you know that water filtration vacuums are better at trapping dirt particles? These machines have an improved filtration system.
There are no loopholes in the filtration system, therefore more dirt and dust get trapped. Therefore, you get a better clean and purer air.
The vacuum cleaner purifies the air as it sucks up the dirt without leaving behind that classic vacuum cleaner odor. But the biggest pro of this type of vacuum is the fact that it removes more allergens than the regular vacuum cleaner.
This means it returns cleaner, more breathable air into your home, which is important, especially for those suffering from allergies. 
What are the disadvantages of water filtration vacuum cleaners?
Before you take the plunge and buy a water filtration vacuum, let's examine some of the disadvantages.
These aren't deal-breakers because the pros outweigh the cons. However, it's good to know as much as possible about these machines beforehand. 
Heavy & Weighty:
First of all, you need to keep in mind that these types of vacuum cleaners are massive. Seniors and kids will have a hard time using them.
These are recommended for healthy adults who can push them around. Since the vacuum uses water, it is much heavier than a regular upright or canister vacuum. If you have to carry it up the stairs, it's going to be hard work.
As well, these vacuums are big so they need lots of storage space. Also, due to their large size, they are hard to maneuver.
If you try to clean in corners and around furniture, you'll have a hard time moving around and you can even get stuck. 
Dirty Water:
When you vacuum, the water gets dirty very quickly. Therefore, you need to keep changing the water. This can be time-consuming and annoying, especially if you want convenience.
Unfortunately, you can't leave the dirty water in the machine, so you must clean it after each use. 
Finally, consider the price. These types of vacuum cleaners are significantly more expensive than classic models, so be prepared to spend a lot more. 
FAQs
In this section, we're answering your questions about water filtration vacuum cleaners.
How do water filtration vacuum cleaners work?
They work differently compared to classic vacuums because instead of sucking dirt into a filter, the mess goes into a water tank. The water traps all the dirt particles and purifies the air in the meantime. Some models also have a HEPA filter for double filtration. 
Are water filtration vacuums better?
Undoubtedly, a water filtration system is more effective at cleaning. These machines do a much better job of cleaning when compared to regular vacuum cleaners. Water is an excellent filtration mechanism so these machines filter out all the dirt, germs, and fine dust particles and make the air cleaner. 
Can you use a Rainbow vacuum to purify the air?
In general, yes you can. These vacuums use ionization technology to pull the dust from the air and capture it in the HEPA filter and water tank. The HEPA filters are easy to clean because they are washable. So, these machines offer very pure air and a deep clean of all surfaces. 
Can I put essential oils in my Rainbow vacuum?
Vacuum cleaners with water basins are great because you can put essential oils in them. Therefore, you can make your whole home smell amazing. Essential oils add lovely aromas to the air and they make the home smell clean and fresh. Simply put a few drops of your favorite essential oil into the water basin for scented energizing purified air. If you're ready to wind down, you can add some calming lavender drops. 
Do you need to load the vacuum with water first?
Yes, you need to add water to the basin before you start cleaning with your water filtration vacuum.  Just like regular vacuums can't function without a filter, these machines can't work without water. The water is the filter that attracts all the dirt. Plus, it acts like the bin where all the messes are collected. If there is no water, the mess just goes through the device and comes out. 
Do I have to empty the water filtration vacuum cleaner after every use?
Unfortunately, yes. This is one of the drawbacks of using this type of vacuum. Once you are finished cleaning, empty the water basin immediately. Otherwise, you'll end up with a smelly and dirty basin and you can even have mold forming there if it's not cleaned and dried properly. So, yes, the water must be emptied immediately after use. 
Water filtration vacuum vs hepa
HEPA filters remove 99.97 of particulates larger than 3 micrometers by creating a pressure differential between input and output systems to trap particles. Water filtration filters out even more by using air to create bubbles, agitating them so particles break through into the water releasing air back into the atmosphere.
Conclusion
If you regularly need to clean up all kinds of messes both wet and dry, the water filtration vacuum cleaner is a great investment.
Imagine cleaning with just clean water and getting a cleaner, allergen-free home. These kinds of vacuums promise a superior clean without the need to change bags, filters, and no bins to empty. 
Even though this vacuum is heavier, it's highly efficient. Make no mistake, though, there are many positives for people with allergy and asthma to using water filter vacuum cleaners!