I love creating free content full of tips for my readers, you. I don't accept paid sponsorships, my opinion is my own, but if you find my recommendations helpful and you end up buying something you like through one of my links, I could earn a commission at no extra cost to you.
Learn more
When I was a kid, I with my cousin decided to make a birdhouse. Since we were little and we did not have any idea about the DIY birdhouse projects we could not make a beautiful birdhouse like shown in this article.
But for you, the case is different. Since you are reading this article you are going to make a beautiful birdhouse picking the ideas shown here.
In this article, we are going to show you easy and beautiful birdhouse ideas that you can make easily within a short time. If you are a beginner, the birdhouse project can be a nice one to practice and enhance your skills.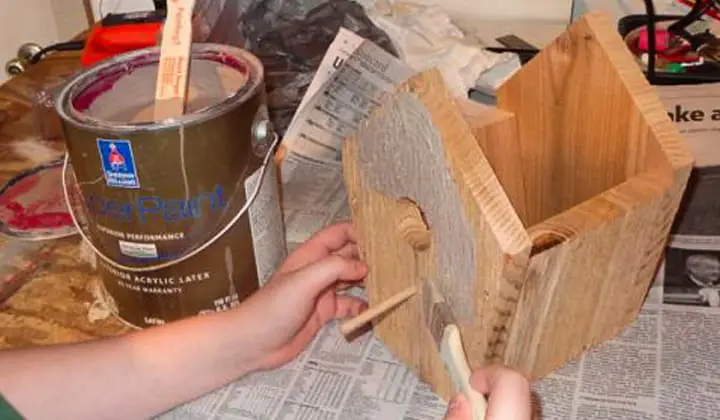 How to Make a Birdhouse Out of Wood
Constructing a birdhouse is a kid-friendly project that you can do with your kids or your grandkids. To pass quality time with the kids making a birdhouse out of wood can be an effective DIY project.
If you are a wooden DIY lover then I hope you already have all the tools required for constructing birdhouse in your toolbox. This is a cheap project and does not require much time to complete though the time depends on the design you have chosen.
In this article, I will show you the steps of building a simply designed birdhouse out of wood that can be done with basic DIY skills.
Required Tools and Materials
You need to gather the following tools and materials to complete your birdhouse project.
Cedar Lumber (1-inch x 8 inches x 8 feet)
1-1/4 inch galvanized finishing nails
1/4-inch-diameter dowel
Wood glue
Paint or stain
Speed square or framing square
Paintbrush
Drill with 3/32-inch, 1/4-inch, and 1-1/2-inch spade
Forstner or hole saw bits
5 Steps to Build a Birdhouse
Step 1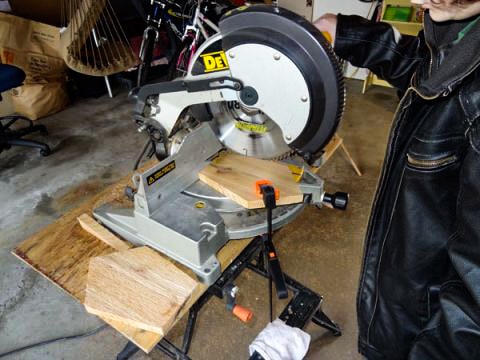 At first cut the front and back part of the wood lumber you have bought into 9 x 7-1/4 inches. Then mark down the center of each cut piece and using a miter saw make an angle of 45 degrees.
It is easier to make an angle of 45-degrees using a miter saw than other types of saws. You just have to turn the miter saw at an angle of 45-degrees and it is done. Yes, you can do it with other types of saws also. In that case, you have to mark the 45-degree angle using the square and then you have to cut according to the measurement.
While marking for measurement do it on the interior side of the wood so that it cannot be seen after finishing the project.
Step 2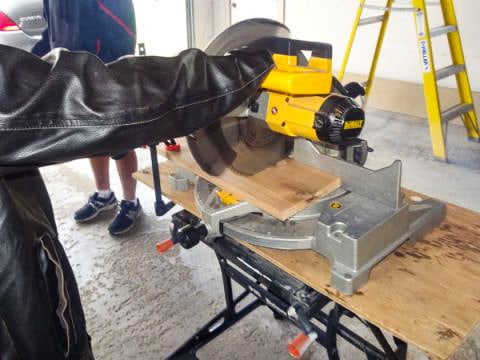 Now it is time to cut the side pieces into 5-1/2 x 5-1/2 inches. Then cut the pieces for making the roof into 6 x 7-1/4 inches, and 5-1/8 x 7-1/4 inches.
The side pieces will be placed a little shy of the roof so that air can circulate through the birdhouse. The longer piece cut for the roof will overlap the shorter one and these pieces will overhang the birdhouse at the same distance.
Then cut pieces for preparing the base. The piece cut for the base should be 5-1/2 x 2-1/2 inches in dimension. Then you have to make a miter cut on every corner from each end so that water can run out when you will clean your birdhouse.
Step 3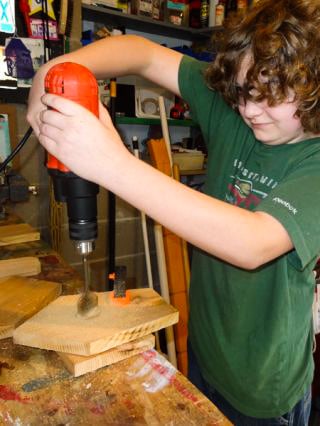 Now it is time for drilling and to find out the position of drilling you have to do some measurements. Take the front piece and measure from the peak of the front piece down 4 inches. Then mark on the vertical centreline and you have to drill here a 1-1/2-inch hole. This hole is the door for the bird to enter into the house.
Splintering may occur during drilling. To avoid splintering you can place a scrap board below the front piece before drilling. It is safe to clamp the pieces you already have made before starting drilling.
Step 4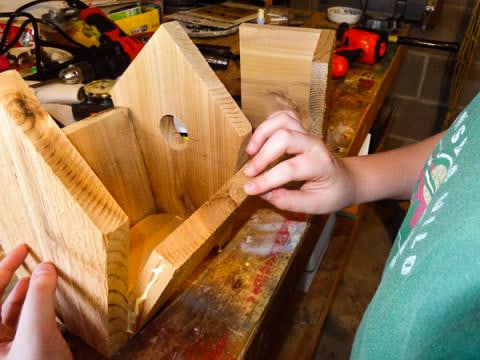 All the required pieces for constructing the birdhouse are ready and now it is time for assembly. Take the glue and run a bead of glue along the outside of the edges. Then insert the sides between the front and rear parts ensuring the outside edges flush.
Then drill two pilot holes of 3/32-inch size at each joint to drive nails through it. After that assemble the base using glue and finish nails.
We are using the glue to hold the joints together but until the glue dries the nails help to hold everything together. Finally, drill a ¼ -inch hole at 1-inch below the entrance hole. You are drilling this hole to insert a 3-inch piece of dowel with a dap of glue on the end.
Step 5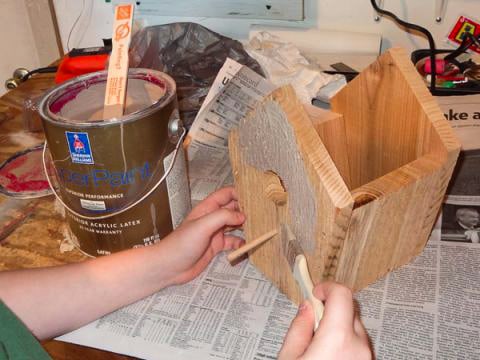 If you want to paint your birdhouse then you can paint now before assembling the roof. When the paint is dried properly assemble the roof using glue and nails. You have to keep in mind that the longer piece of the roof should be placed over the smaller one.
Important Tips
Wood you are using for making birdhouse should be weather-resistant wood like cedarwood or redwood. You can also use plywood.
It is better to place the birdhouse about 1 and a half meters above the ground otherwise, predators may harm or kill the bird.
To protect the house from the rain you can place the door of the birdhouse on the north side of the tree.
While gluing you should not use much more glue that will squeeze in the body of the birdhouse.
The paint should be dried properly.
The location of the birdhouse, its design, color, size of the entrance hole, etc. has an impact on attracting the bird to the birdhouse.
If there is enough source of food near the birdhouse birds will be attracted easily. So, it is better to place the birdhouse where the birds can find food easily.
You just make a beautiful birdhouse and hang it from the branch of the tree and birds will come and live in that house – no, it is not that easy. The birdhouse should be attractive in the eyes of birds. If the birdhouse is not attractive in the eyes of birds they will never do mercy on you by living there even if you hang it for months after months.
The type of birds you are focusing on is also important. For example, if you focus on the wren the entrance hole should be kept smaller so that other competitors cannot enter there.
You know safety is a very important issue to consider. So, you should place the bird house should also be in a safe place.
13 Simple and Unique DIY Birdhouse Ideas
You can make a birdhouse out of wood, unused tea pot, bowl, milk bottle, clay pot, bucket, and many more. Here is a list of 13 simple and unique DIY birdhouse ideas that anyone can make.
DIY Birdhouse Idea 1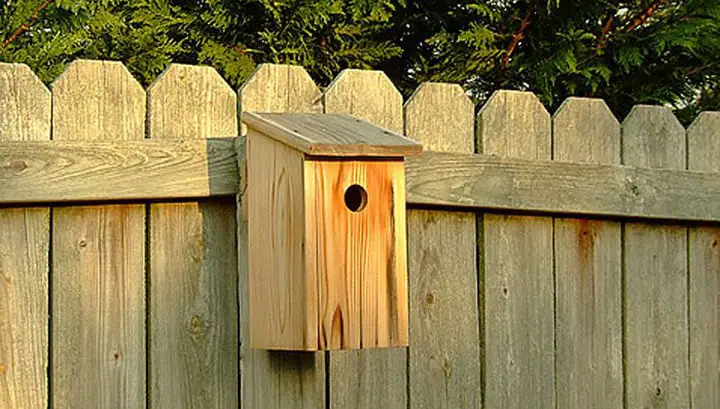 It is a simple birdhouse design that requires Materials, cedar board, galvanized wire brads, deck screws, and wood glue.
You can complete this project using a table saw like one of these top brands or circular saw with a straightedge guide, miter saw or a handsaw with a miter box, measuring tape, pneumatic nailer or hammer and nail set,  drill/driver with 10 countersink bit and 1 1/2-inch Forstner bit, a power sander and various grits of sandpaper.
So, you can understand that this project helps you to enhance your skill of using the basic wood cutting tools.
DIY Birdhouse Idea 2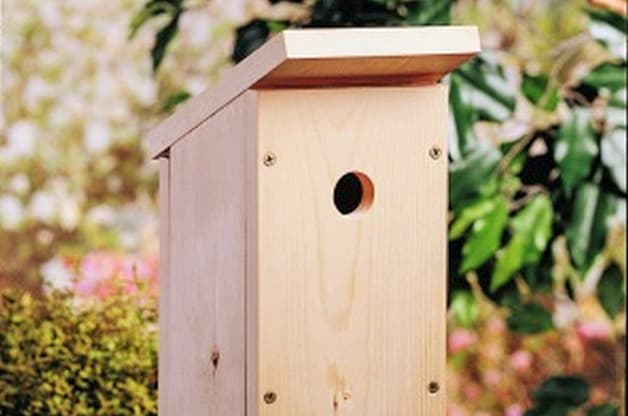 A single pine board is enough to make the birdhouse shown in the image. You have to gather galvanized deck screws, galvanized finishing nails, power drill, appropriate-size spade bit, and a hand saw like one of these for this project to accomplish.
Proper measurement, cutting along the measurement line, and attaching the cut part properly are very important for any kind of wooden project. Since it is a simple project that requires some simple cuts and screwing hope that you will not face difficulties to accomplish this project.
DIY Birdhouse Idea 3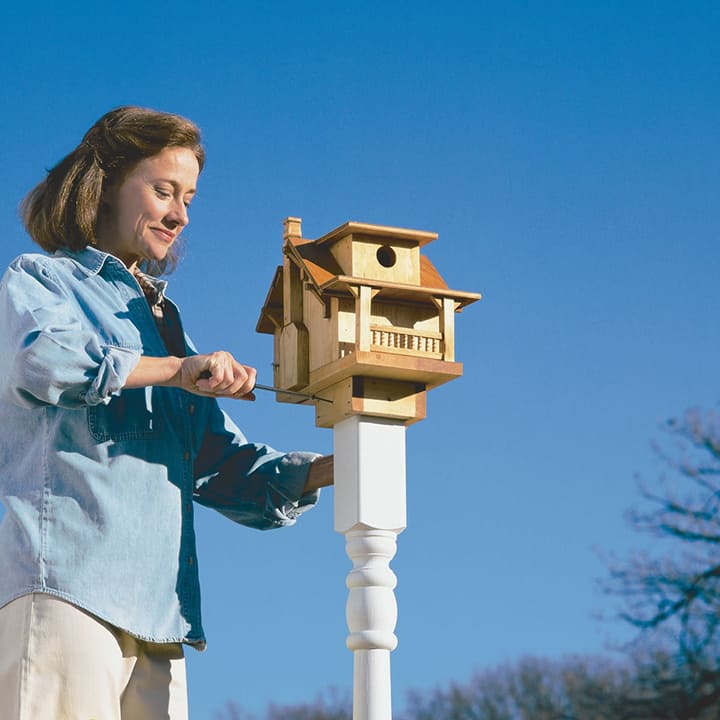 I would not say it a birdhouse rather I would like to call it a bird castle. If you have a jigsaw, miter saw, table saw, clamps, combination square, drill bits, drill/driver – cordless, and hammer in your toolbox you can start this project.
Oh yes, that does not mean only these tools are enough to make your bird castle, you also need to gather the necessary materials like a square dowel, spiral dowels, pine board, corner castle block (specialty trim), pint bottle outdoor carpenter's glue, galvanized finish nails, and wood glue.
This project is not as simple as the previous two but it is not too difficult too. You can learn some more basic types of wood cutting techniques by practicing this bird castle project.
DIY Birdhouse Idea 4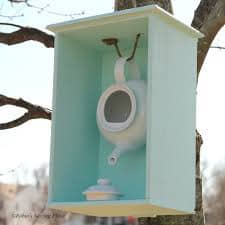 This is one of the simplest birdhouse ideas that does not require any wood cutting skill or woodcutting tool. So if you are not interested in woodcutting at all and still looking for ideas to build a wonderful birdhouse you can pick this idea.
You need an old drawer, a teapot, a twine, and glue to make this teapot birdhouse. The twine should be entered through the hole of the handle of the drawer and tie the teapot with the twine tightly so that it does not fall below.
The twine you are using should be strong enough to carry the weight of the teapot as you know since the teapot is generally ceramic body it has a good amount of weight. For more safety and to prevent the swinging of the teapot by air glue it with the drawer. To decorate and beautify the birdhouse you can glue the top of the teapot in the base and paint the whole drawer.
DIY Birdhouse Idea 5
This birdhouse is made of small pieces of log. If you have the basic wood cutting tools and materials in your arsenals you do not have any cost to make this birdhouse.  The logs used for making this birdhouse can be collected from your yard and as a wood DIY lover you already have other necessary materials in your collection.
DIY Birdhouse Idea 6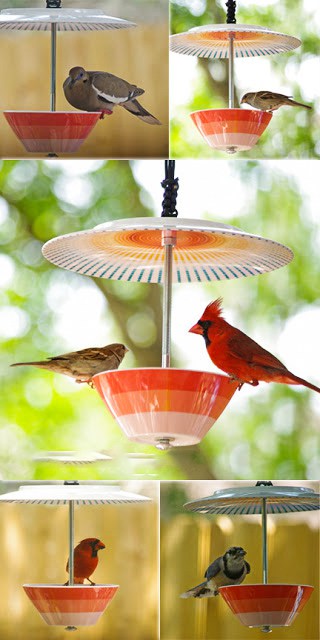 The combination of a birdhouse and flower is wonderful. It is like a bungalow for the birds. It is unique from most of the simple birdhouse design and more beautiful to look at.
DIY Birdhouse Idea 7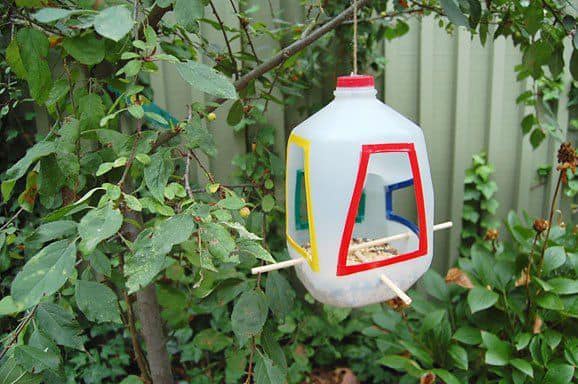 You can recycle an old milk bottle into a colorful birdhouse like the image. If you are on a budget or if you are decluttering your house you can make good use of an old milk bottle by converting it into a birdhouse.
Since it is an easy project it can be a wonderful DIY project for your children who are practicing DIY techniques. They also can practice art on the body of the bottle and can make a wonderful birdhouse.
DIY Birdhouse Idea 8
Do not through the cork of the wine bottles. You need around 180 corks, glue gun, and glue sticks for this project. This project is easy and does not require more than an hour to complete.
DIY Birdhouse Idea 9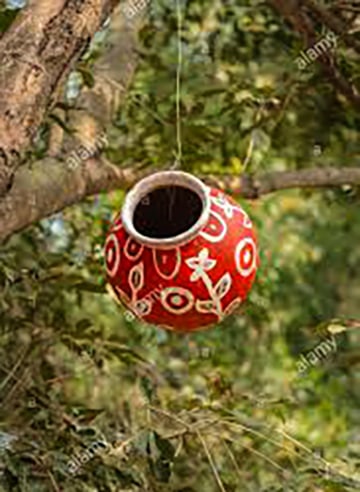 If you love birds but you do not have enough time for execting a DIY project this clay pot birdhouse idea is for you. You do not have to do anything but placing the clay pot in a convenient place so that the birds can easily find it.
To make the inside of the clay pot a comfortable home for the birds you can keep some hays and small sticks inside it.
DIY Birdhouse Idea 10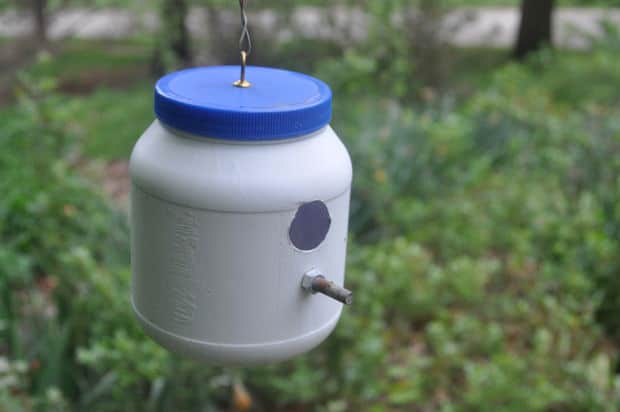 You can convert your peanut butter jar into a birdhouse by simply making a hole into it. So, if you are a bird lover and there is a peanut butter jar in your home I will recommend you not to throw it away.
DIY Birdhouse Idea 11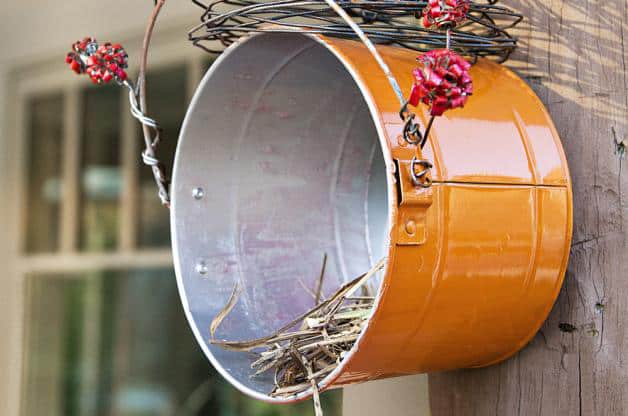 A wide-mouth bucket can be a wonderful source of the birdhouse.  You can paint the old bucket in your favorite color and make it colorful.
DIY Birdhouse Idea 12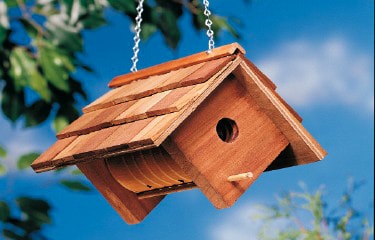 The birdhouse shown in the image is a cute birdhouse that can be wonderfully hung from the tree. If you are looking for a unique birdhouse design you can choose this design.
DIY Birdhouse Idea 13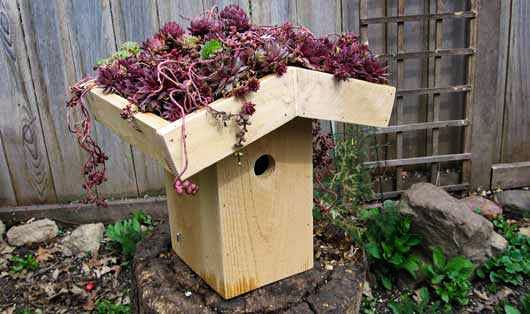 Though the layout of this birdhouse is simple the green roof made it unique. It is not painted but the colorful plants on its roof made it colorful.
Final Thought
DIY birdhouse is a fun project. The birdhouse you are making should be placed at such a place where the birds can easily reach. The inside of the birdhouse should be made comfortable using some hays, sticks, and other materials.
The place and environment of the birdhouse should be such that the birds feel safe inside it. You can make a birdhouse for yourself or you can gift it to your bird lover friend or relative.
Readymade birdhouses are also available in the market. Buying those birdhouses you can customize it into your favorite design.
I'm Joost Nusselder, the founder of Tools Doctor, content marketer, and dad. I love trying out new equipment, and together with my team I've been creating in-depth blog articles since 2016 to help loyal readers with tools & crafting tips.